Words: Peridot Communications
Nyjah Huston will return to Kimberley to defend his world title against an unprecedented global roster from 37 countries at the Kimberley Diamond Cup presented by Kumba Iron Ore from 2 – 5 October 2014. The best pro street skaters from the United States will join the top skateboarders from around the world to battle it out in Kimberley, South Africa October for their share of the R5-million prize purse, the largest single event prize purse in skateboarding.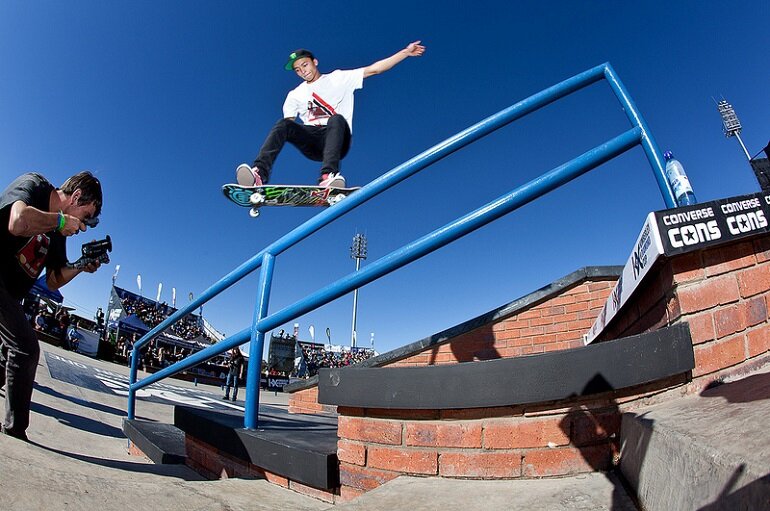 Courtesy of: Peridot Communications
"The unprecedented global participation in this year's championships gives us the unique opportunity to showcase our beautiful country to the world and will also allow our young people to be inspired by these incredible athletes," said John Block, MEC of the Department of Economic Development and Tourism of the Northern Cape provincial government. "This contest has grown beyond what we anticipated. It is now the premier skateboarding competition in the world and all eyes will be on Kimberley. We can't wait to see the incredible talent that will no doubt be displayed during this year's competition. It promises to be a truly historic event!"
"It is also an unbelievable opportunity for the Northern Cape to showcase itself as an extraordinary tourism destination and we are looking forward to welcoming the participants and their supporters with the traditional warm Northern Cape hospitality. We would be proud to share our tourism treasures with them - extreme nature, extreme culture and extreme adventure. We would like to encourage them to take this chance to explore the magic of South Africa's largest province," mentions Block.
Nyjah Huston, last year's street skateboarding world champion, along with other top U.S. pros, will battle the top skaters from around the world in a fast-paced, adrenaline packed contest that takes place on the state-of-the-art Kumba Skate Plaza. Currently 37 countries are sending their best skaters to the world championships, including countries competing on the international stage for the first time such as Turkey, Vietnam, Philippines, Namibia, Mauritius Islands and Malaysia.
"To have so many countries competing in the World Championships is unprecedented in skateboard-ing," said Tim McFerran, CEO of World Skateboarding Grand Prix. "Since there are only a handful of countries with federations established for skateboarding, most countries do not have any formalized means to support their top skateboarders to get to international contests. For them, it is crucial to get financial help to get to these contests. Even the US, as advanced as it is in skateboarding, has no mechanism in place to get governmental help to send its top skateboarders to the big contests and it has to rely on brands to help," mentions McFerran.
"Over the last seven months, we've seen first-hand the challenges in getting skaters to the world championships in countries that have no existing federation. We've been working feverishly to assist countries to help bring their skaters to South Africa. We want to help support the growing skateboarding talent around the world and to ensure that skateboarders who have the talent, but not the means, are represented in major events like the skateboarding world championships."
The growing list of countries participating in the 2014 Skateboarding World Championships include: Australia, Austria, Bahrain, Belgium, Botswana, Brasil, Canada, China, Czech Republic, Egypt, Ethiopia, Finland, France, Germany, Italy, Japan, Lebanon, Lesotho, Malaysia, Mauritius Islands, Mexico, Morocco, Mozambique, Namibia, Netherlands, Philippines, Reunion, Russia, South Africa, Swaziland, Thailand, Turkey, Uganda, United Arab Emirates, United Kingdom, United States and Vietnam.
For an up-to-date list of skateboarders and countries that will be represented at the 2014 Skateboarding World Championships, visit www.KimberleyDiamondCup.com. The Skateboarding World Championships at the Kimberley Diamond Cup will be broadcast live in South Africa on SuperSport and distributed globally in 173 countries reaching 367 million homes worldwide. The event will also be webcast live.
For the latest news and information go to www.kimberleydiamondcup.com or follow KDC on Twitter, Instagram and Facebook.