Words & Photo: Red Bull Content Pool
Johannesburg (South Africa) - Library Gardens, or LBG's as it's better known as, hosted some of the country's top skateboarding talent at the second Red Bull Unlocked competition. All competitors skated their hearts out, but it was Moses Adams who took first place with Dlamini Dlamini (2nd) and Khule Ngubane (3rd) flanking him on the podium.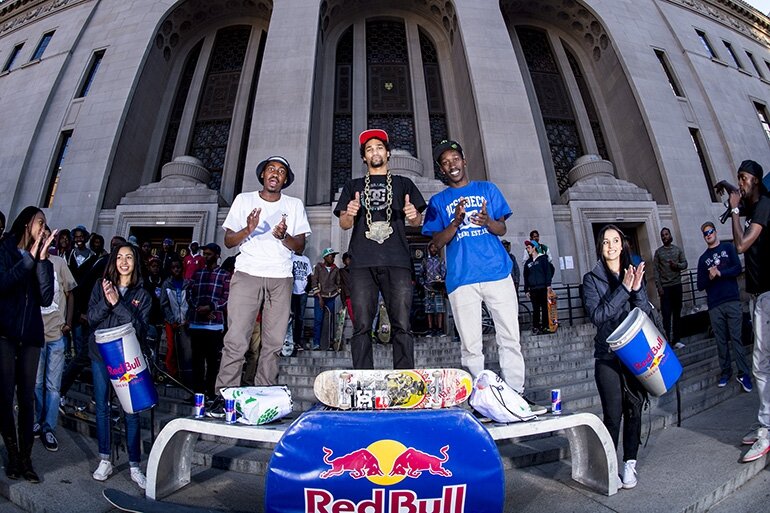 The Capetonian wowed the judging panel of local skate legends FUNISU Skateboards owner Wandile Msomi, Luke Jackson and Johan 'Puddy' Zwennis.
"Moses really impressed everyone today and he is really on a different level as far as his skating," Zwennis explained, "He went to the States and came back twice as good. His 360 flip over the table today was really impressive."
Though LBG's is no stranger to the skate scene, having been an icon in the South Afican skateboarding scene for decades, this is the first time a competition has been held there.
"It was great having the Red Bull Unlocked event at LBG's this year!" Zwennis elaborated, "It's a famous skating spot, so for Red Bull to host the event here has definitely done a lot for the local crowd and will help push skateboarding to the next level. Its something different from the usual skate park competitions and was a great opportunity for the local skaters."
Having recently spent some time in the States, Adams noticed a definite increase in the local level of skating. "There were a lot of really great skaters who made it tough today, but my biggest competition of the day was Dlamini. When I got to final, I really had to think on my feet."
When asked how he felt to win his second Red Bull Unlocked event Adams continued, "To be honest I really didn't know who was going to win, because standard was really high. I had to try mix it up and do some different tricks to stand out."
 
Red Bull Unlocked was a one-day skateboarding competition. For more information on the event head to www.redbull.co.za.