Posted: September 30, 2014
Words: Peridot Communications
The Kimberley Diamond Cup skateboarding world championships presented by Kumba Iron Ore have released the lineup for the Vert and MiniMega Skateboarding World Championships as well as the Women's Street Skateboarding World Championships, three of the 10 official events that will be contested in Kimberley from 2 – 5 October.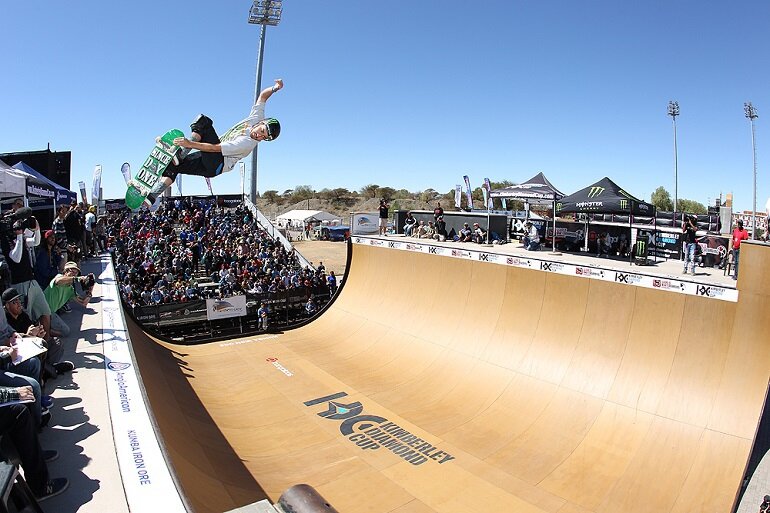 Photo credit: Rudi Jeggle
The world championship event will feature the best skateboarders from around the world competing for a shot at the title of "best skateboarder in the world for 2014" along with their share of the $500,000 prize purse, the largest single-event prize purse in skateboarding.
For the first time, the Skateboarding World Championships will feature a Women's Street World Championship. The best female skaters from around the world will compete for $40,000, the largest prize purse for a women's skate contest. Some of the top competitors are: Lacey Baker, Leticia Bufoni, Pamela Rosa, Marissa Dal Santo, Samarria Brevard, Alexis Sablone, Elissa Steamer, Alana Smith, Vanessa Torres and Kat Williams.
According to MEC John Block of the Department of Economic Development and Tourism, the Northern Cape is excited to welcome skateboarders from across the world to Kimberley once more. "We would like to extend a warm Northern Cape welcome to all the contestants and hope that they will all experience the magic of the Northern Cape. We find it very encouraging that the organisers have once again added additional contests to the event line-up and that we are reaching so many different countries. We are especially happy to welcome the contingent of female skaters, who can be real role models for our young girls that have taking up skateboarding as the development of girls and women is an important part of our social development mandate. Skaters from across the globe will be competing in this event and we are confident that this will further grow our reputation as a world-class extreme sport destination. We are sure that these competitors will once again inspire South African youth and particularly our growing fraternity of young female skaters. This year's Kimberley Diamond Cup promises to be a spectacular showcase and I would like to encourage parents to bring their kids along to the Kumba Skate Plaza for four days of non-stop skateboarding action. Kimberley and the Northern Cape are waiting to welcome you," mentions Block.
"I'm super stoked that there's a women's event at the Skateboarding World Championships and that I'm included in it!" said US skateboarder Elissa Steamer. "I'm excited to skate the event with everyone, but also to explore, hopefully go on a safari and just see new landscapes and meet new people."
The roster of skaters, who will compete in the Vert, Big Air and Best Trick Championships include some of the biggest names in skateboarding such as Pierre Luc Gagnon, Jimmy Wilkins, Andy Macdonald, Sandro Dias, Trey Wood, Jono Schwan, Jagger Eaton, Mitchie Brusco, Alex Perelson, Rony Gomes, Marcelo Bastos, Italo Penarrubia and Edgard Pereira.
The Vert World Championships will take place on a custom vert ramp and a big air ramp located in the state-of-the-art Kumba Skate Plaza. The prize purse for vert is $60,000, the largest in the industry, with an additional $10,000 up for grabs in the MiniMega Gap Best Trick contest.
The Kimberley Diamond Cup also features the Rider Cup Team Skateboarding Championships as well as five national championships events for South African skaters, including Women's Street Championships, Girl's Street Championships, Vert Championships, Street Championships and the Youth Street Championships.
Stay tuned for the full Street World Championships roster and other KDC news, by visiting www.worldskateboarding.com, www.kimberleydiamondcup.com and joining our social networks on Twitter, Instagram and Facebook.