Words & Photos: Chris Hitchcock
At first glance, track cycling looks like a whole lot of fun. It's the kind of thing that, as a kid, you would spend hours dreaming about doing. Fast bicycles, exciting tracks, and lots of adrenaline. Kids' dreams indeed.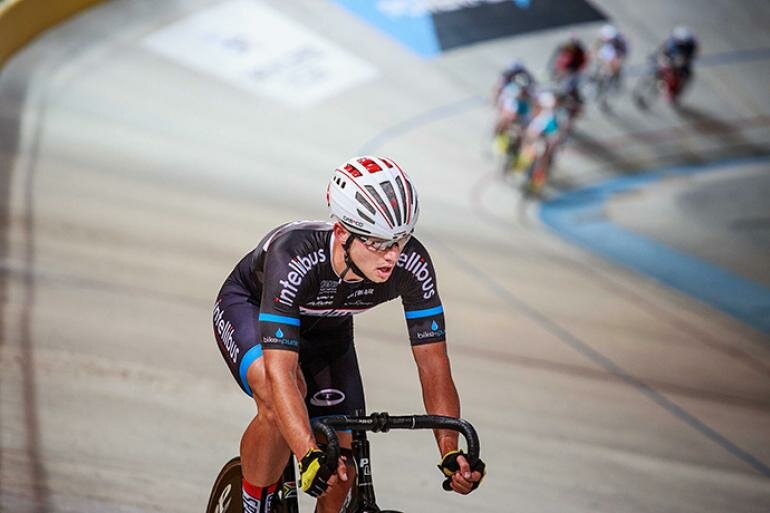 Yet when you delve a little bit deeper, you suddenly realise that there are inherent and obvious risks that go along with the fun. The track for a start. At opposite ends of the course, which can vary in length between 250 and 500 metres, are corners banked so steeply that they are too steep to walk up, no matter how hard you try. Plus the track is made from solid concrete, which means that taking a fall is always going to leave a serious mark. Now imagine falling at 60 kph, and it's guaranteed to make even the toughest man cry. So who on earth thought that this would be a good idea?
It goes without saying, that the people who compete in this sport are, to coin an apt cliché, 'a special breed'. And it isn't just their mental 'specialness' that is evident to the casual observer. More than anything, more than the noise, or the bustle, or the obvious insanity of the whole thing, it is the peculiar physical attributes of the top track riders that leave a lasting impression.
These people are machines. The sport's top men have thighs that in my younger days were described as being capable of kick starting a jumbo jet. Then there's the six-pack abs that have the sole purpose of providing a stable platform from which the legs can work. The torso is connected to arms that Arnie would aspire to, and they in turn anchor the upper body to manoeuvre the handle bars. Bars that I am inclined to feel sorry for, given the amount of pounding they get.
The women stars, like multiple South African Champion Maroesjka Mathee, appear to be the physical polar opposite of the men. Lithe, graceful, and lean, they ooze good health. It is obvious that they have found in cycling a way to get the real-life bodies that Photoshop gives to models in beauty magazines.
Meld the power of these uber riders to a bike that has no brakes, one massive gear, and no freewheel. Then further multiply that by up to 24 riders, who are all vying for the same piece of track, on concrete, at 60 kph, and you have the sport of track cycling.
Despite how this reads, like the screenplay for a scene from The Terminator, track cycling is in fact a family sport, and one that is very easily accessible to the general public. It is not uncommon to see grannies sitting in the stands knitting and shouting encouragement to their grandchildren every time they complete another lap and Cape Town cycling clubs arrange regular trial evenings at the Velodrome, in Bellville, where the uninitiated can test the waters on a bike that is provided for them. There are also tracks in Durban, Port Elizabeth, Pietermaritzburg, Pretoria, and Johannesburg, although unlike the Belleville circuit they are outdoor tracks and not suitable for international UCI-rated events.
Local Cape Town sponsor, Lights By Linea, has an initiative in place to boost track cycling in Cape Town and entrance to the recent South African Track Championships, held at the Bellville Velodrome, in Cape Town, was free to the public. Cycling South Africa's initiatives of identifying and supporting young talent, and mentoring them with established stars like multiple South African Champion Nolan Hoffman, appear to be working, with a South African track team of 11 riders off to Manchester, in the UK, to compete in the World Championships, from 1 to 3 November.
One of the riders selected to tour is 18-year-old Kellan Gouveris, from Port Elizabeth, and a member of the Cycling SA Track Commission's Talent Identification (TID) Programme since 2010. He is a rider who has grabbed every opportunity given him, winning the 40 km Points Race National Championship and he recently placed seventh in the 2012 Junior World Track Championships. But there is a queue of young talent, like Paarl's Bronwen Adams, who is following in the footsteps of World Championship silver medallist Nolan Hoffman, and multiple South African Women's Track Endurance Champion, Maroesjka Matthee, from Cape Town.
Maroesjka recently returned from a three-month sortie to the United States, where she competed against some of the best in the world and returned with invaluable experience of the more aggressive transcontinental riding style. Yes, track cycling is a lot of fun. It is also going to be big. Cycling SA's track cycling commission has a clear vision for the 2016 and 2020 Olympics. Their focus is on the Team Pursuit and Team Sprint events, as opposed to individual disciplines. This will allow for the selection of a complete team of cyclists who can then be further nominated to ride in individual events, in which they are strong.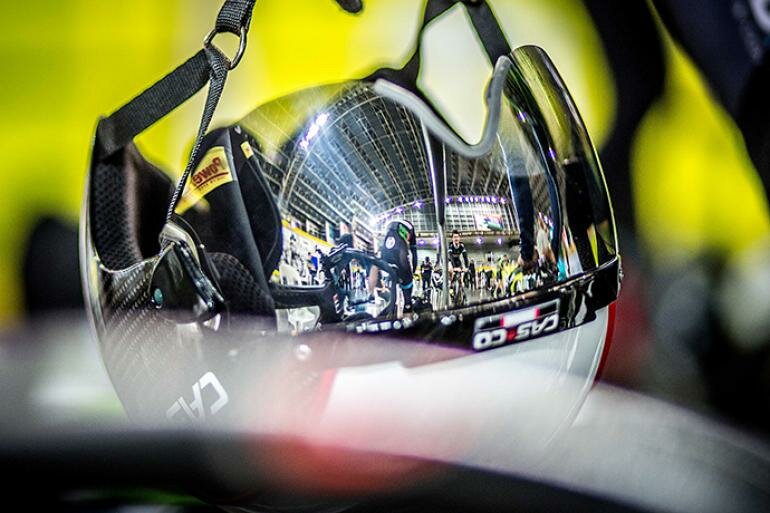 Did you know?
• Track races in England were held as early as 1870 and regularly attracting large crowds.
• Riders competed on wooden indoor tracks that closely resembled the modern velodromes of today. Such tracks ensured the event could be competed all year round. But for promoters there was an even greater benefit - spectators could be charged an entrance fee!
• Track cycling events have been included in all the editions of the Olympic Games since 1896, with the exception of the 1912 Games in Stockholm, when only the road race was staged.
• Between 1924 and 1992, the range of events was generally as follows: sprint, time trial over one kilometre, tandem, and team pursuit. The individual pursuit was added to the programme of the 1964 Olympic Games in Tokyo, and the tandem was dropped after the 1972 Games in Munich.
• Women have competed in the track events since the Seoul Games in 1988. That year also marked the appearance of women in the sprint event, followed by the individual pursuit in 1992.
• Several track events were introduced at the Sydney Games in 2000: the 500 m time trial for women, but also keirin, American, and sprint for men.
source: http://www.olympic.org
For more information on track cycling or how to get into it, visit www.cyclingsa.com/track.aspx or www.trackcyclingsa.co.za