Honda had proved its strength last October with the new CRF450 RALLY, winning both the Morocco Rally and the Merzouga Rally. Thus, the team has taken command of the first stage of the 2014 edition, after 25 years of absence.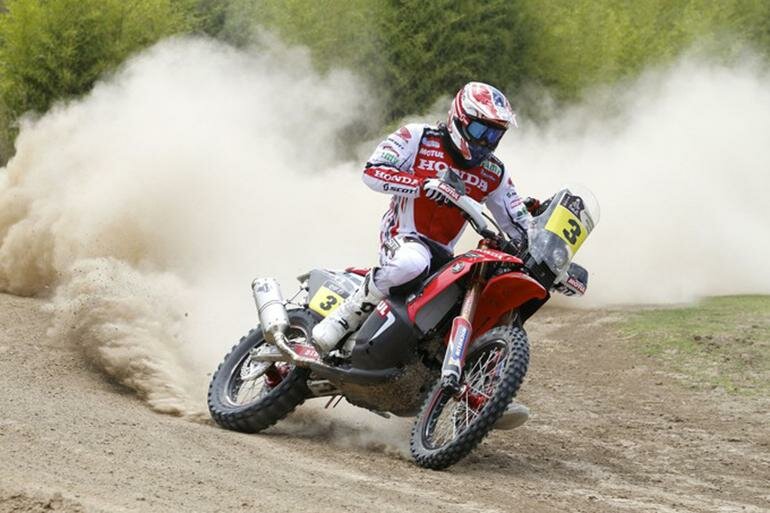 It was back on 11th January 1989 when the official Honda HRC savoured victory for the last time. That was when Gilles Lalay took the fifteenth stage of the Paris-Tunisia-Dakar. Now, in the second year back in the event after a 24 year official absence, Joan Barreda has picked up a crucial first stage win on the CRF450 RALLY. After 25 years, Honda are back in the running.
It was a very early start for the Rally Dakar. The pack of riders headed off at four in the morning on a long 405 kilometre liasion that took them towards the vibrant city of Rosario for the start of the 180 km special.
Joan Barreda on the Honda CRF450 RALLY, got off to a storming start in the special, clocking up the fastest time of all the 175 riders at the first time-check, in this, the 2014 edition of the legendary Dakar. He would repeat the same feat at the end of the stage. Team-mate Paulo Gonçalves also kept up a cracking pace, holding on to fifth place at the close.
Sam Sunderland's Honda debut at the Dakar was productive, taking ninth position. Javier Pizzolito finished 19th and Helder Rodrigues in 22nd.
Event information
Monday, January 6
Stage 2: San Luís-San Rafael
Liaison: 365 km
Special: 359 km
Total: 724 km
Grey dunes go hand in hand with surprises
The fastest special stage of the rally, at least for its first part, will also be the one where riders will have to face the first dunes. And it won't just be a brief encounter with sand: in the last 100 kilometres, the exploration of the grey dunes of Nihuil will be even more intensive than during previous visits. The sand is more firm there, but the experience will provide a great deal of insight about each of the competitors' technical skills. In short it will be a veritable test.