Words: Caroline Koll│Photos: Organisers
The peaceful Indian Ocean island of Mauritius has for many a decade been the subject of picture postcards, idyllic settings for weddings, honeymoons, and tranquil family holidays. Sports events were generally based on activities that one would have practiced while on holiday.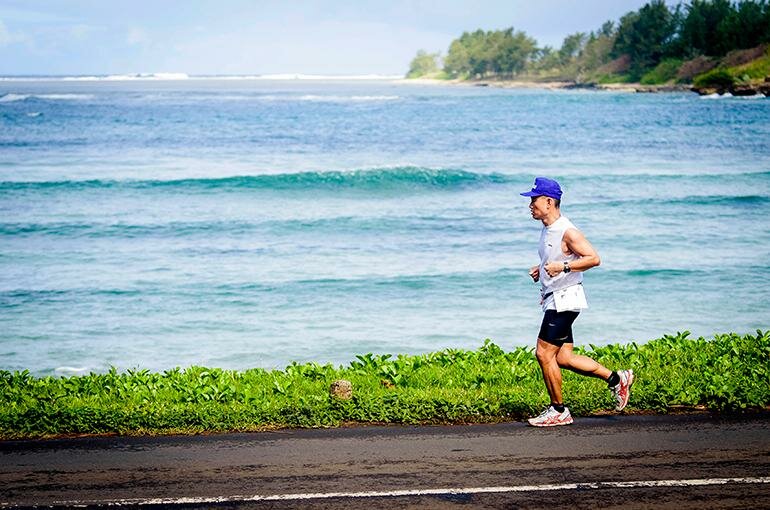 Ten years ago, the only international sporting events to be found on the island were golf and deep sea fishing tournaments. While the island has a lot in its favour for making it a formidable host for a variety of sports events, it is only in recent years that a number of truly sublime sporting events have started to take their place on the international calendar. Many would wonder, why the change?
Mauritius has always had a natural beauty about it, which makes for superb pictures and an even better experience, but international athletes and sporting travellers would always look at infrastructure, as well as a safe and ideal environment in which to compete. The influx of foreign investment and the increasingly improving economy has brought with it considerable improvements to existing infrastructure. Take for example the newly opened Sir Ramgoolam International Airport. A year ago, when I came to Mauritius, the airport was small, old and not dissimilar to that of smaller African states in dire need of upliftment. The new airport took five years to build, has beautiful architecture and is capable of handling large volumes of traffic. In addition to this, new highways have been built, generally upgraded roads, thus facilitating movement between towns. The local tourism board and media are most welcoming and eager to support and cover events in the press.
LUX* Sports, part of the LUX* Resorts Group, was the first to partner up with experienced and professional international businesses to organise exclusive annual events for sports travellers. These events, which have attracted world-class athletes, have been hugely successful in providing memorable sporting holidays, with sports people from all over the globe enjoying the company of champions in a relaxed, beautiful environment. Having participated in the Indian Ocean Triathlon for three editions now, I cannot believe the impressive level of organisation from all sectors involved, how lovely and unspoilt the environment is, and how sad I always am to leave new-found friends and the magnificent scenery!
So, I decided to have a look at what great events you can escape to in 2014 on the island of Mauritius. (Please check websites for date confirmations.)
February - SIOBC International, Deep Sea Fishing
An IGFA Offshore World Championship Qualifier, SIOBC is a beautiful international annual released fishing tournament that takes place on the west and south-west coast of the island, in front of Le Morne and Black River, the best spots for deep sea fishing in Mauritius and among the best in the world! The event is organised by Le Morne Anglers' Club in partnership with LUX* Sports. Dedicated, passionate and professional fishermen are offering you a week of great fishing in an exotic and friendly atmosphere. For more information, visit www.morneanglers.com
May - LUX* Royal Raid 35 km and 80 km, Mountain Trail Run
Now in its eight edition, the Royal Raid is the biggest Mauritian mountain trail run, with an average of 700 local and international runners. It was the first of its kind and the first international event, apart from golf and fishing. A fantastic challenge on the south-west coast, it offers challenging, yet breathtaking scenery. Exclusive passages through the Yemen Nature Reserve, Black River National Park and Parakeet Trail promise not to disappoint before a magnificent finish on the coast! For more information, visit www.royalraid.com
June/July - LUX* Mauritius Surfski Week / Mauritius Ocean Classic, Surfski
This race has already established itself as one of the best downwind courses in the World Series and promises a fantastic week of surfski, as well as holiday fun! As part of the World Surf Ski Series, it is now in its sixth edition. For more information, visit www.mauritiusoceanclassic.com
July - Mauritius Open Water Swim Race, Swimming
Brought to you by the organisers of the world's biggest swim event, the Midmar Mile in South Africa, this 1,850 m (1 nautical mile) sublime swim takes you through the most beautiful lagoon that by far beats looking down at the pool tiles! It is ideal for swimmers wishing to travel and have a good time! For more information, visit http://sports.luxislandresorts.com or www.midmarmile.co.za
July - LUX* Mauritius Marathon, Road Running
The Mauritius Marathon is a fantastic event that takes place in one of the most stunning parts of the island. The route takes you on 20 km of coastal road in the south, then along one of the most gorgeous lagoons of the island, through typical coastal villages, to finish on the beach. This marathon combines a sporting challenge and the discovery of the natural and cultural heritage of Mauritius in a very friendly atmosphere! The Mauritius Marathon and Half Marathon are both AIMS and IAAF certified races. For more information, visit www.mauritiusmarathon.com
July/August - Kiteival, Kitesurfing
This kitesurfing festival takes place at various points around the island and promises epic downwinds and picturesque scenery! Kiteival attracts top international kitesurfers from all over the world. For more information, visit www.kitevalmauritius.com
August - MTB Cycle Tour, Mountain Biking
Not a race, but a magnificent mountain bike tour. The 305 km route around Mauritius is on coastal tracks and beaches, and is a perfect getaway. For more information, visit http://sports.luxislandresorts.com
October - 100 km Cycle Race and Vets/Masters Tour, Road Cycling
Two separate events, the 100 km cycle race offers solid competition for the competitive cyclist. The Vet and Masters Tour is a wonderful tour of the island for older riders seeking solid riding, fun, and adventure!
For more information, visit www.cycletour.mu and http://craworldeventsmanagement.com
November - Beach Rugby, Touch Rugby
This is one of the few dedicated touch rugby events on the island. While it is competitive, the event is a fun way to kick off the summer season and approaching holidays! For more information, visit http://sports.luxislandresorts.com
November - Indian Ocean Triathlon, Triathlon
If you're tired of over-priced local events that have lost the personal touch, I highly recommend this race, which is probably the most exquisite triathlon in the world! Numbers are relatively small, but the atmosphere is superbly friendly and jovial. The course is challenging, with the bike leg going up the Chamarel Pass. The run leg has three passages of 500 m on the beach, which are amazing and fun. The swim in the very warm waters offers magnificent sights of the corals below. Distances of 1.8 km, 55 km and 12 km are testing enough to make you feel your legs, but not too long that you still have a sense of humour at the end! For more information, visit www.indianoceantriathlon.com
November - Look Premium Cycling Week, Cycling
Just a few days after the triathlon you have the option of doing a cycle tour of the island in the company of French Cycling Champion Laurent Jalabert. Stages are long enough to get some miles in your legs, but never longer than 80 km. You are guaranteed a good time on the bike and even better scenery!
For more information, visit www.vo2maxvoyages.com
November - Omnicane Southern Tropical Challenge, Mountain Biking
Born in 2009, the idea was to create the first mountain bike stage race in teams of two in Mauritius. The two former editions were a great success and 2014 is set to be an even better race!
This four-day ride in teams of two is organised as follow:
• Prologue : 6.5 km
• Stage 1 : 65 km
• Stage 2 : 85 km
• Stage 3 : 45 km
Teams register in one of four different categories that include Men, Ladies, Mixed, and Masters (both riders must be 40years or older on race day). The minimum age of participation is 15 on race day. The team riders must remain together at all times during the race and are expected to reach the finish line by 17h00 daily.
At each stage, the winners of the day receive prizes and the leaders in the overall classification are awarded their leader jerseys. All riders and race crew sleep in the tented race villages. The race takes place in the south of the island, the best place for mountain biking. It's wild, big and has a full choice of slopes! November is one of the ideal times of the year to do it as the weather is not so warm, sugar canes are small and it's not the hunting season. For more information, visit www.mtb-mauritius.com
December - Stand Up Challenge, Stand Up Boarding
Now in its third edition, this sport is rapidly growing in Mauritius because of the sheltered coral reefs and magnificently clear waters. A great competition and great place to start the holidays! For more information, visit www.stand-up-paddle-mauritius.com
So there you have it! A mere four-hour flight from Johannesburg, with direct flights on Air Mauritius now from Durban, you no longer have an excuse not to venture out!