Words & Photos: Chris Hitchcock
Definition of CRITERIUM (cri·te·ri·um noun): A bicycle race of a specified number of laps on a closed course over public roads closed to normal traffic. OK, so that's what a criterium, or 'crit', as the aficionados call them is. And they are just as described on the label. Criterium racing is fast, aggressive, and colourful, a riot of movement and action, and in the corners, a breathtaking defiance of physics.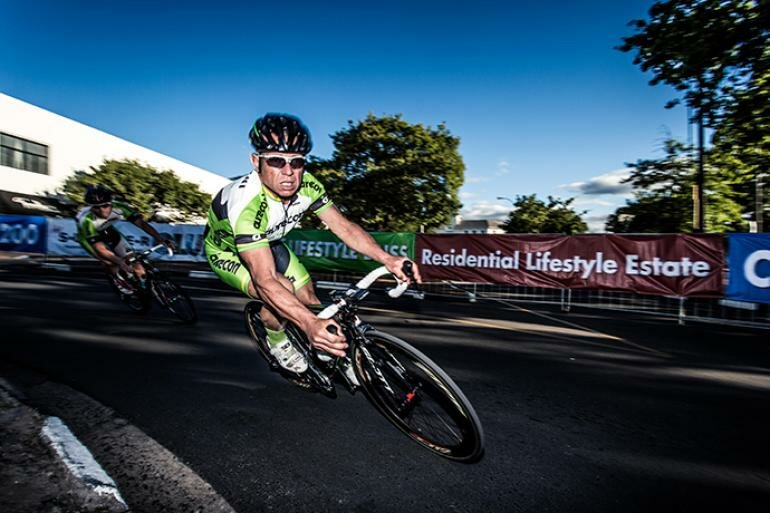 Photo credit: Chris Hitchcock
So just for added giggles and entertainment value, why not invite South Africa's top professional cycling teams to race at night, around all of the pubs and restaurants in the centre of Stellenbosch? And that is exactly what organiser Wayne Roberts pulled off, with the Lights By Linea sponsored Night Criterium Series.
Held over two evenings - on Friday 8 and Tuesday 12 November 2013 - in perfect balmy summer weather, the course was an L-shaped 1.2 km circuit that included two 180-degree bends and a couple of sharp left and rights thrown in for good measure. With the local pubs and restaurants crammed to capacity and people coming out in droves to enjoy the spectacle, spectators were treated to South Africa's best cyclists duelling it out for top honours.
The man firmly in the sights of most riders was top international Pro rider Reinardt Janse van Rensburg, who had arrived fresh from winning his first European Pro race for team Argos Shimano. Van Rensburg's appearance was a true boost for the event and although he didn't win, he was a definite crowd favourite.
The race lasted for exactly one hour, plus one final lap when the hour mark was reached. During this time, riders did as many laps as possible, with lapped riders having to pull out and spectate. Although the race is all about tactics and team work, drafting and breakaways, it is also a pain fest. Living in what cyclists call the pain cave, the effort the athletes were putting in was plain to see on all of their faces, as they fought on, and on, lap by gruelling lap. Criterium racing is damn hard work!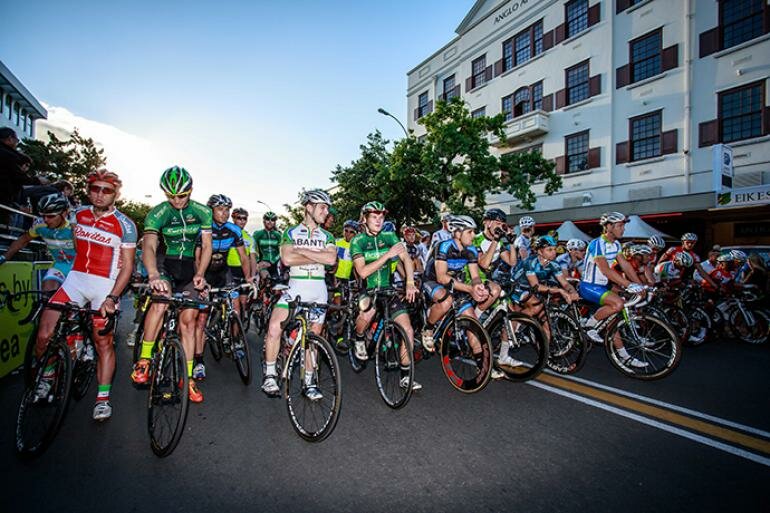 Photo credit: Chris Hitchcock
While all of that was going on, the crowds were also entertained by some of Cape Town's top DJs, who were playing at music stations spaced around the track. The local pubs were doing a roaring trade selling copious amounts of ice-cold liquid balm, to soothe throats dry and hoarse from cheering the riders.
Held as separate events over two evenings, the winnings were evenly spread, with no obvious domination from any one rider.
Race results
Race 1 - 8 November
1 Dylan Girdlestone (Westvall BMC)
2 Willie Smit (Team Bonitas)
3 Shaun-Nick Bester (Westvaal-BMC)
Race 2 - 12 November
1 Meron Russom (MTN Africa)
2 Shaun-Nick Bester (Westvaal-BMC)
3 James Tennant (Nuwater)
For more information, visit www.facebook.com/pages/Lights-by-Linea/108152339298668x