Posted: September 3, 2013
The first commercial African team Sponsor of the Clipper Race, Invest Africa, officially named their yacht entry today in St Katharine Docks. This marks the final naming ceremony of the new state of the art fleet of ocean racers which leave depart London tomorrow, September 1, in the ninth edition of the Clipper Round the World Yacht Race.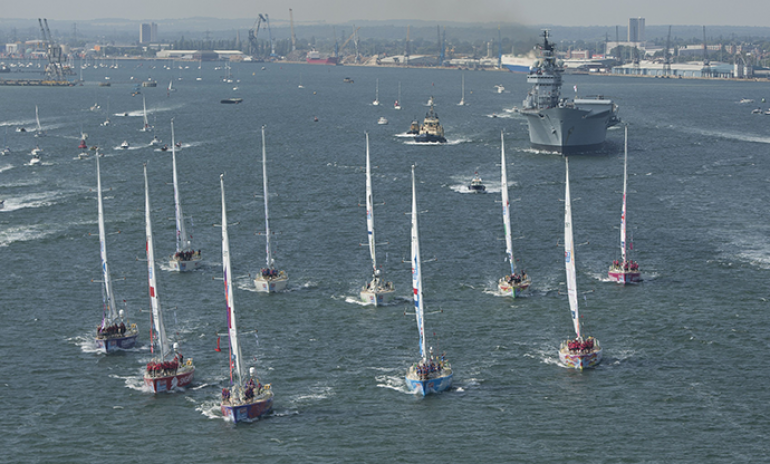 Chairman of the Clipper Race, Sir Robin Knox-Johnston joined Rob Hersov, Chairman and Founding Partner of Invest Africa, Skipper Rich Gould and his crew to officially christen 'Invest Africa.' Crew member, Nomcebo Siyaya, of the Sapinda Rainbow Foundation poured the champagne over the deck, officially sealing the ceremony.
Sir Robin Knox-Johnston, Clipper Race Founder and Chairman said: "This is a very special occasion. The crew of Invest Africa are about to set off on the biggest adventure of their lives. I wish them all the very best and hope they sail safely."
Invest Africa is a fast-growing networking organisation that builds high quality business relationships within growing African networks. They aim to create a community of investors with a shared vision for a brighter African future. Invest Africa hope to use their global visibility in the Clipper Race to continue to expand their networks and promote investment in African business opportunities.
Rob Hersov, Founder-Managing Partner, Invest Africa, said: "We are incredibly proud to officially christen our first entry in the Clipper Race and will proudly follow the progress of Invest Africa, under the leadership of Skipper, Rich Gould. We wish Rich and his crew huge success as they circumnavigate the globe, representing our vibrant and exciting continent."
Nomcebo Siyaya represents The Sapinda Rainbow Foundation, a South African youth initiative who are part of Nelson Mandela's children's charity and is one of the group's eight underprivileged South African youngsters who have been given the opportunity to participate in the Clipper Race. The youths will form a relay with each team member completing one race leg each.
The Clipper 13-14 Race sets off from St Katharine Docks, London on Sunday, 1 September on a 40,000-mile journey around the globe, making it the world's longest ocean race, stopping at 15 ports on six continents over 11 months. For more information visit www.clipperroundtheworld.com