Words: Linda Willemse | Photos: Wild Frontiers
The thundering of Victoria Falls as it plunges 111 metres into an impressive gorge does not fail to mesmerise the many visitors that flock to this UNESCO World Heritage Site. But it's not just this astonishing sight that is highly memorable and worthy of a visit to the town of Victoria Falls. Add to that an array of fantastic activities on offer in the region, such as white-water rafting on the Zambezi River's grade five rapids, a train ride, bungee jumping, walking with lion, riding atop an African elephant, captivating wildlife sightings, or relaxing cruises on the Zambezi, and you have the perfect recipe for an action-packed getaway.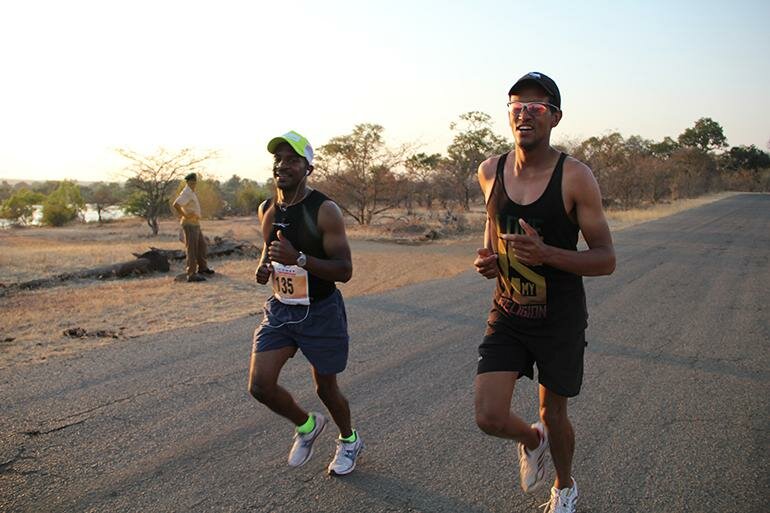 Photos credit: Wild Frontiers
And if that's not enough, this bustling, vibrant town on the border of Zimbabwe and Zambia also plays host to the annual Econet Victoria Falls Marathon, to be held on Sunday, 29 June 2014. Athletes can participate in a full marathon (42.2 km), half marathon (21.1 km) or fun run (5 km). This marathon is an IAAF registered event and qualifier for the Comrades and Two Ocean events in South Africa.
The route
Runners are taken on a route that crosses the Zambezi River and the deep gorge below, and over the old iron bridge that links the border posts of Zimbabwe and Zambia, offering the most breathtaking views of the Falls. From here, the route follows the Zambezi River through the National Park where you could startle a kudu, warthog, or impala along the course! The race then zigzags through residential areas, where supporters heartily cheer you on, before finishing at the local school.
Entertainment
The fun does not stop here! Competitors, their families, and friends may join the official marathon sunset cruise and after party, which takes place after the race. The sunset cruise includes all your drinks and snacks, and is the perfect way to finish off a marathon in Africa.
Photos credit: Wild Frontiers
Memorable experiences
Why not add a few days to your stay and treat yourself to a relaxing safari after the race? Victoria Falls town lies in close proximity to the Hwange National Park, well known for its huge herds of elephant, buffalo, zebra, and large concentration of giraffe, as well as endangered species and varied birdlife. Enjoy a few nights at the brand new eco-friendly Pioneers Camp, which boasts herds of buffalo, elephant and a mix of other game such as kudu, lion, sable, leopard, warthog and even wild dog! Or head into Botswana's Chobe National Park, the Chobe River supports numerous wildlife. Another great place to safari is Lake Kariba, which is popular for taking houseboat safaris, going fishing, or just chilling out.
With all this to look forward to, the 2014 Econet Victoria Falls Marathon is an event not to be missed. So book now to avoid disappointment.
For more details on how to enter the Victoria Falls Marathon and travel packages, visit the official website: www.vicfallsmarathon.com
Alternatively contact Wild Frontiers (one of the official race organisers) by email on or visit www.wildfrontiers.com