Words: Blake Dyason ǀ Photos: Various photographers
What is it that makes us attempt the impossible? The human spirit is an incredible thing that has no limits or understanding of the impossible.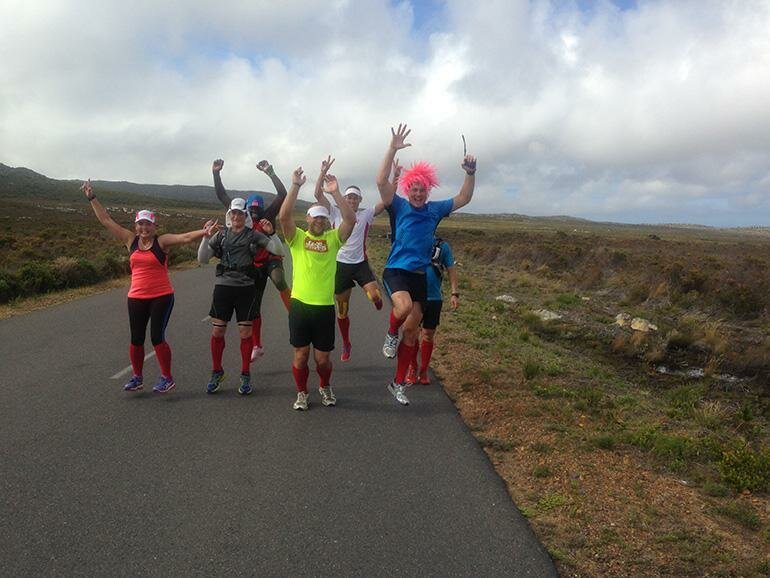 Photo credit: Danielle Mascher
A small group of friends demonstrated what the human spirit is all about on 14 December 2013 as Point 2 Point, a 256 km road run from Cape Point lighthouse to Cape Agulhas lighthouse, became a reality.
We couldn't have asked for a more perfect morning as we watched the sun rise over Cape Point, while listening to the banter between the runners over the faint sound of the waves crashing. This set the scene as each runner started preparing themselves for the run ahead, thinking about what it meant to run and why they were doing it. Everyone runs for a reason, but this run was for more than getting fit, losing weight or getting lost in our own thoughts. It was a celebration of our health and mobility.
Initially, cycling the Point 2 Point was a dream of James Davis, but this dream soon became a perfect platform to express our love and gratitude for being so blessed to be able to run and make a difference. As a result of the growing support for this initiative amongst James's running friends, the event was changed from a cycle to a run and it would be dedicated to three charities, namely the PinkDrive, Back On Your Bike and Chasing Inspiration. The aim was to create awareness for each of the charities, whilst inspiring people to try the impossible, dream big and make a difference in the process.
This year's inaugural run kicked off with a moment of silence for Chase, a 16-year-old boy who fought the bravest fight, but sadly lost the fight against leukemia a few days before the event. This quickly put life into perspective for our group of runners, who then went on to make the most of every step and every opportunity to laugh, as well as absorb the beautiful scenery along the way.
We met up with the support crew at the first water point, 13 kilometres into the race at the Cape Point Reserve gate, and after refuelling were back on the road and heading towards Simon's Town. By this time, the sun was already showing its full force and just before Simon's Town Golf Course, a couple of runners couldn't resist the temptation of taking a refreshing swim in the sea.
Whilst in Simon's Town, a few more runners joined in and spirits were high as 12 pairs of Redsocks or ShoOops went rocking down Main Road. Reaching Fish Hoek, we decided to take a breather and get a bite to eat, and it was here that the reality of the distance we had set out to run (and a few casualties that had happened already) started to dawn on us.
But with our energy levels restored, we left Fish Hoek and blew through Muizenberg and on to Baden Powell, in the hot midday sun and in our long socks that leave a funny tan. ShoOops tan as it is known and a few of us are still sporting ours.
Our group hit the 50 km mark feeling strong, but the heat was increasing and fatigue was setting in. However, our spirits were once again raised when we were joined by a few more supporters and come night fall, we had reached Somerset West. With the infamous Sir Lowry's Pass looming and the many hours on the road taking its toll, more and more runners had to stop. The spirit in these runners was unbelievable and if they could have run anymore they would have.
In the early hours of the morning we were down to two runners, one having run the entire way and the other joining in just before Sir Lowry's. The roads were becoming increasingly dangerous due to construction work, making it impossible for a support car to follow. At the 140 km mark and 23 hours after the start, and with the safety of the runners a priority, the team made a decision to stop the run.
 
Point 2 Point had been a special day. It was a day where people pushed past their limits, with some doubling the distances they had previously run. Where some found a new reason to run and others discovered how much is still left to be learnt about the human spirit and life.
The support along the way was also incredible, with runners joining in for short sections and people stopping to feed and hydrate us. Our thanks go to our friends from Wintergreen for providing us with chafe creams and massages, YMA security who played a big part not only on the day but with the design and planning of the journey, and EMT who kept us patched up and going.
So will we attempt this run again? Absolutely. We are looking forward to attempting the impossible in December, but with some changes. The run will be broken up over three days, with an average distance of 85 km per day, and we will run from Cape Agulhas to Cape Point.
Our aim, as always, is to create awareness for Back On Your Bike, the PinkDrive, the Chase Tanner Fund as well as inspire people. "To aim high and miss rather than aim low and hit." - Eric Thomas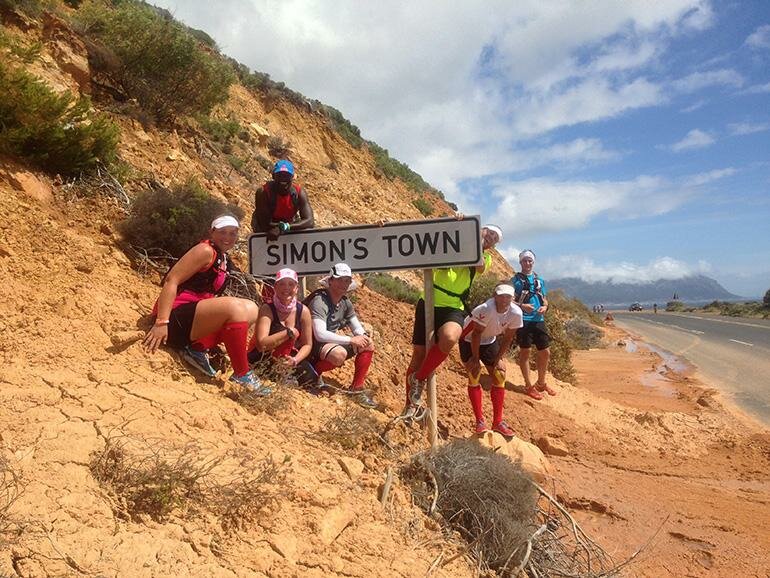 Photo credit: Blake Dyason
About the charities
The PinkDrive
South Africa's best-loved breast cancer community carer, PinkDrive, is the indispensable, tangible breast cancer Public Benefit Organisation (PBO) powering South Africa's first mobile PinkDrive Mammography Unit and PinkDrive Educational Unit through our country, driving home the fact that early detection saves lives.  
PinkDrive currently runs two 'Pink' mobile breast check units, as well as three educational cars. Both units travel to semi-urban and urban areas around South Africa with the aim of enabling various disadvantaged communities access to education, physical examinations and how to do breast self-examination. The mobile screening unit successfully launched in the Western Cape in 2011 and operated through local clinics, community health centres and hospitals.  
To date, it has provided 4,440 free mammograms, done 41,360 clinical breast examinations in community areas, and distributed 45,000 educational materials. Through the goodwill of many fortunate citizens and willing corporate businesses helping PinkDrive, they in turn are helping government to touch as many citizens as possible.
If you would like to find out more information about how you can support PinkDrive, visit www.pinkdrive.co.za
Back on your bike
On Thursday, 11 October 2012, the lives of Richard Holland and his family changed forever. Whilst training for an Ironman race, Rich was hit from behind by a car and sustained multiple life-threatening injuries, including a severe injury to his brain stem that resulted in an immediate coma. Rich was treated in Dubai, UAE, for several months and eventually repatriated to South Africa. Rich is now stable, living with his parents in Cape Town and receiving extensive neurological rehabilitation for his brain stem injury. He remains unable to move or talk and requires intensive medical supervision to care for him round the clock. After a severe brain injury, particularly to the brain stem that controls motor function, it is only possible to guess at the recovery time and the likely outcome. All that is certain is that recovery is a slow process and will take months and years, rather than weeks.
Back On Your Bike, an independent trust fund, has been established to assist Rich Holland and his family by raising money to cover his immediate and future medical care costs.
If you would like to donate to the fund or can assist in any way, visit http://backonyourbike.com
Chasing Inspiration
Chase Tanner was diagnosed with leukemia in September 2012. He underwent extreme doses of chemo and radiation, but despite his courage, determination and positivity in overcoming his illness, he passed away on 12 November 2013. Sjanine Tanner and her family will continue the Chase Tanner Fund and donate the money to another family, working through the Sunflower Fund, which is going through the same fight Chase and his family went through.
If you would like to contribute, visit www.sunflowerfund.org.za
dinFO
If you would like to get involved and join the Point 2 Point run taking place in December this year, visit www.pointtwopoint.com for more information.