Words: Shaun van Tonder | Photos: Henrique Cilliers & Nita-Mare Oosthuizen | Video: Air Off 2012
When it comes to surfing nowadays, there's no shortage of adrenalin-pumping options to choose from: stand up surfing, bodyboarding, kitesurfing, windsurfing, knee-boarding, bodysurfing, and even sand surfing. This list has just been extended to include the newest form of surfing - that of big wave tow ins and aerial tow ats, where a Personal Water Craft (PWC), better known as a jet ski, is used to tow the rider. So let's take a look at big wave tow ins and aerial tow ats in more detail.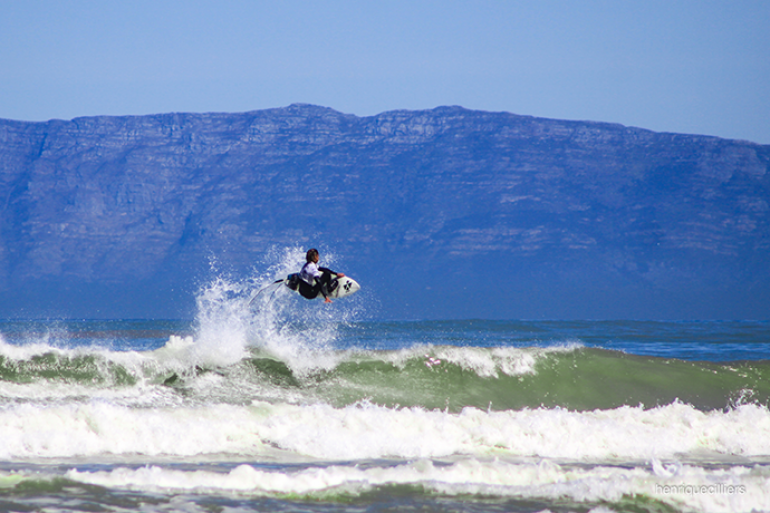 Big wave tow ins
When it's not possible for a surfer to paddle into a large wave because of the speed it's moving at, they will be towed in by a jet ski that propels the surfer or body boarder into a wave with more speed than they can muster on their own. The boards used normally have straps to prevent the rider from losing their footing, are much smaller than those used for standard surfing and are weighted to prevent unnecessary airtime from the chop created by wind on the face of the wave.
Aerial tow ats
A jet ski tows the unstrapped surfer or body boarder so they get more speed to go higher and more airtime after hitting a natural ramp that the wave creates. Riders are also able to perform bigger and more innovative maneuvers because of the extra power, as well as ride small to medium size waves while still pulling off big moves. Boards used in day-to-day surf sessions are slightly smaller than the standard short board so that it moves more freely in the air.
A jet ski is the preferred method of towing a rider because of its versatility and agility when moving through the surf. You will often find a rescue sled attached to the rear as this allows the driver or skipper to use the jet ski as a rescue craft in the event of a rider being injured and unable to paddle out of the impact zone.
A specialised tow rope is used and the length is dependent on wave size and if a surfer or body boarder is being towed, as different techniques are used by the riders to position themselves in the critical area of the wave.
Way back when
Big wave surfing has been around for years, and with it the desire to surf bigger, heavier and faster breaking waves. So it was only a matter of time before the sport progressed to tow ins, which has also improved the safety of the sport. As surfers are already standing up when they enter the wave, it eliminates the time taken to paddle in and stand up - and in big surf, this could be a life or death situation. This development has been hugely instrumental in growing the sport and opening up spots that were previously unsurfable and only ridden by a select few. Furthermore, the need for larger waves or waves with a lot of power to get speed and height is no longer necessary as the jet ski produces the necessary speed to surf medium sized waves.
Following in its wake was the natural evolution of tow at surfing, and this development has considerably raised the bar when it comes to technical maneuvers. Today, the level of technicality has sky rocketed, with riders such as Chippa Wilson, from Australia, and Jordy Smith, from South Africa, producing mind boggling moves where they fly off a wave and into the air to complete tweaked rotations, before landing back on the face of the wave to carry on surfing as though they'd just done a standard turn or cut back, a very popular surfing turn used worldwide.
Certain sports get inspiration from other similar sports and surfers are definitely starting to include radical snowboard and skateboard maneuvers into their repertoire. Surfers and body boarders are always on the lookout for bigger, heavier waves with a side wedge that allows them to create more speed to fly into the air and do acrobatic style spins, twists and flips. Tow at surfing provides riders with more speed, thus allowing for more time to do extra spins and fuller rotations, as well as test different moves due to the added height.
Getting into the sport
Good wave knowledge and being comfortable in the ocean are crucial if you want to get into this amazing sport. Ocean knowledge is only gained over many years of experience, so the training and skill sets learnt from properly qualified and experienced instructors are invaluable.
Obtaining a skipper's license is recommended because big wave tow ins are normally done in pairs, therefore requiring both riders to be fully capable of skippering a PWC. Your local PWC dealership or any boating and marine dealer should be able to tell you where to get a valid skipper's ticket in your area. If you only want to be a rider, then it's not necessary to hold a skippers ticket, but then you'll need to find a driver with a ski and licensed skipper ticket; no easy task as there aren't too many people in the sport currently.
You will also need to receive training under a professional to gain sea miles and riding experience in the ocean and in-between surf, as well as gain the necessary skills and knowledge in case of injury or a wave upturning your jet ski. There are some good courses out there, but as courses change all the time it is best to ask your local dealer, lifesaving club or association for advice on the best current course available, who is presenting it and where.
When you're ready to ride the surf, this should initially be done under the supervision of a professional and within the designated areas. So find out first where these designated areas are, as well as any regulations and laws before entering the surf or an area to ride in. Always abide by the local rules and stay out of any protected conservation areas and designated bathing areas/zones, to protect the sport for future participants.
Get competitive
Currently there are no aerial tow at clubs to join, but if you would like to start competing in the sport, I recommend honing your skills as a surfer or body boarder first. Once you are comfortable, find a skipper that's experienced in towing, to take you out skurfing, which is riding behind a jet ski or boat on a surf board in-between the wake and out of the surf zones (any areas where there are waves breaking or surf), at a dam or lake.
Trusting your tow partner is key to getting ahead in a competitive environment, as the driver/skipper usually chooses the wave and then maneuvers the PWC into the correct position so that the surfer can perform a final sling-shot motion to get into the critical section of the wave.
Current events
As the sport of aerial surfing tow at is still very new, there is no professional association to regulate the sport or provide support and there are very few dedicated events to grow the sport. Riders who participate in it do it for the love of innovation and the addiction to go bigger and better, pushing their own skills to the limits.
One of the highlights on the calendar is WolfAlley's annual specialty AIR OFF event. This is the first and longest standing jet ski assisted surfing and body boarding tow at competition in Africa. Now in its third year, the aim of the event is to draw attention to this form of surfing and create a competitive space for riders to push themselves and showcase their many skills. AIR OFF is a by invite only specialty event, and with cash prize incentives and a one-of-a-kind signet ring for the Air Off champion, this event is attracting some of the best names in the country. Riders go head-to-head and those with the best and biggest moves in the heats progress to the next round. There's also mega points awarded for innovation, and this guarantees that every event is an exciting showcase of big maneuvers. Emphasis is also placed on entertaining the crowd, and apart from the crazy aerial maneuvers performed, visitors can look forward to seeing some excellent demos and productions about local extreme sport athletes, as well as live beach art and music. It's an event not to be missed!
I've been surfing for 14 years and involved in tow ats for three years now, and would recommend it to any thrill seeker looking to progress their aerial maneuvers or become more comfortable with height, control and landings.
dinFO:
For more information on future events, aerial tow ats, how to get into the sport, and where to get training from, visit airoff.co.za or contact WolfAlley via email at . To view the productions visit www.wolfalley.com or www.airoff.co.za.