Posted: February 24, 2013
Words & Photo: Red Bull Content Pool
On a day that saw winds and emotions riding high, Cape Town's Big Bay played host to the latest edition of Red Bull King of the Air. In front of 5,000 spectators, America's Jesse Richman clinched the win in a battle that saw the some world's best kiteboarders pull airs of up to 25m.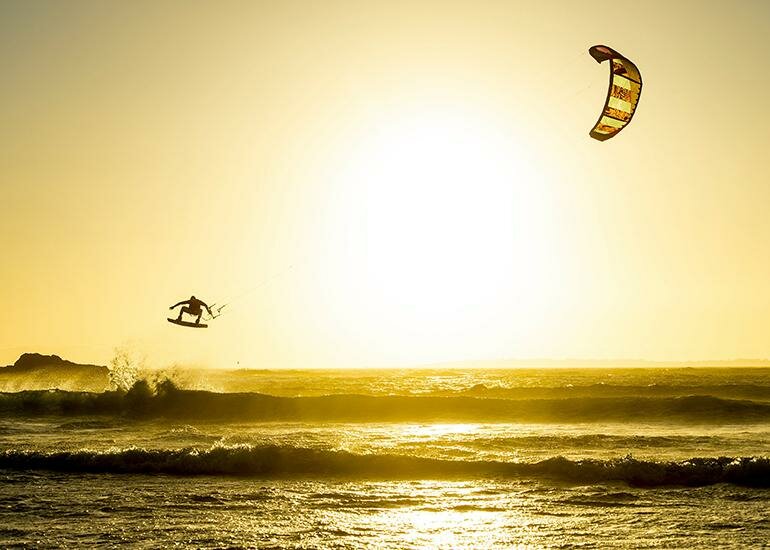 Photo credit: Red Bull Content Pool
Cape Town's famed Table Mountain was the perfect backdrop for the sixteen invited kiteboarders and eight wildcards to face-off in a unique 'flag out' competition format. At the end of an epic day it was Jesse Richman from the USA who managed to edge out Sam Light and Nick Jacobsen to grab victory in front of a 5000-strong crowd.
"I never expected this and I'm so amazingly pumped! Red Bull King of the Air has been the biggest event in the world since the very beginning - I competed in it when I was a little kid and it was the coolest thing ever. To come here and win this event is unbelievable! By far the best riders in the world were throwing down in the best conditions today!" commented the 20-year-old Hawaii native.
Scored by a judging panel comprising kiteboarder Susi Mai, editor of Kiteworld Magazine and presenter of 'The Kite Show' Jim Gaunt and South African original Red Bull King of the Air alumnus Greg Thijsse, the competitors were judged on the height, creativity and style of their manoeuvres, with athletes pulling airs up to 25 metres above the water.
Godfather of wind-based watersports Robby Naish was in Cape Town to check out the event. "I'm a little embarrassed to say this but this was my first time in South Africa. It's a real pleasure to be here, I'm really stoked I came! I always knew it was good here," remarked Robby on his first visit to the country. "We've been talking about resurrecting Red Bull King of the Air for a while and today we had some of the best conditions - this was best exhibition of high performance kitesurfing I've ever seen. Big Bay was the perfect venue for this event. If this place wasn't on the map before today, it's definitely going to be after. I don't think ever seen this many people at a kiteboarding event."
Final Results: 1. Jesse Richman (USA), 2. Nick Jacobsen (DEN), 3. Sam Light (GBR), 4. Youri Zoon (NED), 5. Andries Fourie (RSA), 5. Lewis Crathern (GBR), 7. Gianni Aragno (ESP), 7. Kevin Langeree (NED)