Words & Photo: Environmental Working Group
Every day we are exposed to harmful bacteria and pesticide residues on fresh fruit and vegetables. According to The Stockholm Convention on Persistent Organic Pollutants, 9 of the 12 most dangerous industrial chemicals are pesticides, and the research on pesticide contamination of foods is damning, with long-term exposure linked to a variety of health issues, including cancers, neurological and fertility problems. Children, whose immune systems are still developing, are especially vulnerable.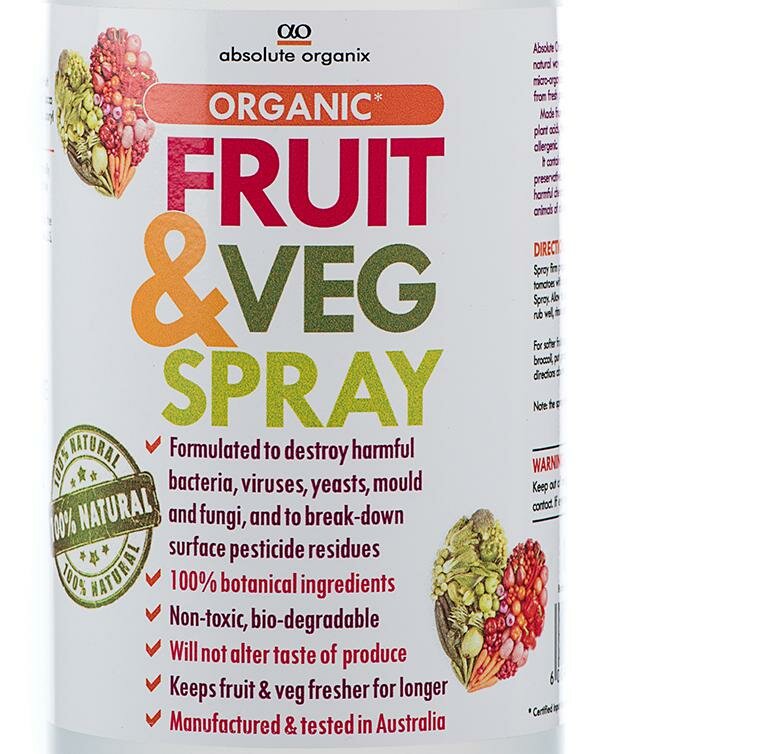 Going organic makes a huge difference, of course, but is no guarantee that exposure is entirely eliminated. In Canada, a government report released recently showed that nearly half the organic fresh fruit and veg tested across the country over the past two years contained some pesticide residues, probably caused by pesticide spray drift from neighbouring farms or through contact with non-organic produce after harvest.
Absolute Organix's new Organic Fruit & Veg Spray is a new all-natural way to eliminate pesticide residues and harmful microbes from fresh produce quickly and safely – just spray and rinse. Formulated in Australia, the sanitising agents in Fruit & Veg Spray are made from citrus bioflavanoids and organic plant acids (see a full list of ingredients and mechanisms of action below) that quickly and effectively neutralize the "nasties". The spray is hypo-allergenic, non-toxic and completely bio-degradable.
It contains no artificial dyes, fragrances, preservatives, petroleum-derived ingredients or harmful chemicals such as chlorine, ammonia and triclosan. It is safe for people and animals of all ages – and for the environment.
Research shows that simply rinsing fruit and vegetables with water is not enough to remove all pesticide residues and harmful microbes. Absolute Organix Fruit & Veg Spray has been specifically formulated to destroy harmful bacteria, viruses, yeasts, mould and fungi on contact, and to break down surface pesticide residues, as well as biofilms and waxes on fresh produce.
The spray does not alter taste of produce and has the added advantage of keeping fruit and veg fresher for longer, which means less waste and more money in your pocket.
The formula is certified in Australia and New Zealand for use in the handling of organic produce. It also has an A-rating from the US Environmental Working Group (EWG). The US regulatory body, the Food and Drug Administration (FDA) deems all the ingredients in the Fruit & Veg Spray to be "Food Grade" with a GRAS (Generally Recognised As Safe) rating. All ingredients are fully biodegradable, and have passed scrutiny of the US Environmental Protection Agency's (EPA) Design for the Environment Programme, as well as the US Natural Products Association.
INGREDIENTS (100% botanical):
Purified Water, Glycerin, Citrus Aurantium Amara (Bitter Orange) Fruit Extract, Caprylic Acid, Lactic Acid, Yucca Extract, Acetic Acid, Ascorbic Acid, Lauryl Glucoside, SD Alcohol 38-B.