Words: Lisa de Speville | Photo: Kolesky/Nikon/Lexar
In just the last two months K-Way athlete AJ Calitz has been on the podium, won or set course records at many competitive trail races. As the year winds down, so does his racing schedule. This weekend's 55-kilometre Lesotho Ultra Trail race will be his last for the year.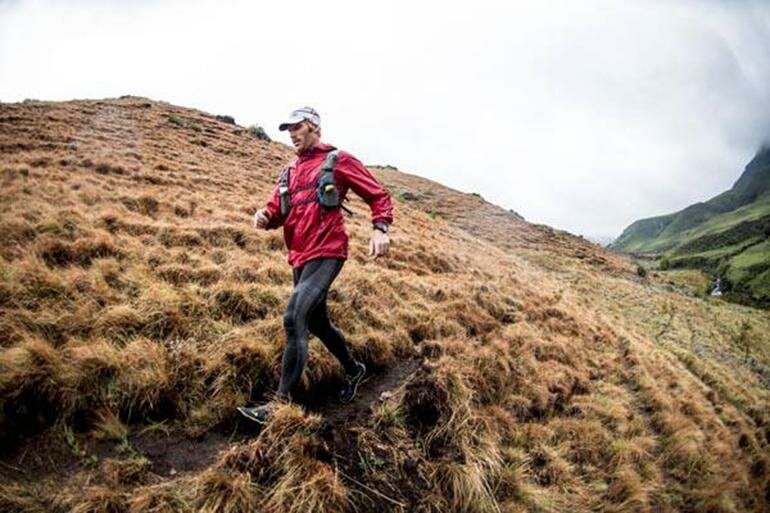 Two weeks ago Calitz took part in the annual Salomon SkyRun – only a week after winning Red Bull LionHeart.
"I didn't expect to still feel LionHeart in my legs, but I did – unfortunately," he says.
"SkyRun was a tough one," Calitz says, recalling the challenging terrain and adverse weather conditions that led to the course being shortened and runners diverted off the mountain and down to safety.
After getting horribly lost between checkpoints one and two, Calitz managed to catch up to the chasing group. He stayed with them – safety in numbers.
"The weather was horrific with torrential ice-rain and winds of 100kph. It was very dangerous on the Dragon's Back, but luckily I had all my emergency kit to keep me going.
"I really had a terrible day from the start and with the cold and navigation problems I didn't eat as well as I should have. I felt the effects of this towards Balloch," he explains.
Reaching Balloch he was already very cold. "I just couldn't warm up again," he remembers. He decided not to carry on.
But then, his K-Way teammate Annemien Ganzevoort – the leading woman runner - came in and told Calitz that she was carrying on. He decided to join her.
"If something happened to her in those conditions and I could have gone along – but didn't - I would never have forgiven myself… and I really didn't want to have a DNF on my first SkyRun either. So, we suited up in our K-Way mountain-trekking and cold-weather gear and carried on. We were halted by race organisation just short of Edgehill Farm though."
"It's amazing how weather like that can draw athletes closer together... where you switch from competing to surviving in only a few moments. I love this kind of racing. It's not all about the winning or prize money or whatever the reason why you run, but it becomes an expedition and a truly valuable life experience," says Ganzevoort.
While Ganzevoort takes a well-deserved rest, Calitz has one more race before he can put his feet up.
Lesotho Ultra Trail is a marked route that is 55-kilometres in distance and, staged in the Mountain Kingdom of Lesotho, the 3200-metres of accumulative ascent comes as no surprise. The course description promises stream crossings, loose rocks, steep descents and "two notable climbs". The section between nine and 22 kilometres is run at over 3000-metres in altitude.
The men's (and women's) field is very competitive and Calitz is expecting to work hard to gain ground on Nic de Beer, Iain Don-Wauchope and Lucky Mia.
"I'm just going to take it as it comes," he adds.
Although your money can be safely bet on Su Don-Wauchope or Robyn Kime for a win in the women's race, the odds are fairly good that Linda Doke, Tracey Zunkel, Chantal Nienaber, Megan Mackenzie or Stacie Carrigan (Canada) could be up front too.
The Lesotho Ultra Trail takes place on Saturday, 30 November 2013 and starts at 05h00. Keep an eye on news coming in from the race through their Facebook page (LesothoUltraTrail) and Twitter feed (@LesothoUltra).