A brace of goals in the first quarter saw Great Britain beat the South Africa women's hockey team 2-0 in the World League Semi-Final tournament's quarter-final match at Campo De Hockey De Valencia in Valencia, Spain on Thursday.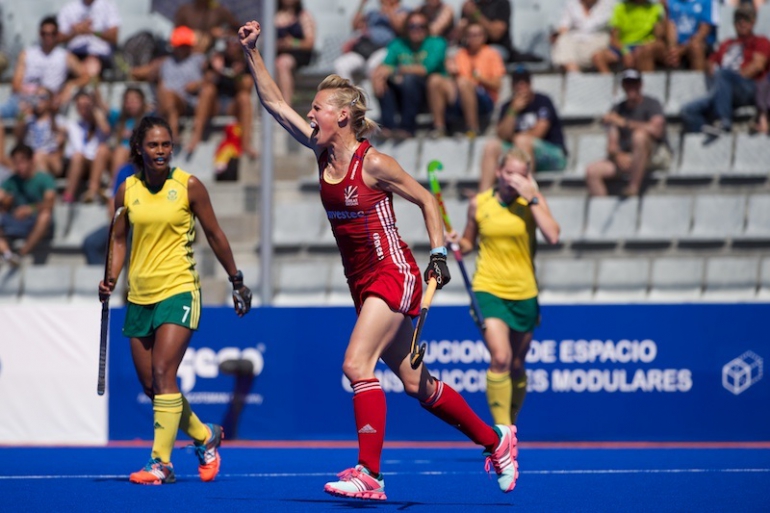 In-form GB striker Alex Danson scored the first goal in the 12th minute and Kate Richardson-Walsh the second from a rather fortuitous penalty corner (PC) deflection a minute later.
On Saturday, SA will face the loser of Thursday's evening quarter-final between Germany and Spain. The time of the SA's playoff match on Saturday that will determine who plays for fifth place on Sunday, will only be decided once all the quarter-finals are finished, and with consideration to international television requirements.
For SA, a fifth-place finish is a must, which would stand them in good stead should two of three semi-finalists in Valencia - Argentina, Great Britain and Spain/Germany win their continental championship. This would bring the fifth-placed team into the picture as a qualifier for Rio. The other semi-finalist, China, lost their continental championship to South Korea.
In the first minute SA keeper Sanani Mangisa made a double save. SA were content to allow GB to make the play, relying on stern defence and fast breakouts off turnovers.
In the ninth SA captain Nicolene Terblanche, Lilian du Plessis and Shelley Russell combined to set up an opportunity down the right flank but the GB defence held firm. SA left-side defender and birthday girl Celia Evans (25) put in some solid tackles as GB probed down the right.
Mangisa saved a deflection from Susannah Townsend - and Russell, deep in defence, cleared the danger before, in the 12th, a hit into the strike zone by Emily Maguire found Danson who spun to free herself some space before picking a spot between the posts (1-0).
A minute later (13th) Richardson-Walsh slapped the match's PC with considerable power and SA suffered misfortune when the ball deflected off first-wave defender Bernie Coston's outstretched stick into the underside of the crossbar and over the goalline (2-0).
Four minutes into the second of the four 15-minute chukkas, SA defender Lisa Deetlefs made a crucial block from a GB shot while in the 22nd Coston showed her trademark pace down the left to earn a PC from her cross. Line Malan had a powerful shot but it flew on the wrong side of the left post.
The match was not short of physicality and GB lost a soldier to the sin-bin after SA right-side defender Erin Hunter had been mown down. A minute from half-time, a fluid move down the right channel resulted in Illse Davids finding space to get in a shot, which led to a second PC for SA. Deetlefs' sizzling slap brought a third PC but this time GB first wave Lily Owsley got out of the starting blocks fast enough to block the shot.
The two early goals forced SA to chase the game in the second half but at the same time they couldn't allow GB to get their winning margin out of sight.
The South Africans had four promising plays in the first part of the third quarter with excellent chances for Jade Mayne and Coston – who forced saves from GB keeper Maddie Hinch. Davids, as well as Evans and Kelly Madsen, also put pressure on the defence. At the other end the ever-dangerous Danson came close.
It had been a good 15 minutes for SA but the score remained 2-0 to GB with 15 left. One minute in, SA striker Dirkie Chamberlain smashed an absolute screamer that flew outside the post before Owsley carved out a great chance for Danson. Possession continued to change hands and opportunities came and went but in the end GB emerged victorious.
South Africa: Sanani Mangisa, Lisa Deetlefs, Nicole Walraven, Line Malan, Celia Evans, Nicolene Terblanche (capt), Shelley Russell, Jade Mayne, Bernie Coston, Dirkie Chamberlain, Lilian du Plessis. Rolling subs: Anelle van Deventer, Erin Hunter, Quanita Bobbs, Illse Davids, Kelly Madsen, Candice Manuel, Tanya Britz.