Posted: December 19, 2013
Words & Photo: Sparx Distributing
Who says you have to sacrifice style for function? With Dragon's new NFX goggle you'll not only have the most stylish goggles on the track, but when your buddies are busy de-fogging, or struggling to change lenses when the afternoon clouds roll in, you'll be doing laps in the most advanced goggles on the market.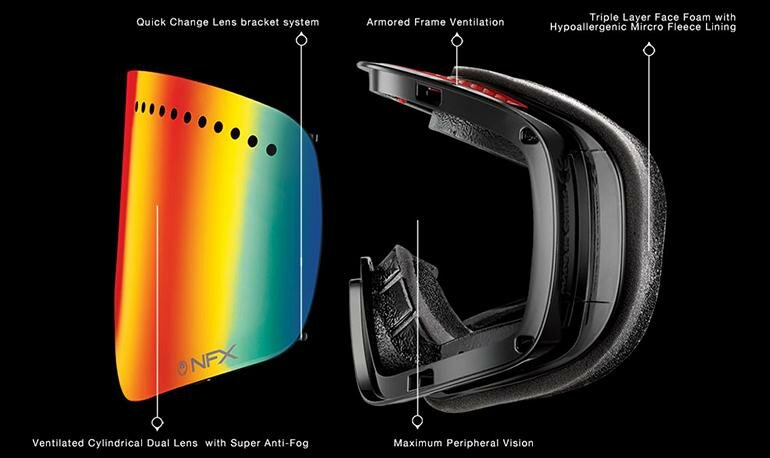 Based on Dragon's award-winning Advanced Projects X Goggle, the all new NFX seamlessly blends the high-end technology found in our patented frameless design with the fresh look of a cylindrical lens. The unique, large-fit design flawlessly fits under most helmets, has the maximum peripheral vision possible, and comes in a variety of color ways.
The NFX features easy lens interchangeability, which allows you to quickly adapt to variable conditions. Add in the benefits of armored venting, unrestricted peripheral vision, and the comfort that can only be found in Dragon's hypoallergenic quad layer face foam, and you have a recipe for uninhibited performance. The NFX lenses offer 100 percent UV protection and are coated with a Super Anti-Fog Treated (AFT) to ensure maximum visibility and protection.
With Dragon's new NFX goggle, you will no longer be bound by limited, foggy vision and cumbersome lens changes. And why should you be? Your riding isn't bound by traditional frames of mind, and your vision and experience shouldn't be either. #WeAre
FramelessSparx Distributing
+27 (0)11 070 7488 (Office)
+27 (0)72 912 4658 (Mobile)
+27 (0)86 767 9978 (Fax to Email)