Words: Francois Flamengo | Photos: DO IT NOW
Austria is probably one of the best ski and snowboarding destinations in the world. The mountains surrounding areas like Lech, Saalbach, Ischgl and St. Anton are completely mesmerising, not to mention the incredible slopes and Apri-Ski culture that visitors can experience. In South Africa however, we are less fortunate, or are we?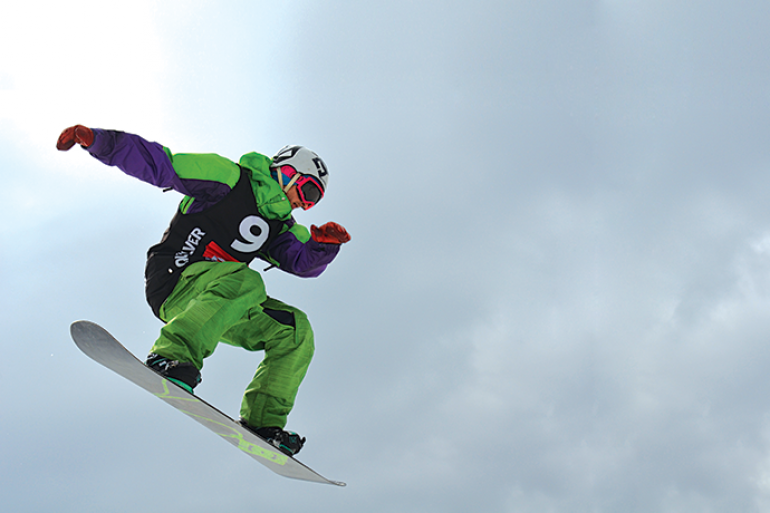 Lesotho, southern Africa's 'kingdom in the sky', is well known for its stunningly beautiful mountainous terrain, and only a few hours away from Johannesburg. Nestled high up in the Maluti Mountains at 3,322 m above sea-level, is where you will find AfriSki Ski & Mountain Resort, one of only two skiing resorts in Lesotho that attracts thousands of visitors - skiers, snowboarders and spectators alike - to its snowy slopes every year. It is also home to the Quiksnow SA Championships.
With a single piste, and a T-bar drag lift that operates from early in the morning until late afternoon to get you to the top of the main slope, the terrain is not that varied or difficult for piste-only snowboarders. But the resort's pièce de résistance, and the reason why we drove down to AfriSki, is a ski park featuring world-class sliders and massive kickers to create the run for the 2012 Quicksnow Snowboard Championship, South Africa's premier snowboarding event. I was hugely impressed with how well manicured the slopes and 'Play Park' were, as well as the overall set up. And with perfect winter conditions, the stage was set for an epic showdown.
Although snowboarding is not a mainstream sport in South Africa, local riders have proved that they can hold their own and compete with honour on the international stage, which is ultimately what any sport should be about. Quiksnow has become an ideal platform from which to showcase the uniqueness and variety of our local sporting talent.
Quiksnow is really two contests in one. While the title of SA National Champion goes to the highest placed South African in each division, the title of Quiksnow Champion is open to all comers. This year's contest attracted its fair share of top competitors, including 2011 champion Jojo Krivec (Slovenia), who returned to defend his title against the likes of Stevie Bell, a pro from the US, who primarily freerides. With these and other world-class snowboarders amongst the competitors, we knew everyone would bring their A-game to the party and that the snowboarding would be of the highest calibre. Starting off on the Friday with the qualifying rounds, riders could be seen scoping their lines down the park as they put their runs together, which would hopefully see them through to the finals on Saturday. After an incredible day of competition, the likes of multiple SA Champion Marcin Jekot, defending SA Champion Luke Dutton, Dean Van Greunen, Marta Jekot and Brigitte Heeb had made it through and were firm favourites for podium positions.
With everyone in high spirits after the day's qualifying rounds, the athletes and supporters enjoyed some refreshments from the ApriSki Cafe. A highlight of the evening was an exhilarating 'everybody is welcome' bum board race down the bottom half of the main slope. While some participants gave it their all, others chose the safer, slower, and actually-braking-from-time-to-time option. But no matter your final speed, it was heaps of fun, and everyone had a great time and a VERY cold face afterwards!
The next morning you could almost feel the tension in the air as the athletes totally focussed on the more serious task at hand; the final showdown. Each rider was given three attempts to run the slope and only the best run would count. This meant there was no holding back and as a result there were a few hard crashes. One unfortunate racer bailed out of a massive jump at the last moment and came down hard on the deck, because he just couldn't build enough speed to clear the big kicker, with a six-metre gap. Luckily he was not too badly injured, but he had to withdraw from the event.
While the competition was in full swing, a vibey snack bar and seating area ensured that the spectators had a great view of the goings on and were part of the fun, theirs cheers spurring on their favourites. And there was delicious hot chocolate and Glühwein to keep everyone warm while enjoying all the thrills and spills. One of the things I really liked about AfriSki's setup is that the whole family can be kept busy within close proximity of each other, thus making sure everyone has as much fun as possible.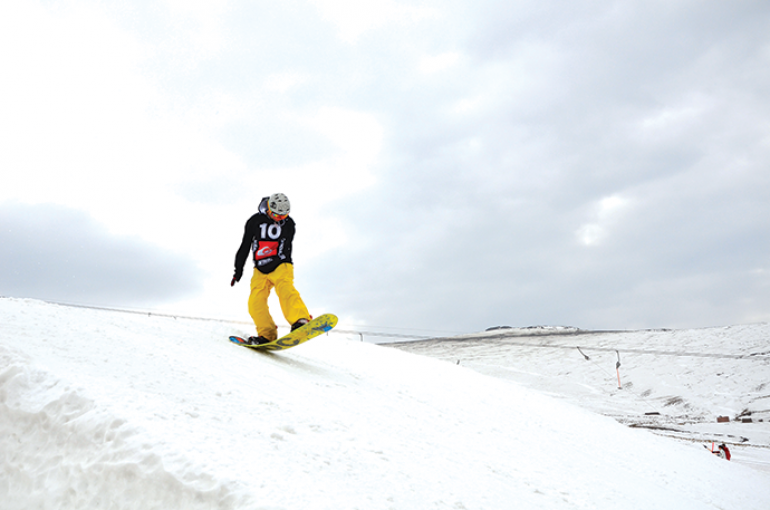 When it was all over, the final results were as follows:
*Open Men's Pro division
1st. Jojo Krivec (20) from Slovenia who defended his title 2nd. Marcin Jekot(29) from Cape Town
3rd. Luke Dutton (16) from Durban
*Open Women's division
1st. Marta Jekot (29) from Cape Town who defended her title
2nd. Bridgitte Heeb (30)
3rd. Vanessa Jackson (29)
With the serious business out of the way, prize-giving was a festive affair with everyone celebrating yet another fantastic and well-organised championship event, to the sounds of rockin' music and the antics of a few riders showing off some of their extraordinary skills indoors J.
Well done to the organisers and Contest Director, Oliver Schwankhart, for putting together such a professional event, and congratulations to all the riders that took part! I can't wait to see you guys back in action next season.
If you haven't been to this event before, I would highly recommend going next year. It's the best 'European' ski destination that you will find in Africa, great for the family or if you want to go with your mates, and most definitely an experience that you will want to come back and experience again and again. Just make sure you book in advance to avoid disappointment.
AfriSki Ski & Mountain Resort
If you've been fortunate to travel overseas for skiing, you will notice that this resort has been designed with an Austrian-influenced culture in mind, and when you settle into the vibe at the resort you sometimes forget that you are still in Africa!
AfriSki boasts a very cool ApriSki Cafe, a very nice restaurant, various accommodation options including self-catering chalets and camp sites, and a ski shop where you can stock up on gear and hire some ski equipment if you don't have your own. There are three slopes that visitors can choose from; a short beginner's slope and training area, an intermediate slope and the main slope, which is much longer and tailored for experienced riders.
It is compulsory for all novices to take lessons before they are allowed on the slopes, to avoid unnecessary accidents. The beginner's slope and training area is perfect for those who have never tried skiing or snowboarding before, and a great way to prepare for an overseas skiing holiday. Qualified instructors are on hand to assist the small kids - and the bigger ones - who looked like pros in no time at all, as they cut their way down the slopes.
The best times to ski and snowboard are June and July, when the snow is at its thickest. The resort, however, is beautiful at any time of the year. Travellers are advised to plan their road trip to AfriSki carefully, bearing in mind that there are sections between Fouriesburg and the resort where there is no mobile reception. There is, however, reception at the resort. For more information visit the AfriSki website at www.afriski.net.