Nairobi, Kenya 29th January 2015 - Over two decades ago in 1992, Finch Hattons first opened to guests and set the standard in luxury eco tented camps. It is now reopening to yet again reaffirm its position as the ultimate luxury safari camp.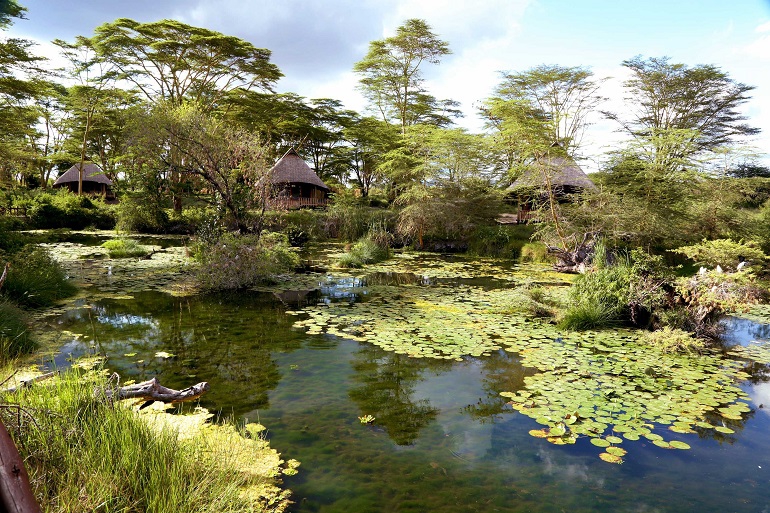 Courtesy of: Finch Hattons
Finch Hattons is set around an oasis of natural spring pools teaming with wildlife and situated to capture the views towards both Mount Kilimanjaro and the Chyulu Hills. The camp is rich in history and renowned for its cuisine, which is unrivalled by any other camp in the African bush and where guests can indulge in the intense wild surroundings from the comfort of a luxury tent. There are brand new tented suites, a pool, spa, conference facilities, a star gazing terrace and what will undoubtedly become Kenya's most fabulous yoga deck with views over the Chyulu Hills, allowing guests to stimulate all their senses in the African bush.
The luxury camp is set on 35 acres of unadulterated wilderness approximately 300km from Nairobi in the heart of the Tsavo West National Park, which is home to over 500 species of birds and a wide variety of other wildlife species including elephants, leopards and giraffe.  With a landscape made up of undulating hills and lava flows on the vast plains surrounding Mount Kilimanjaro, Tsavo brings back to life the romance of Old Africa, losing guests in its breathtaking vistas and magical embrace.
"We are very excited to be opened to guests in February 2015", says Leena Gehlot one of the Finch Hattons Directors. "It is a multi-million dollar investment, confirming our faith and confidence in the Kenyan tourism industry and Africa as a number one tourism destination. Heart, soul and a great team have come together to produce a hospitality product that cannot be described by words.  We have ensured that the history of Finch Hattons has been retained in the refurbishment so that both our repeat and new guests from all over the world will still feel the magic of the camp as they did before.  A lot of planning has gone into the sustainability and architecture of the new Finch Hattons, credited to the renowned South African lodge architect, Mr. Francois Theron."
In his own words Mr. Theron says: "Experiencing Africa in colonial campaign fashion has by no means been this luxurious. The thrill of Africa is experienced from 17 intimate tented luxury suites; which are positioned around a water hole fed by a natural spring from Mount Kilimanjaro, perfect for guests and ideal for wildlife. The open plan design of the tents invites the cooling breeze closer over the water, transporting all the authentic African sounds, tastes and smells right onto your doorstep. Each unit features a private outdoor shower with magnificent views through the unit towards your own glimpse of the water hole. A personal deck allows you to get lost in Africa while spoiling yourself with elite conveniences, such as opulent furniture and all the creature comforts you would expect from the best tented camp in the world."
Originally built in 1992 by German hotelier Peter Frank and Kishan Gehlot, Finch Hattons draws its inspiration from legendary British aristocrat Denys Finch Hatton who is best known to many as Baroness Karen Blixen's lover. An adventurous game hunter turned safari guide to fellow aristocrats, Finch Hatton is credited for bringing luxury camping to Tsavo, introducing tourism to Tsavo, and in his numerous exploits crafting a travel destination whose soul, beauty and charm is comparable to none.  He defined luxury safari camping in the African wild, our modern day version of "glamping".    
A multi award winning camp, Finch Hattons was once again named Africa's Leading Safari Lodge in 2014 by the World Travel Awards.  It is a proud member of the Mantis Collection, a collection of privately owned luxury boutique hotels and eco-escapes spanning across all continents.
Finch Hattons has been developed by the Intex Real Estate Group.  Last year the Group also launched Mahali Mzuri, a luxury safari camp located in the Maasai Mara's Olare Motorogi Conservancy, operated by Virgin Limited Edition and jointly owned by Sir Richard Branson and the Gehlot family.
Rates for the Finch Hattons tented suites start at $590 per person per night. For more information on Finch Hattons Camp visit: http://www.finchhattons.com
Unearthing the Exceptional 
Mantis is a family run collection of award winning, privately owned, five star properties located around the world, across all seven continents. Its specialist areas include Boutique Hotels, Game Reserves, Eco Lodges, Ski Lodges and Chalets and Boutique Cruises, offering in-the-know travellers the most exceptional properties and authentic experiences imaginable.
Each of the diverse, handpicked properties represents the finest example of its kind and celebrates the culture, gastronomy, architecture and nature of the locations in which they are found. Whilst every property is unique, being part of the collection ensures that the quality of the facilities, service and overall experience is consistently 5 star and guests can always expect personal, friendly service.
Officially founded by entrepreneur and hotelier Adrian Gardiner in 2000, Mantis is committed to the spirit of conservation and restoration, and each property is sensitive to its surroundings in respect of the building, environment and local community. The entrepreneurial spirit of the family underpins that of the group allowing them to be dynamic in the growth of the portfolio, responding quickly to consumer demand.
In 2013, Mantis has launched Mantis eXtreme which offers an online collection of authentic, once-in-a-lifetime encounters and experiences worldwide, often paired with product from their field of expertise - five star, handpicked properties. Experiences include: Wilderness camps in the great Niassa at Lugenda Wilderness Camp, Mozambique; Bear Grylls Survival Academy, U.K., USA, Africa; Parabolic flights with Space Affairs, Europe; Rhino Encounters with Dr. Will Fowlds, South Africa; Midnight Golf, Bjorkliden, Sweden and Great Bear Tours, Canada.
Mantis and Mantis eXtreme offer member properties the ideal sales, marketing and management solution for their boutique business to ensure successful growth and drive long term brand development. The company also offers consultancy services in other disciplines including conservation, education and hotel development.