Words & Photos: Kobus Bresler
My love of mountains and less-explored places started at a young age. Growing up in Uniondale, in the Western Cape, it was unavoidable as the town is completely surrounded by beautiful mountains. Over the last 13 years I have been privileged to explore many of South Africa's mountain ranges and the big-mountain bug bit a few years ago with a trip to Mt. Kilimanjaro (three summits to date). But when living in tough economic times, exploring the world's big mountains is not always that simple and straightforward for an average guy with a daytime job. The solution was to search for affordable adventures locally while saving up for more foreign travel. As a result the 9Provinces / 9 Peaks / 9 Packs / 9Days trip became a reality.
Photo credit: Kobus Bresler
My employer, First Ascent Outdoor Apparel, launched a new range of backpacks and accessories at the start of this year and I wanted them to be involved. When I first mentioned my plan to our Sales Executive he looked at me with disbelief. As I continued explaining this novel concept, I saw more and more interest until his answer was simply, "YES, let's do it." At the time I had no idea whether it would be possible to ascend the highest point in each province of South Africa, with a different backpack, in nine days. The intention was never to do it solo either, but I couldn't find anyone I trusted to go with me and so it became a solo trip, which required lots of research and planning. It is certainly never safe for anyone to head into the hills alone and I had so many people say to me, "Don't do it," or "You will not be able to do it." Other common remarks were, "It isn't safe," and "You won't have enough time," or "When are you going to sleep?" I even had one person say to me, "You? Never! Not you." At the same time many positive comments came my way, which completely overshadowed everything else.
From my research I gathered that a similar trip had been attempted only once before and was concluded just within nine days. The main difference was that it was by a group, who had logistical and driving support, as well as the necessary backup should something go wrong. I was going to be on my own, with no support team.
As the trip drew nearer I became increasingly nervous knowing that this had never been done solo before. What amazed me most from my research was how little South Africans understood this concept and what it entailed and meant. Driving to Haenertsburg in the Limpopo the day before I was due to start, I made a decision to finish the trip successfully and share my story with everyone who cared to listen.
As South Africans we are truly blessed with amazing scenery and challenges, as long as we are willing to explore and look for them.
The 9 Peaks trip officially started at 05:30 on 22 March at the foot of peak one, Iron Crown in the Limpopo province. The clock started at the foot of this first peak and would end at the summit of the last peak. The first four peaks of the trip were going to be straightforward while the remaining five would be more complicated, so I wanted to wrap up at least three on day one. Before I knew it the steep three-kilometre walk up to Iron Crown was over as I summited just before sunrise. It was stunning at the top, with Haenertsburg in the valley and swooping hills covered in plantations all the way to the horizon. The view totally inspired me and I knew then and there that I wanted to complete what I had set out to achieve. Resolutely I said to the camera, "One down and eight to go."
Back in Akkedis, my trusted Corsa bakkie, I headed towards Mpumalanga. I knew there was a road to the top of De Berg in Mpumalanga and was definitely planning to use it. I arrived a few hours later only to find 13 different locks on the gate, which meant the eight kilometre stretch was to be done on foot after all. Jogging to the summit at pace, it was now two down and seven to go. With a massive thunderstorm on the way, the descent was even more rapid as Akkedis sped its way towards Gauteng.
On the way to Toringkop, in Gauteng's Suikerbosrand Nature Reserve, I was already starting to feel a bit tired, but the thought of big mountains from the next day onwards kept me going. Toringkop was accomplished just before sunset and I spent some time enjoying the awesomeness of being there, before looking into the camera to say, "Three down and six to go." The exquisite sunset gave me renewed energy and I decided to tackle one more for the day. The drive to the North-West was uneventful and a fairly good road took me to the top of Nooitgedacht West, which was now in darkness. Wow, what a day I thought. Exhausted but elated, I drove to my home in Centurion for a good night's rest, knowing that it was four down and five to go.
An early start the next morning saw Akkedis heading to the Northern Drakensberg for an attempt at Namahadi, the highest peak in the Free State. Despite some traffic hold-ups I made it to Witsieshoek Mountain Lodge in good time. After a disagreement with the GPS I found the peak the old fashioned way, by map and compass. The sun was setting as I reached the top, but there was no time to appreciate its beauty as I had to get back down to Witsieshoek. At this late hour it meant climbing down the chain ladders in the dark and against a strong crosswind. Not the safest activity to do when you are strolling around alone at night, and certainly not recommended! All went well though and by 23:00 I was snuggled up in bed, happy in the knowledge that it was five down and four to go, and the first big mountain of the trip was behind me.
I woke up the next morning feeling terrible. A head cold, blocked nose and sore throat meant that I was pretty much useless. Taking my time, I slowly cruised into Harrismith and decided to stop at the chemist to get some medicine. The rest of the day was spent in town with old friends before venturing onwards to Injisuthi Camp, in the Central Drakensberg. Although I was still upset at losing almost a whole day, I was starting to feel better as I gulped down some tablets and set my alarm for 04:00. But I only woke up at 07:00 and very confused. I'm still not sure what was in those tablets as I was knocked out, but the cold remained. Undeterred, packing happened quickly as I knew I had to make up lots of lost time.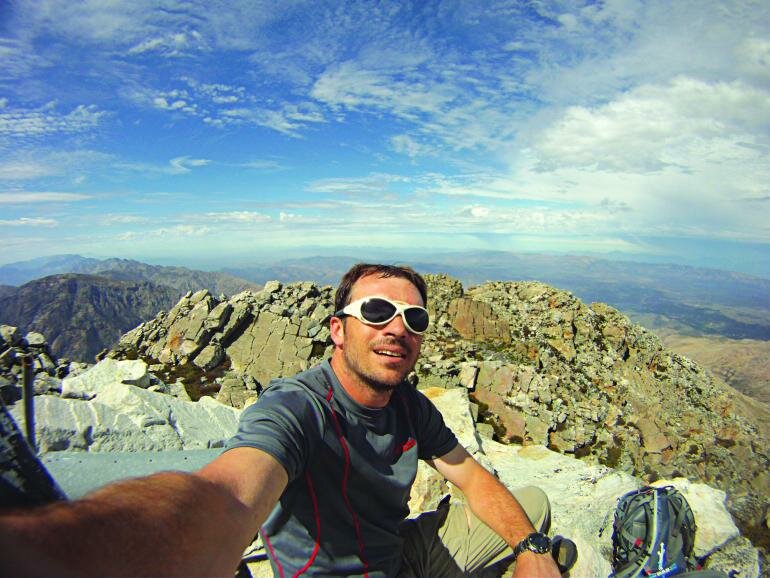 Photo credit: Kobus Bresler
Sneezing and coughing I started my hike up to Mafadi, the highest peak in KwaZulu-Natal and South Africa. The first seven kilometres was quite easy and passed quickly as I followed a good trail to Marble Baths Cave. The trail to Leslie's Pass is steep and having been up this monster before I knew there was a real challenge ahead.
Despite knowing that it wasn't safe to be out there alone, I was loving it. Only the sounds and smells of the mountain and me; a small speck in the massif known as uKhahlamba-Drakensberg. A feeling of contentment washed through me as I made my way in a late-afternoon downpour to the top of the escarpment. It is always a great feeling reaching the top of a mountain pass and I wanted to capture the moment on video camera. This feeling of happiness turned to extreme disappointment when I couldn't find it and knew I had lost it somewhere on the pass. Making my way back down Mafadi went pretty quickly and by 22:00 I was back at the top of Leslie's Pass. I was feeling good, so instead of camping there as originally planned I decided to keep going to make up time. By 03:00 I had yet to reach Injisuthi and called it a day, pitching my tent in amongst the rocks. It was not a clever idea to walk down Leslie's Pass at night, especially when you are alone. But it was six down and three to go.
Walking out the mountain the next day I was feeling more confident having made up some time. But this new-found confidence was short lived when I discovered that my spare wheel had been stolen somewhere on the trip. As I only noticed this on Saturday afternoon, when nothing was open, I was forced to spend the night in Howick and more precious time was lost. After three unsuccessful hours of trying to purchase a wheel, I finally left Howick late on Sunday morning. It was only at Matatiele that I managed to get a wheel on loan, thanks to a friend of a friend, for use on the bad gravel road to the foot of KwaDuma.
I eventually arrived at KwaDuma, the highest peak in the Eastern Cape, at around 15:00. I left my car at a police station, in a village called Tabase, and asked if they would drop me where the road ends. They all thought I was crazy going up there alone and unarmed, and wrote 'Potential High Risk' next to my name in the counter book. They then proceeded to tell me about the man who had been killed by dogs in the area I was going to, not eight months before. But I was a man on a mission so up and up and, you guessed it, up some more. This peak was long and steep and I could understand why the policemen reckoned I was crazy. The words, "You are crazy," rang in my head as I kept heading upwards. And then the 'fun' really started.
A few hours later, while sitting in the dark and mist on top of Kwaduma absolutely terrified, I realised why you should not go there alone. Rough and steep terrain, extremely thick mist, absolute isolation, a battle with a Berg Adder and an encounter with four big and angry woolly dogs that I stood no chance against, would pretty much sum it up. The dogs tracked me for at least three hours and I was terrified at the prospect of meeting them again in the dark on the way down. Time was of the essence so I decided to head down in the dark and thick mist, and much, much later I was ecstatic to be in the safe confines of Akkedis. KwaDuma is undoubtedly the scariest place I have ever been and is not to be taken on solo. I got lucky, and it was seven down and two to go.
Waking up in Matatiele the next morning, my confidence soared as I was alive to tell the tale and had made up good time. The plan was to drive to Nieu-Bethesda and summit Murch Point, the highest peak in the Northern Cape, that day. I purchased a new spare wheel and was just about to leave Kokstad when an unlicensed driver, without insurance, wounded Akkedis by removing his bumper at a fuel station. This resulted in a lengthy argument and a four-hour delay. After a nightmare drive, I managed to get to Nieu-Bethesda at 01:00 the next morning, once again way behind schedule.
Waking up in Nieu-Bethesda I knew it was going to be a good day. The Karoo has a way of relaxing you and it just felt right to be there. Although quite steep and rocky, Murch Point was conquered quickly and it was a beautiful and fun ascent. It's an easy hill to underestimate, but I simply loved being back in the Karoo, with the majestic Compassberg in the background. I was now on my way to Ladysmith in the Western Cape, amped to wrap it up with eight down and just one to go. I was considering a night ascent of the last monster to try and finish in less than eight days, but decided against it once I got to Ladysmith.
After spending the evening with some wonderful people in Ladysmith, I took on the last of my peaks, the Seweweekspoort Peak in the Swartberg, early the next day. It was steep and never ending, and about halfway up there was a moment when the whole trip got to me and I felt utterly exhausted. But then I looked at the mountain, manned-up and finally made it to the summit at 12:22. The weather was perfect and the views from this steep and rocky mountain were absolutely breathtaking. At that moment there was simply nowhere else I wanted to be. I felt overwhelmed and privileged to have done this and spent almost two hours just sitting on the peak not wanting to leave. Secretly I was dreading the steep descent as the knees were hurting. The trip was completed in exactly eight days, six hours and 52 minutes and is the first successful solo attempt in less than nine days. It was one of the best experiences ever, and one that I hope will inspire others to explore the wild and secluded places of South Africa. I was forced to do things I wouldn't normally consider, and as a result there is a new solo record to chase. My challenge to others is this: Chase it, go at it, break it and have fun with it. It can be done faster with better luck and if you are willing to take a few risks on your own. I realised once again what a beautiful and diverse country we live in and that my 9 Peaks trip was a great way to explore a large part of it. If you are not one for these types of challenges, but love the hills, then go and do it on your own terms.
Take a few friends, plan a three-week trip, do fun things along the way and make the 9 Peaks your goal. Whatever it takes, just get out and explore our scenic country and its majestic massifs. The rewards are well worth the challenge.
Key features of the range include:
• Terra-Hex 420D fabric provides lightweight durability, with 600D adding strength in high-wear areas.
• All the packs are hydration compatible. The Aqueos
and Artemis come standard with a Nalgene bladder.
• YKK Zippers are used throughout the range.
• Most packs come standard with a rain cover where practical. Rain covers of different sizes are available separately if required. The Globe comes standard with a lockable flight duffle bag stored in the base for convenience and security.
• Unique and extremely comfortable harness designs.
• Very practical designs with no frills, which makes the whole range superb value for money.
For more information on item-specific information, visit the First Ascent website at www.firstascent.co.za or contact your nearest dealer.
dinFO
For every peak on the trip a different backpack from the First Ascent range was used. Not all packs are designed for mountain travel, but part of the challenge was to test the versatility of the range. See the table below for how the packs and peaks were matched (peaks sourced from www.peakbagger.com).