Posted: September 30, 2014
Billabong South Africa is proud to present the final event in the 2014 Junior Series.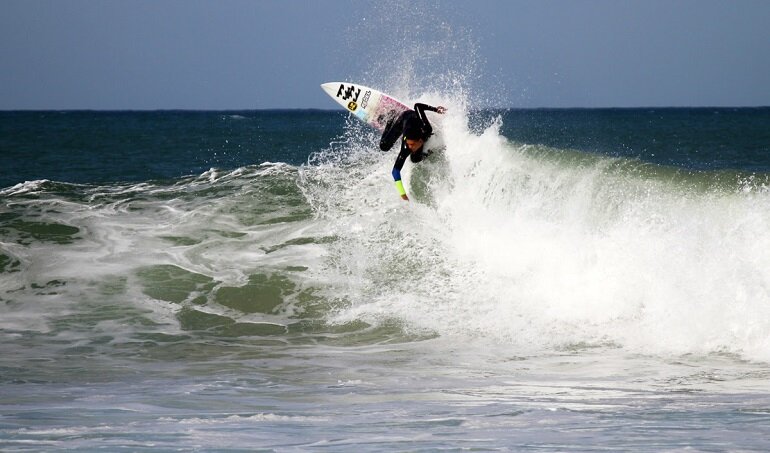 Photo credit: © Carel Olivier
What:
The Billabong Junior Series presented by BOS is the premier junior surfing series in South Africa comprising three events across the country. It awards individual titles to U12 Boys, U14 Boys, U14 Girls, U16 Boys, U16 Girls and the Pro Junior Women and Pro Junior Men's divisions. The Pro Junior division is sanctioned by the Association of Surfing Professionals (ASP) and is an ASP-rated event.
Where:
The first two events took place at Mossel Bay and Cape Town respectively, while the third and final event will take place at the right-hand point-break of Seal Point, Cape St Francis. The forecast for the weekend shows promise of fun waves and great weather. "We've already had two great events this year so far, and we're looking set to finish on a high note," said Billabong South Africa Marketing Manager Chad D'Arcy. "We've seen a remarkable improvement in the performances of the junior surfers in South Africa, especially whilst competing in international events, and we're proud of our legacy with the premier junior surfing series in the country."
When:
The event is a three-day event, set to run Friday 3 - Sunday 5 October. The opening function will be at the Cape St Francis resort on Thursday 2 October at 6:30pm.
Who:
The top junior surfers in the country will be competing for the illustrious division titles, as well as the numerous specialty awards on offer. Surfers from across the country, including the likes of York van Jaarsveld from Kommetjie, Tide Lee ireland from Durban, Koby Oberholzer from Warner Beach, Jordan Maree from Kalk Bay, Rewaldo Abersalie from JBay, Ruth Armstrong from Scarborough, the Smith sisters Emma and Gina from JBay and Max Armstrong from Scarborough to name a few.
Why:
Apart from the individual division titles, there are numerous other prizes for the taking. The BOS Surfer Of The Contest, the Nixon WTA Award, the DaKine Youthful Movement Award, and the KR Finsfree Daily Awards, as well as two Dennis Ellis surfboards for the Underground Rippers, and there is a Nixon Limited Edition 48-20 for the series winners in the U20 Boys and U20 Girls divisions.
The Billabong Junior Series 2014 has a number of supporting sponsors, including Playstation, Samsung, Techniblock, Nixon, VonZipper, KR Fins, Denis Ellis Surfboards and Future Life. The Billabong Junior Series presented by BOS is sanctioned by Surfing South Africa. Surfing South Africa is a member of the South African Confederation and Olympic Committee (SASCOC) and is recognised by the Dept. Of Sport and Recreation as the national governing body for surfing. The Association Of Surfing Professionals (ASP) is the recognised world governing body of professional surfing and has been crowning undisputed World Champions since 1976.
More information
Facebook
Billabong South Africa www.facebook.com/Billabong.South.Africa
Billabong Womens South Africa www.facebook.com/BillabongWomensSA
Twitter
Billabong South Africa twitter.com/@billabongsa
Billabong Womens South Africa twitter.com/@bbwomens_za
Instagram
Billabong South Africa - @BillabongSA
Billabong Womens South Africa - @Billabongwomens_za
The Series Hashtag is #billabongjnr
Video
Cape Town event final day: www.youtube.com/watch
Mossel Bay event final day: www.youtube.com/watch