HOSSEGOR/SEIGNOSSE, Southwest Coast/France (Wednesday, October 1, 2014) - Continued small surf in the one-to-two foot (0.5 metre) range has prompted event organizers to call another lay day for the Quiksilver Pro France.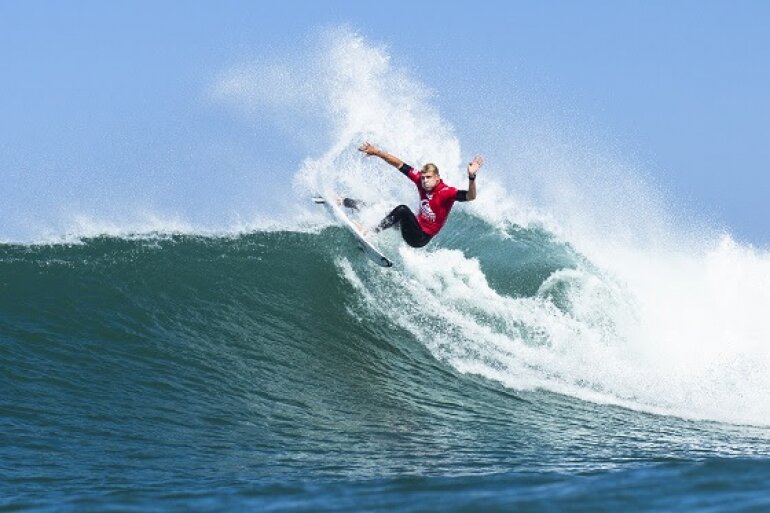 Photo credit: ASP / Poullenot
Location: Hossegor/Seignosse, South West France
Holding period: September 23 - 29, 2014
Call: Lay Day
Conditions: 1 - 2 ft and Clean Conditions
Stop No. 9 of 11 on the 2014 Samsung Galaxy ASP World Championship Tour, the Quiksilver Pro France is a critical stop in both the hunt for the world surfing crown as well as the battle for requalification. The event will resume when conditions improve. "Continued small surf this morning and we've called another lay day," Kieren Perrow, ASP Commissioner, said. "We expect to see a swell fill in overnight so we'll be back in the morning to see what is on offer."
Surfline, official forecasters for the Quiksilver and Roxy Pro France, are calling for: WNW swell continues to ease today. New WNW swell fills in on tomorrow. and peaks on Friday. WNW swell continues for next weekend. When competition resumes, up first will be Josh Kerr (AUS) up against Adrian Buchan (AUS) in Heat 5 of Round 3.
The Quiksilver Pro France will be webcast LIVE at ASPWorldTour.com
Quiksilver Pro France Remaining Round 3 Match-Ups (1st Advances to Round 4, 2nd Finishes Equal 13th):
Heat 5: Josh Kerr (AUS) vs. Adrian Buchan (AUS)
Heat 6: Gabriel Medina (BRA) vs. Jeremy Flores (BRA)
Heat 7: Kelly Slater (USA) vs. Travis Logie (ZAF)
Heat 8: Owen Wright (AUS) vs. Miguel Pupo (BRA)
Heat 9: Adriano de Souza (BRA) vs. Filipe Toledo (BRA)
Heat 10: Taj Burrow (AUS) vs. Kai Otton (AUS)
Heat 11: Jordy Smith (ZAF) vs. Julian Wilson (AUS)
Heat 12: Joel Parkinson (AUS) vs. Jadson Andre (BRA)
Quiksilver Pro France Round 3 Results (1st Advances to Round 4, 2nd Finishes Equal 13th):
Heat 1: Mick Fanning (AUS) 17.27 def. Dion Atkinson (AUS) 16.53
Heat 2: Kolohe Andino (USA) 15.67 def. Fredrick Patacchia (HAW) 12.23
Heat 3: Matt Wilkinson (AUS) 10.00 def. Michel Bourez (PYF) 5.60
Heat 4: John John Florence (HAW) 15.17 def. Sebastian Zietz (HAW) 11.17