Words by: ASPWorldTour.com
CASCAIS, Portugal (Friday, October 3, 2014): The Cascais Women's Pro has been called ON today for Rounds 2 and 3. Competition will begin at 8:00 a.m. local time (GMT +1) in 3 to 4 foot (1 metre) waves at Carcavelos. Up first will be Dimity Stoyle (AUS) vs. Nikki Van Dijk (AUS) in the opening heat of Round 2.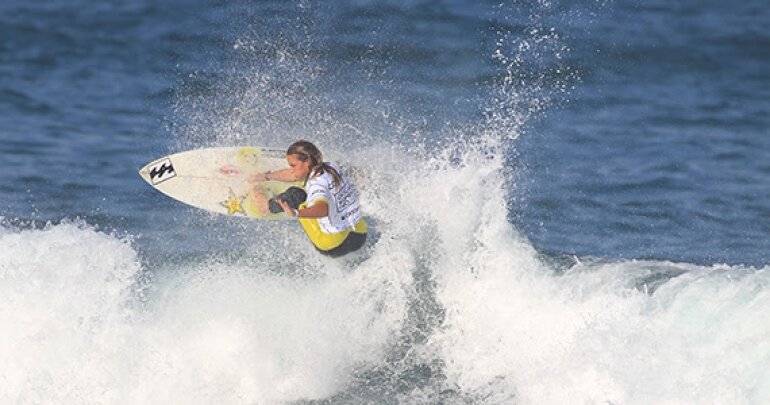 Image: ASP / Masurel / Aquashot
Stop No. 9 of 10 on the 2014 Samsung Galaxy ASP Women's World Championship Tour, the Cascais Women's Pro, will play a crucial role in this year's exciting World Title race. With four surfers in contention, only Stephanie Gilmore (AUS) has the opportunity to take the Title in Portugal. Gilmore will face Portuguese wildcard Teresa Bonvalot in elimination Round 2 today.
"That swell that we've been tracking has arrived in Carcavelos," said ASP Women's Commissioner, Jessi Miley-Dyer. "We're going to start with Round 2 followed by Round 3 and possibly Round 4. I think today is going to be the best day of the waiting period so we're going to take advantage of it."
Surfline, official forecaster for the Cascais Women's Pro, have called for: Solid NW swell shows for Guincho on Friday and into the weekend but local winds/conditions are an issue, especially during the afternoons. Smaller NW swell wraps into Carcavelos on Friday and the weekend with more favorable winds/conditions. Swell mix continues for early next week with the strongest surf continuing for Guincho.
The Cascais Women's Pro is webcast LIVE at ASPWorldTour.com
Cascais Women's Pro Round 2 Match-Ups:
Heat 1: Dimity Stoyle (AUS) vs. Nikki Van Dijk (AUS)
Heat 2: Johanne Defay (FRA) vs. Alessa Quizon (HAW)
Heat 3: Stephanie Gilmore (AUS) vs. Teresa Bonvalot (PRT)
Heat 4: Malia Manuel (HAW) vs. Alana Blanchard (HAW)
Heat 5: Bianca Buitendag (ZAF) vs. Paige Hareb (NZL)
Heat 6: Courtney Conlogue (USA) vs. Coco Ho (HAW)
Location: Carcavelos, Cascais, Portugal
Holding period: October 1 - 7, 2014
Call: Rounds 2 and 3 called ON - 8 a.m. start
Conditions: 3 - 4 ft (1 metre) surf