Posted: September 30, 2014
Cradock – With 1700 paddlers set to converge on Cradock for the Hansa Fish River Canoe Marathon on 10 and 11 October, few rivalries can match the intriguing race-within-a-race involving the infectiously enthusiastic Haw family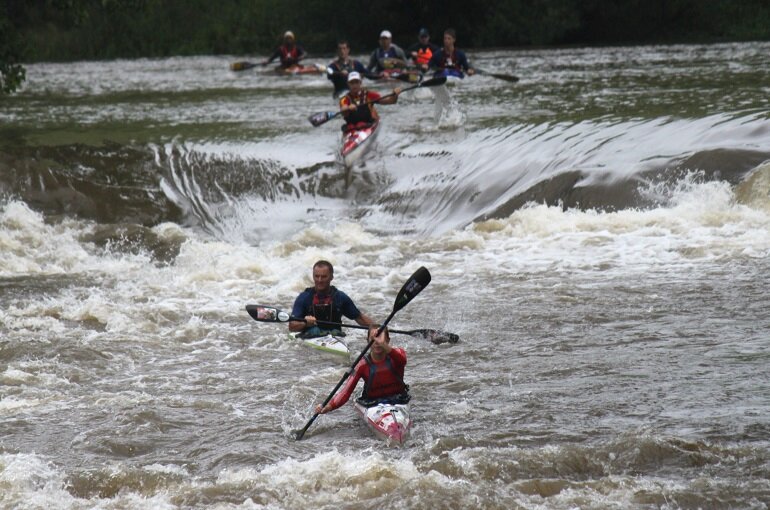 Photo credit: Supplied / Gameplan Media
Dad Glen, son Murray and daughters Bianca and Tamika – all ably assisted by super-second mom Mandy – are set to resume the internal family challenge over the two days and 82km of the race again this year.
"For the past eight or so years I've either driven my children or a youngster from Epworth down at Fish but with all our children having finished school now, I'll be in my K1 for the first time in a while," explained 'Farmer Glen'.
"I normally get thrashed these days by the kids but it's all a heap of fun and now with the girl's boyfriends all being paddlers as well, there is quite a build-up ahead of the bigger races," he added.
Through Glen's organisation of the world renowned Nedbank sani2c, Old Mutual joBerg2c and, more recently, the BSi Steel dusi2c, the family name has become synonymous with adventure sport and hence the writing was on the wall for the next generation of Haws to graduate into outdoor enthusiasts.
It is through this passion for the outdoors that the Haw family has developed a natural affinity for endurance sports which in turn has led to a rare inter-family competitiveness when it comes to events such as the Hansa Fish.
"There is a huge rivalry amongst all of us!" explained youngest daughter Bianca. "There's plenty of banter being thrown around the night before a race and then every night after the race all the war stories from the day's action are swapped and shared."
"My brother is no longer part of our race because he has become just too strong a paddler for the rest of us, but every year the Fish is still a big race between my sister (Tamika), my dad and I!" she added.
All three siblings are based down at Stellenbosch University and passionate members of Maties' Canoeing Club, however it is in the familiar waters of KwaZulu-Natal – where all three were schooled – that they first made a name for themselves.
Bianca burst onto the river marathon scene in 2011 when she won the junior girls title at the Dusi Canoe Marathon despite being just an U16 competitor and, in the same year, Murray won the junior boys title and it was here that the family contest first began.
"Previously I'd always taken the kids down the Dusi in a double but Bianca, who always wanted to go one better, decided she was going to do it in a single.
"She started in the women's batch (C batch) and me in D batch but I only eventually caught her at Geoff's Road and shouted at her for going too hard.
"She went on to win the junior girl's title, despite only being sixteen years-old, and in the process beat me. That's definitely where it all began for us," said Glen.
Bianca and Murray replicated the feat with partners Jordan Peek and James Speed respectively in 2012's K2 championship year before the sisters then combined famously to clinch the final spot on the podium in 2014's K2 Dusi while Murray then narrowly missed out on a prized top 20 finish at this year's Berg River Canoe Marathon in the Western Cape.
With her paddling pedigree well proven, Bianca recently turned to the family's other endurance sporting passion – mountain biking – to leave her mark. The young star went on to become South African U18 Women's National MTB Champ before clinching her age group's road cycling national title as well.
With the family's primary focus on the KZN big three – the N3TC Drak Challenge, Dusi and Stihl Umkomaas Canoe Marathon – being the family's primary focus, the Hansa Fish comes very early in their paddling season however the internal rivalry is sure to make up for their lack of time of the water.
"With Murray having done Berg this year he is in really good shape. I've only just started my Dusi training again and I've only recently done two small races down here in the Cape so I'm going into this Fish still pretty unfit," said Bianca.
"The Fish is very early in our season so most of us are usually totally undercooked but it's always a good time down there!" added Glen.
The quartet's efforts would however not be possible without super second Mandy, a vital cog in the machine's functioning.
"Mandy is the driving force behind all of us!" said Glen. "She's the scariest too. Having spent six weeks over December training quite hard, we'll then get off the water pretty finished after a day's racing and yet she'll still be running around all of us, organizing cooler boxes and getting everything done."
"It's impossible for her to look after all of us nowadays though so I'm left out to dry. Mandy says either I have to shape up or ship out!" he chuckled. "I guess if I can't keep up with Murray and the girls then it's my own fault!"
The Hansa Fish River Canoe marathon takes place on Friday 10 and Saturday 11 October 2014. More information can be found at www.fishmarathon.org.za