Words: Annie Fyfe-Hitchings
This week sees the launch of the Hello Kitty #OneKindThing Campaign, an initiative aimed at making young people aware of just how powerful kindness can be in the world. The old adage that kindness doesn't cost you anything is true and Hello Kitty is leading the way on this journey of benevolence, which is all about encouraging kids to carry out random acts of kindness.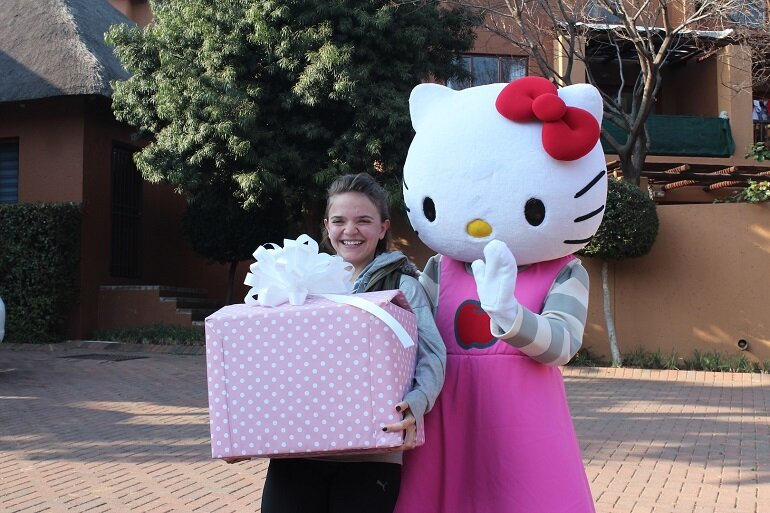 Hello Kitty is calling upon fans – old and new – to take part in an act of kindness, with the key message of the campaign to encourage South Africa's youth to "Do one kind thing for someone. Pay it Forward and join the movement". It seems as if in our crazy, busy and stressful lives, somewhere along the line the world has forgotten the art of kindness. The Dalai Lama said it best when he said, " Be kind whenever possible. It is always possible." The Hello Kitty #OneKindThing Campaign is aimed at making people remember that kindness costs nothing, but that it's value can be imeasurable.
Hello Kitty herself launched the #OneKindThing on Saturday, by acknowledging and assisting the kindness of another perpetuator of good deeds, "Girl with Cake", Nerine Gardiner, a South African with a simple message of encouraging people to share the love, no matter how they choose to do it. Nerine has been baking beautiful, over-the-top, delicately frosted cakes that she delivers to people less fortunate than herself, as she believes that cake brings a unique happiness that everyone deserves to feel. To acknowledge this kindness and to ensure that Nerine can continue to do this good work, Hello Kitty delivered Nerine a trailer full of baking supplies and goodies to ensure that her ability to share the love continues well into the future.
This is the first of manyacts of kindness that will be carried out by Hello Kitty during the coming weeks and months and she hopes to inspire young South Africans to join her on this journey of kindness. The Hello Kitty #OneKindThing campaign is a multi-facetted one, but will largely be driven through social media channels.
To mark the official commencement, the Hello Kitty #OneKIndThing Campaign launched the Official Facebook Page, 'Hello Kitty Loves South Africa' this week as a mechanism to showcase just how infectious kindness can be.
Hello Kitty Loves SA is on a mission to bring kindness to South Africa, inspiring people to do #OneKindThing for family, friends and even strangers.
To follow Hello Kitty's Journey of Kindness or to be a part of the journey, use:
FaceBook: https://www.facebook.com/HelloKittyLovesSouthAfrica
Instagram: https://instagram.com/hellokittysouthafrica/
Hashtag: #OneKindThing