Words & Photos: Dean Venish
As a passionate East Londoner, it is embarrassing for me to admit that I had never been to a Buffalo Marathon. Over the years, I have often driven past the runners as they wound their way through the different suburbs and along Willasdale Road, which in a car is a first-gear hill climb that twists like a snake winding itself up a pole. So it was with much excitement that I attended the 41st edition of the Nestle Bar One Buffalo Marathon, held last Sunday (1 March 2014) in East London.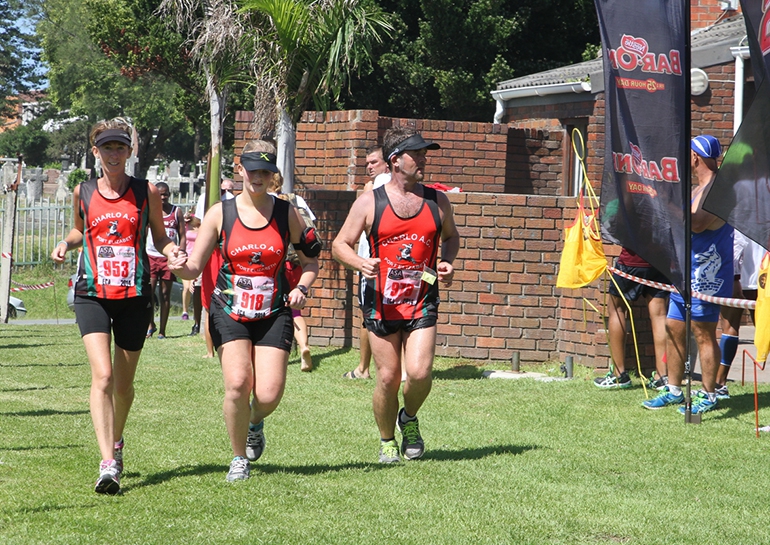 Photo credit: Dean Venish
Arriving at the start of the 42.2 km walk at 04h30, when the average person is still sound asleep, the walkers set off into the dark, an hour before the runners.
As I wandered around greeting some friends, I could feel the tension amongst the runners in the chilly, early morning air. For some, like PJ Larking, it was their first marathon, while for others it was another notch in their belt, like Michael Sparg who was attempting his twentieth Buff and proudly displaying his intention on his shirt with the slogan 'Going for 20th'. The difference in emotions was clearly visible, with the first-timers excited but unsure of what to expect, while the veterans had that knowing look of what they were about to encounter out on the road, kilometre after tough kilometre. Then I noticed Cristin Flynn, a runner who wasn't wearing tekkies, and Zola Budd immediately sprang to mind. This sparked my inquisitive nature and on enquiring about this, Cristin said that she had always wanted to attempt a Buff barefoot. When I reminded her that this is Africa and the roads are, well, they aren't always that well maintained, she just smiled and showed me a thumbs up.
As soon as Wayne Naylor, the announcer and resident DJ, announced that the start was imminent, the traffic officials immediately closed off the roads and the countdown began. On the starter's gun, the marathon runners set off into the sunrise.
I waited for about 10 minutes before following the runners. By this time, most of the runners had settled into an easy rhythm, while those up front were what I would classify as running at a near sprint - and this was a marathon. I realised that if I was to going to be ready and waiting to capture of the winners crossing the finish line, I would have to seriously hightail it to Buffs Club.
The mood at Buffs Club was really festive; there was music playing, fires were flaring and the braais were laden with delicious smelling meat. I spoke to Martin Smith, the chairman of Buff's Running Club, who said that the first marathon runners were expected in at about 07h45 - if they wanted to beat the record. The first runner in was the 21 km or half marathon winner Luthando Hejana, who had also won the 10 km Surfers Challenge a week earlier. Hanlie Botha took the Women's section in the half. And in a winning time of 2 hours 25 minutes, Anele Maliza took top honours in the marathon, and the first female home was Stephanie Smith.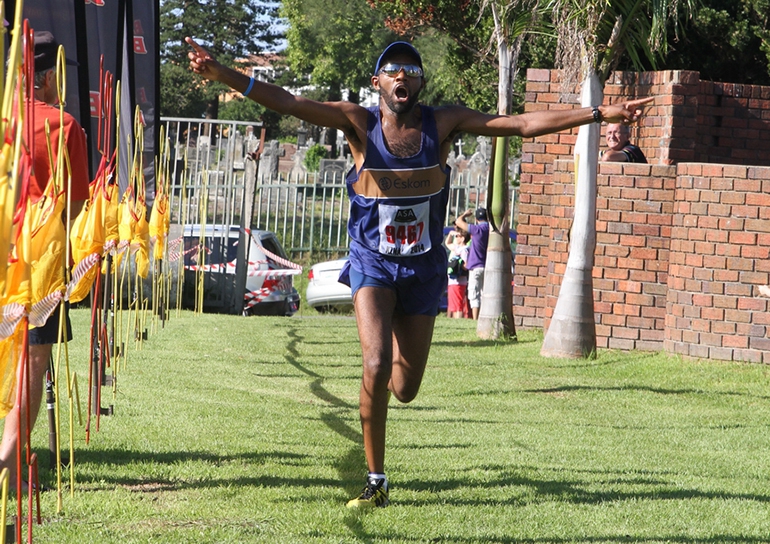 Photo credit: Dean Venish
The rest of the field was steadily coming in and while some were elated with their time, there were those that showed signs of taking strain in the rising early-morning heat. I was on the lookout for my friends I'd met at the start and saw PJ cross the finish in a time of 3 hours and 49 minutes, an excellent time for a first timer. Michael Sparg finished his twentieth race in 4 hours and 54 seconds. Cristin 'Zola Budd' Flynn came in at 4 hours and 53 minutes, with a huge smile plastered across her face, having successfully run her first Buff takkieless.
The walkers were also starting to come in, with first place going to Vusumzi Mbila in the Men's 42 km and Tony Pitcher in the 21 km event. In the Women's section, Annetjie Rogers was the clear winner in the 42 km walk with a 15-minute lead. The 21 km walk was a much closer affair and saw Louise Lottering taking the top spot, just 2 minutes ahead of second-placed Denise O'Hagan.
Now this is one event I would not attempt as a runner, I just know my limits. But as a spectator and photographer, I will definitely be back. I had so much fun and it went off like a well-oiled machine, with every Buffs member a vital cog in that machine. I was very impressed with this event and can surely recommend it to everyone. Whether you are a runner or a supporter, it's an event that doesn't disappoint.
More information
For more details on the next Buffs event, go to www.buffsclub.co.za. For more photographs of the event, go to www.picasaweb.google.com/deanoven