Posted: November 24, 2014
Tshwane, South Africa (22 November 2014) -- The 2014 Unite 2.0 campaign, an initiative of the Department of Sport & Recreation South Africa and the Department of Arts and Culture, was a joyful and celebratory day as over twenty-three thousand South Africans climbed on their bicycles, or pulled on their running shoes, to compete in the second annual Nelson Mandela Sports and Culture Day.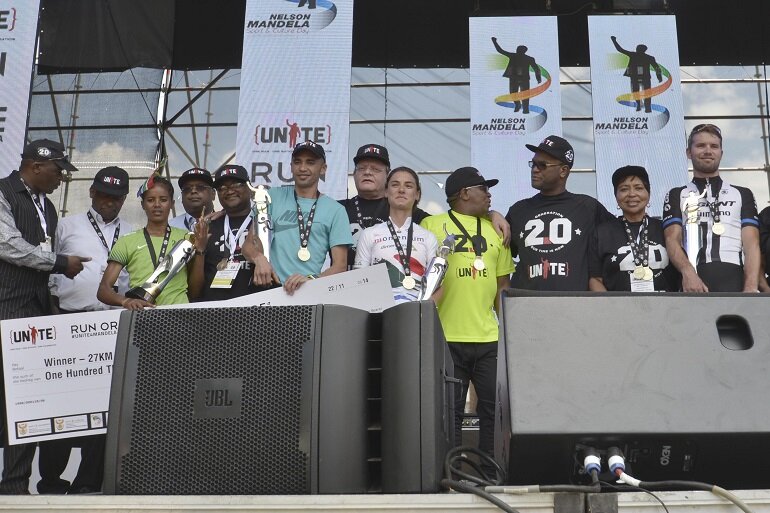 Once again South Africans proved that sport can be the glue that brings people together, as cyclists, runners (and walkers) put their best foot forward to celebrate the legacy of Mandela. Sports Minister Fikile Mbalula welcomed everyone in the early hours of the morning, and his infectious energy got all the competitors excited for the day. With white doves released and a bouquet of colourful balloons symbolizing peace and the rainbow nation, the day kicked off with the national anthem.
It was Tshwane's Executive Mayor, Cllr. KgosientsoRamokgopa, who got the races underway, as South Africans from all walks competed alongside Unite 2.0 Ambassadors such as Caster Semenya, ShashiNaidoo, Minnie Dlamini, Werner Swanepoel,Craig Jacobs, Zane Moosa, KhanyiMbau, Bianca Le Grange, Carol Tshabalala, Bridget Masinga, SibongileKhumalo, and many other celebrities, sports stars and politicians.
The 67km cycling race winners, in both male and female categories, received an unprecedented R250 000, second-placed riders received R150 000, while third-place riders pocketed R100 000. The men's race was won by ReinardtJanse Van Resburg, with HancoKachelhoffersecond, while HB Kruger finished third. The women's race winner was Ashleigh Pasio, while Marianne Vos finished second, and Cherise Stander ended third.
The winners of the 27km road race pocketed R150 000, with second getting R100 000 and third R50 000. The winner of the men's race was Elroy Gelant in a time of 1:25:25, with Desmond Mokgobu second and Philip Berech third. MeseretBiru was the women's winner in a time of 1:37:38, with MamoralloTjoka second and MapasekaMakhanya third.
The winners of the 9.4km run, who received R40 000, were Joel Mmone (men) and Lebo Phalula (women).
The Minister of Sports and Recreation, MrFikileMbalula as well as the Minister of Arts and Culture, MrNathiMthethwa, on behalf of the Government of the Republic of South Africa want to thank South Africa for massively supporting this year's UNITE 2.0. The initial target of 25 000 was overwhelmingly exceeded by the attendance at the event and the organisers acknowledge that there are millions of others who could not attend, but supported the initiative.
Of course, the Nelson Mandela Sports and Culture Day is not only about the athletes, and after the races, a medal ceremony and concert was held on the South Lawnsofthe Union Buildings. ZandileMzazi sang the national anthem to start the awardsc eremony, and after the medals were handed out, dignitaries such as the honourable Sports Minister Fikile Mbalula, Arts and Culture Minister Nathi Mthethwa, and Deputy PresidentCyril Ramaphosa addressed the nation, beforethe star-studded entertainment began.