Words and Photos: Eugene Yiga
There are only two rules," Emmanuel said. "Press the accelerator when we give you the signal to speed up and hit the brakes when we give you the signal to slow down. The bikes are automatic so they'll take care of the rest." Simple enough, I thought. But little did I know the experience would still be a rush!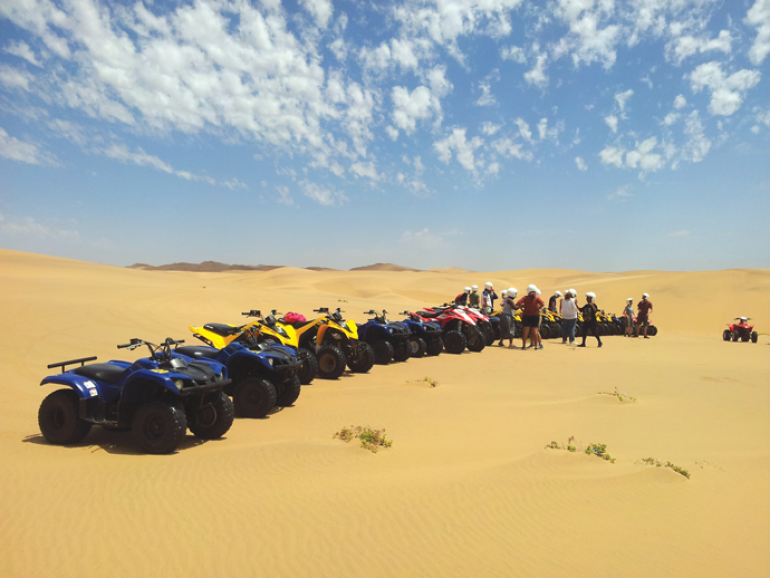 Here I was, about to go quad biking in the Namib Desert and the whole thing felt pretty surreal. After all, it had only been two days since we'd set sail from Cape Town aboard the glorious MSC Sinfonia. And after being surrounded by a surprisingly tranquil Atlantic Ocean, I'd woken up to a sea of sand.
It had taken me a while to choose one of the many excursions on offer so that I could make the most of our eight-hour stop in Namibia. Speaking to other travellers didn't help because everyone had their own ideas. One lady in our group went on a city tour of Walvis Bay, the tourism hub with a complicated political past (and so named because the deep waters attract feeding whales). Other people rented a taxi to explore Swakopmund, a beach resort town 30 km from Walvis Bay that has become one of the most modern areas in the country. But I didn't get to experience any of this. "A young guy like you should go for something more adventurous," I was told. Besides, if the area was famous for extreme sports (and the second highest sand dunes in the world), I might as well find out why!
After Emmanuel had given us our instructions, it was time to choose a bike. Most of the two dozen people immediately went for the slower ones, but I somehow ended up with the fastest of the lot. My first thought, based on its size and position at the head of the pack, was that it belonged to an instructor. Perhaps it did. And yet for some reason I just couldn't resist.
She was a fiery red beast with the name 'Trailblazer' flaming on the side. And she only had one control for the brake, perhaps because she was designed for people who weren't in the mood to slow down.
Every now and then I felt the 330 cc engine spurring me on, tempting me to rev a little harder and pick up the pace. These dangerous flirtations almost led me into a troublesome ditch once or twice but I managed to gain control right before I went too far.
Once I'd settled in and gotten comfortable on the one-hour drive, I was able to take it easy and enjoy the experience for what it was. The first interesting thing to note was the weather. Even though we were in a desert in the middle of summer, being near the coast meant that the cold offshore currents kept the temperature pleasant at around 20°C. We were also lucky to find no fog, which can reach as far as 140 km inland for more than six months of the year and is the reason there are over a thousand shipwrecks across the Skeleton Coast. This fog provides essential moisture for plants given that the area, which receives less than 20 mm of rain a year, is one the driest places on the planet.
As there was no fog, I also got a sense of how extensive the area is and could quickly understand why the name 'Namib' means 'vast place'. The desert, which is also the oldest in the world, stretches more than 2,000 km from Angola to South Africa and really makes you feel that you could be stranded in the middle of nowhere. Perhaps all this uninhabited space is why Namibia, a country with just over two million inhabitants, has the second lowest population density in the world! I asked Emmanuel how he and the other instructors don't get lost when taking people out on tours. "They installed a GPS in my brain," he joked. "But seriously, I've been leading tours for four years. Nowadays, it's just like going out to get pizza."
All in all, the drive was great. It was quite amusing to see how so many of the people who chose the slower bikes were the ones engaged in stereotypically bad South African behaviour, what with their insistence to overtake when it wasn't safe or weave left and right because it was too boring to drive in a straight line. But then we got to a part of the course that was so challenging it made everyone behave like we were back in driving school.
One by one, we slowly made our way to the edge of a 40 m near-vertical drop. No, it wasn't as imposing as in the infamous Dune 7 (or some other dunes that are up to 300 m high), but it was still pretty terrifying to look so far down. "This is the part where you forget about the accelerator and the brakes," Emmanuel said. "Just keep the bike in a straight line and try not to crash." I guess that means the third rule is to sometimes ignore the other two and just enjoy the ride!
dinFO:
Eugene Yiga, a reformed accountant, enjoys his time as a lifestyle and entertainment writer and is based in Cape Town.
Follow @eugeneyiga on twitter or email to say, um, hello.