Words: Helgard Müller | Photos: Mike Lerios (Photo Caps)
Adversity is something we all go through at some point in our lives. It can hold us back, damage our motivation and make us feel like there is no way out. But for those who have looked at adversity as a lesson instead of letting it drag them down, they have emerged from the experience stronger and more determined than ever before. One such man is Helgard Muller.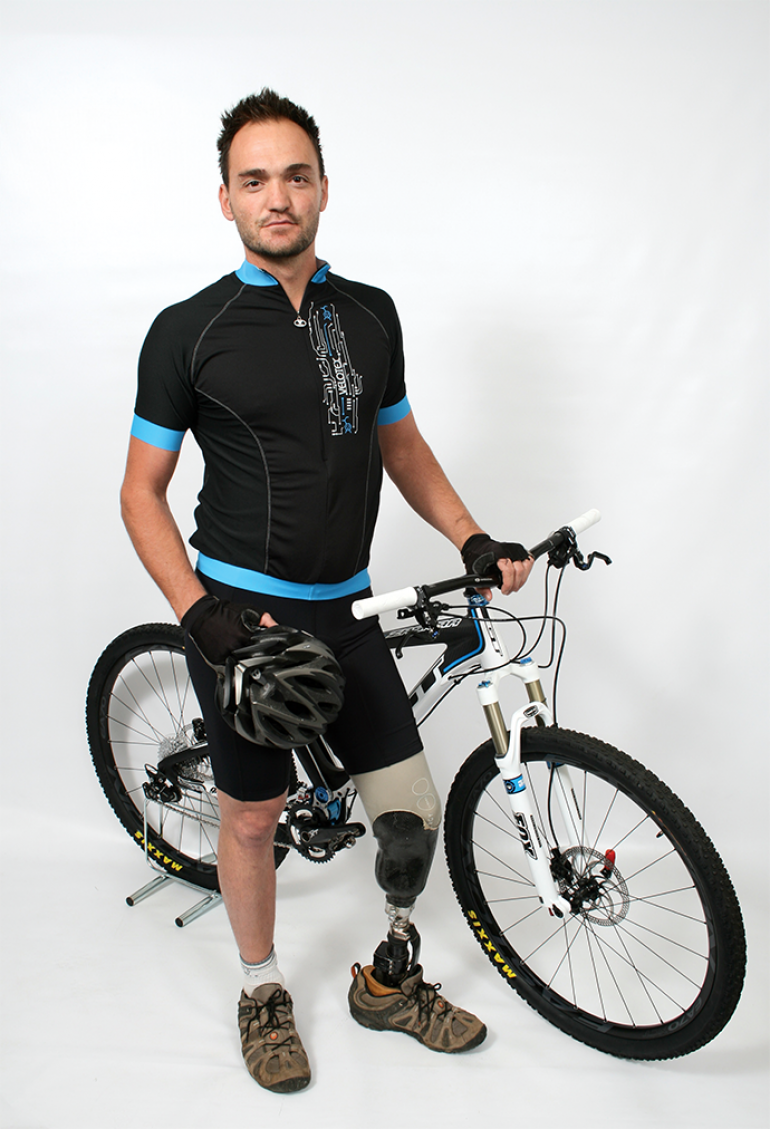 On 22 May 2007, Helgard's life changed dramatically while working inside a grain bin, in the town of Roscoe in South Dakota, USA. He fell through one of the non-covered draining holes and ended up having his left foot amputated. Now his life has taken another turn, this time for the better, and he is about to embark on a 6,000 km cycle along the border of South Africa, to inspire and motivate others who have lost limbs or were born 'different'. This is his inspiring story.
I can still remember every detail of that rainy, cloudy morning. I'd been working in America for six weeks when my world came crashing down around me. I was sweeping some corn that had fallen in front of a running auger (drilling device), which was turning and feeding the draining hole with corn. Suddenly, I fell through one of the non-covered draining holes and my left leg ended up inside the churning grain bin. I grabbed the edges of the drain hole to pull me up, but it was too late. My left foot was caught between the chain and conveyer belt and was being ground away. Luckily, my friend and colleague, Mike Stroman, came to my rescue by climbing through the small, narrow door of the grain bin and switched off the machine. It took an hour before I was released from the machine's carnivorous grip. My foot had been ripped open and was only barely hanging on. The damage was irreparable. Although my left foot had to be amputated, I will always be grateful to Mike for saving my life.
The road to recovery was a long and painful process, and all I could see was the things that I loved doing - being active, enjoying the outdoors and travelling - disappearing from my life. I became emotionally disorientated. It was as if something had died within me and when I looked in the mirror, I did not like what I saw. I no longer felt like a man and there were times when I thought that there was no reason to live anymore. I felt sorry for myself, my emotions and temper flared out of control and when I was at my lowest, I would try to break my prosthesis. Sadly, I lost some of my closest friends and their rejection really hurt. I was in a downward spiral and sought help from a psychologist, but after two visits, I realised that I was my own salvation. And that salvation came in the unexpected form of a TV programme about American soldiers, who had lost both arms and legs in a battle that happened three months after my accident. It stopped me cold and made me realise just how fortunate I was. I still have both arms and one foot.
From that day onwards, I began to recover, day by day, until I felt emotionally strong enough to re-enter life. I became very aware of how my thoughts affected my outlook on life and discovered that a simple shifting of my emotions from negative to positive could change my entire day – and my life! Before my accident, I was always in the background and had no voice. Now, I am a changed man, I am fighter, a high flier in life and I believe I can overcome anything that comes my way.
As my mind became stronger, my focus moved to healing my body and I started cycling, something I have always been fascinated by, but had never done. This came about after I received a phone call from a friend in Louis Trichardt, who told me about Oscar Pistorius. I didn't know who he was, so I googled him. When I saw him running on his blades, I felt inspired. It also reminded me about a conversation I had with my brother, James, when I was in hospital; that I was going to do a sport that would inspire and motivate others who had lost limbs or were born 'different'.
Six months after the accident, I returned home to the physical and emotional support of my family and friends. Shortly after arriving in South Africa, I bought myself a plane ticket to Egypt, with the intention of doing a walk from Dahab to Nuweibaa, on the Sinai Peninsula, which is about 70 km. I needed to prove to myself that I could still live a 'normal' life. Walking along the beach, it took me two days to reach Nuweibaa, at which point my battered prosthesis broke off and was irreparable. For the next three weeks I walked through the desert of Sinai and in Israel using my cane. Although the people I passed thought I was a beggar, I was happy because my life, with some slight adjustments, would continue as it always had. My disability does not define who I am, my spirit does!
A year after the accident, I purchased a mountain bike – best buy ever! Cycling every day helped make my legs stronger and I even convinced my wife (at that time my girlfriend) to get herself a bike and join me. I entered a number of mountain bike races, including the Cape Argus in 2010 and Kremetart, and even though I found it very difficult to climb up mountains, go through rocky valleys and keep pace with the other riders, I still loved every moment of it.
Then two months ago, I made a decision that would fulfill my long-time dream of motivating and inspiring others by cycling 6,000 km on my mountain bike along the border of South Africa. To my knowledge, I will be the first person with only one leg to do such a journey. I will also raise funds for the Western Cape Association for Persons with Disabilities (WCAPD), because too many disabled people can't afford to buy the right equipment for their needs.
The adventure begins
September 1, 2013 has been set for my departure. Although I have yet to secure any sponsors to assist me financially, my family and friends have been fantastic and their support and belief in me is what inspires me to keep going – for myself and the people I am riding for. My thanks to Tour De Frans Cycles in Boksburg, Gauteng, for sponsoring my cycling gear. Merida S.A. for my road bike; GT Bicycles S.A. for my mountain bike; and USN for the supplements.
When asked what my biggest fear for this trip, I can honestly say that I have no fears because life has taught me to have no fear – just live and let live!
Route
I plan to start in Cape Town and then head north to Oranjemund in Namibia. From there, I'll cycle to Messina, Louis Trichardt, Nelspruit, Richards Bay and Durban before heading back along the eastern coastline to Cape Town. I'm aiming to do the trip in three to four weeks, but realistically, I think it will more likely be six weeks. The route is mainly on tar roads, with some off-road sections along the west coast to Oranjemund.
Support
My wife, Hanlie, is cycling with (and supporting) me and, for safety reasons, we'll have a support vehicle to transport our food, drinks, clothing and other baggage. Along the way, we'll sleep in lodges and guesthouses, and where this isn't an option, we'll camp.
Our progress will be monitored by a Garmin tracking device and I'll keep my followers updated daily. But more importantly, I will be spreading my message of hope along the way, and encouraging other amputees (actually anyone) to believe in themselves and that they can do anything if they set their mind to it. No matter how big the challenge or what your history is, you can change your situation by doing something great to inspire others. And what better way to express yourself than in a sport you love. I got myself a mountain bike, which I proudly cycle everywhere, and it worked for me!
dinFO:
If you would like to contribute toward Helgard's admirable cause, you can either visit www.givengain.com/activist/98213/projects/5392/ or Helgard on www.helgardmuller.com. You can also follow Helgard's progress by visiting his website or on Twitter - @mullerhelgard