TEAM HRC's Joan Barreda finished the eighth stage of the Rally Dakar 2014 in second place. Hélder Rodrigues crossed the finish-line in fourth, and Laia Sanz continues her run of excellent performances on the Honda CRF450 RALLY pre-production model.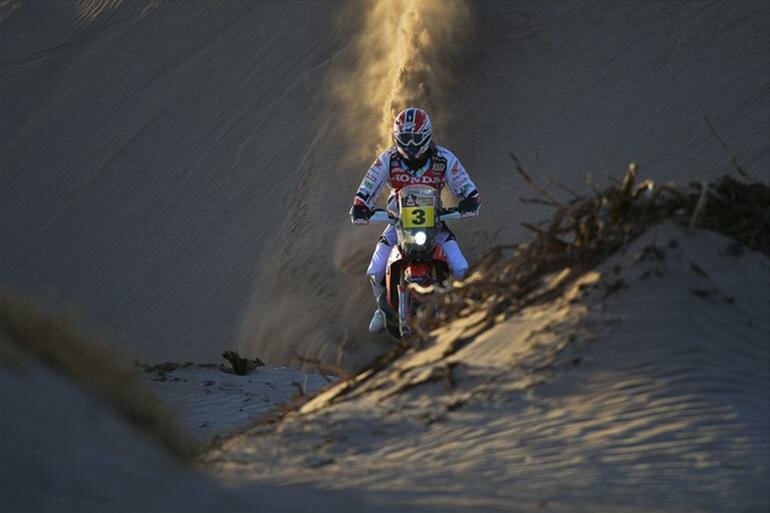 The Dakar said goodbye to an accommodating and vibrant Bolivia, and has moved on to Chile. Today saw the second leg of the marathon stage, in the area of Salar de Uyuni, which had been reduced in length by some twelve kilometres.
Joan Barreda, yesterday's winner, set about cutting down the distance with the overall race leader, opening the way in the special, in a solitary ride in which we clocked up a total time of 2'10", second only to Cyril Despres. Barreda has clawed back four seconds from Marc Coma in the overall standings.
Hélder Rodrigues, looking far more at ease in this stage, finished fourth some 6'44" behind the stage winner, and Javier Pizzolito ended the race in eighteenth.
Honda Argentina Rally Team's accumulation of good stage results continues with Laia Sanz always in the top twenty at the various time checks, finishing fifteenth at the end of the day. Team-mate Pablo 'Cacha' Rodríguez finished in the top fifty.
Joan Barreda | 2nd | +2'10 | TEAM HRC
It was a really long special today and I'm very pleased with the marathon. I was ahead, opening the way, pushing hard and forcing the pace to try and cause the others to make mistakes. It hasn't happened yet, but we have done really well with a couple of great stages and I'm very satisfied with a job well done.
Helder Rodrigues | 4th | +6'44 | TEAM HRC
It was a good stage for me and I've picked up a few minutes on my nearest rivals. My goal is to fight for a place on the podium, that's 45 minutes away, which is quite a lot, but I'm determined to give my all to achieve it.
Event information
Tuesday, January 14
Stage 9: Calama - Iquique
Liasion: 29 km | Special: 422 km | Total: 451 km
A steep drop: thrills guaranteed
The 2014 Dakar will reach its most northern point in Iquique, where the competitors will see the ocean for the first time this year. Above all, the drivers and teams will discover the Atacama Dunes again after a first part of a special stage which will be rather tedious. Dune specialists will be in command over a distance of almost 150km. Thrills will be guaranteed at the very end of the day, on the last three kilometres of the descen t to Iquique: there is more than a 30% difference in height from start to finish and it is almost not recommended to break. The law of gravitation takes on its full meaning: the bivouac is not far away!