Words: Duane Stacey | Photos: Duane Stacey, Royal Arabian & Christopher de Villiers
For many, the hustle and bustle of Dubai's airport is just that as travellers scramble towards their connecting flights. For others, it acts as a stopover; a place for the weary traveller to rest or indulge in the world's finest shopping experience before heading home. For me, this is my final destination, a return ticket, as I explore all Dubai has to offer and give some insight to those opting for more than the 96-hour visa.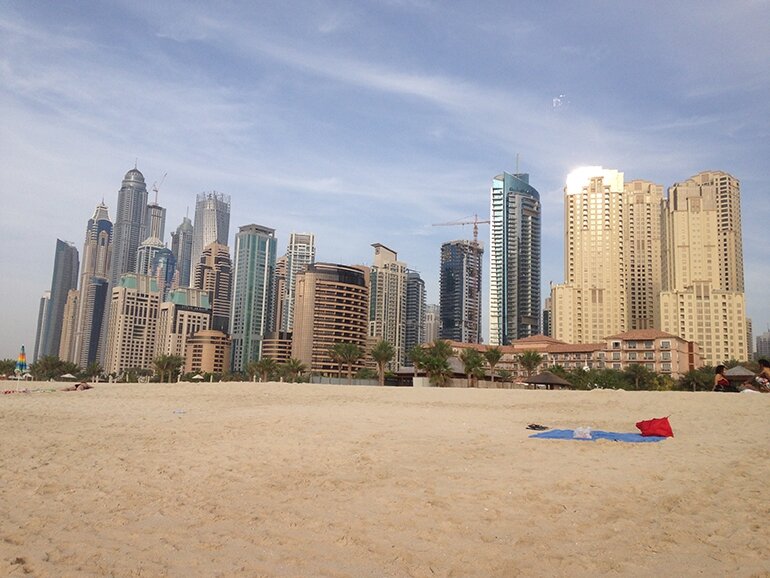 Photo credit: Duane Stacey
As flight EK773 descends from the night sky onto one of the busier airports in the world, I have a glimpse of Dubai's famous coastlines, with shimmering cities lights illuminating the Palm and World Islands that protrude into the Arabian Gulf. When the plane doors open, it is clear that my 'pack light' strategy of shorts and slops would serve me well.
It is only 01:30 a.m., but the perspiration begins to drip from my brow as I make my way through customs and into a waiting cab. Waking up to temperatures exceeding 30 degrees Celsius and rising fast, it was time for the beach and there certainly are some exquisite beaches on offer. Walking along the beachfront is an experience in itself, of gazing at the flush architecture and luxurious cars, which line your path, to a swim that provides some relief from the searing heat. Since most people are here to work, the beaches are fairly vacant during the week. And with Dubai temperatures and minimal wind, every day is a beach day.
Adventures galore
However, if you are looking for adventure over relaxation, The Wild Wadi Water Park, situated in the area of Jumeirah, not only offers whimsical views of the Burj Al Arab and Jumeirah Beach Hotel but is sure to get the adrenaline pumping with some monstrous waterslides.
I follow the signs to one such slide, 'Jumeirah Sceirah', but I'm convinced that I am going the wrong way. Like a salmon returning to its place of birth, I fight my way up the stairs and through the throngs of people retreating down the staircase. As I reach the entrance to the ride, I realise my sense of direction has been spot on, it is only my sanity that is questionable. Stepping into a capsule, I await the click of a switch that will activate a trap door and drop me vertically into an endless abyss of fear.
Up high
Dubai also offers one of the world's best skydiving facilities. Although my addiction to adrenaline is beginning to grow, I am not quite ready to throw myself out of a plane, so opt instead for iFly Dubai, a fantastic alternative. Thrust into a wind tank, I find myself hovering weightlessly in anticipation of my guide's next hand signal and within two minutes I have shown gravity who is boss; gliding, spinning, and turning like I was born to fly.
A winter wonderland
But this is not where Dubai's 'bigger is better' and 'what can't be done shall be done' mentality ends. It comes as no surprise then that a country known for its sweltering heat and arid landscape also makes room for a winter wonderland. Before my body has time to process the 40 degree Celsius swing in temperature, I am on a chairlift marvelling at the activities showcased within the ski dome. Screams from those harnessed onto zip lines whiz over myhead, whilst kids in toboggans and tubes slide below my dangling feet. From jumps and rails, to a relaxed stroll amongst the penguins, Ski Dubai caters for every level of skiing enthusiast. And whilst I sat in the mountain cabin sipping on hot chocolate and welcoming the feeling that was slowly returning to my fingers, it was hard to remember the dry heat waiting outside.
Playing in the dunes
Of course one cannot visit the desert and ignore the magnificent beauty of the majestic sand dunes and vast open spaces, which dwarf the newly created metropolitan feel of Dubai's city centre. Royal Arabian Tours gives one the opportunity to experience the best of the desert in an afternoon.
Picked up from my hotel, I am whisked away in a luxury Land Cruiser that heads towards the setting sun, leaving civilisation behind in our dust. After an hour's drive, the driver stops to let air out of the tyres and I manage to sneak off for a pit stop of my own. On returning to the vehicle, it is clear that the deflated tyres have only inflated the spirit of adventure in our driver. The only way to really describe these guys is as 'desert surfers', as they scour the landscape in search of the 'lip' of each and every dune, performing some of the most absurd cutbacks before racing down the dune and joining up again with what has now become a rather substantial luxury Land Cruiser convoy. From the gasps of the multi-generational family of six in the back and myself strapped in tightly in the front, it is obvious that desert acrobatics are something new for us all. Yet glancing to my left, I'm reassured by the calm and professional demeanour of our Arabian guide behind the wheel. Without him having to speak a word I am quickly educated on the skills these men possess and slowly begin to relax into my navigator's seat.
Just as I begin to feel at home in my comfy leather throne, we stop for dinner. An Arabian feast set within the walls of a desert camp. Some choose to smoke sheesha* with new-found friends, whilst others prepare for their first ride on a camel before settling down to enjoy dinner and a belly dancing show. All too soon I find myself back in the Land Cruiser heading towards the glow of the city lights.
Rev it up:
Having experienced the elation of riding in the desert I am eager to make my way back, but take control of the wheel myself this time. It is with this in mind that I come across JUST GAS IT, a biking company that allows riders to do exactly that. They have a range of motorbikes and quad bikes that are an ideal way to explore the desert and there seems to be just one rule: JUST GAS IT. Unearthing every type of human emotion, from sheer fear to fist-pumping passion, this is an experience that will leave you breathless as you pass Bedouin camel farmers waking to the hum of your bike's engine. Bradley, originally from South Africa, started this company on the outskirts of Dubai and is willing to share his passion with me as we open the throttle on Dubai's largest playground for an experience I will never forget.
One of the great things about Dubai is that it attracts people from all over the world and as my time draws to a close, I head to the desert one last time for a braai with friends, old and new, to say goodbye to a place that has been home for the last two weeks. A place that deserves more than just a stopover!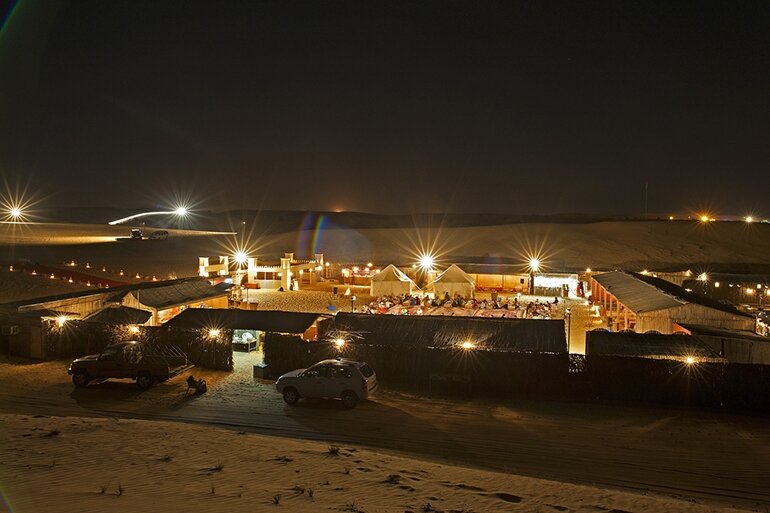 Photo credit: Royal Arabian
If you go:
• Flights: Emirates flies direct from Cape Town to Dubai, with a flight time of 9 hours and 45 minutes.
• Visas: As a South African, you will need a visa to enter Dubai. If you are staying longer than four days, you will be issued a 30-day visa. If you fly with Emirates, you can apply for this visa through their website once you have booked your ticket. The visa costs $57* and add to that a $23* processing fee.
• Language: Whilst Dubai has a very cosmopolitan feel to it, with people from all walks of life, if you can communicate in English you will manage just fine.
• Money: Be sure to pack plenty of it. Dubai uses the dirham. Currently, there are no taxes levied on goods.
• Water: As Dubai is in a desert, you may be thinking that water will be scarce. However, as with most things in Dubai, there is an elaborate plan in place. Dubai is home to the world's largest desalination plant, so most of their water supply is processed here. Whilst the tap water is drinkable, most people prefer to drink bottled water owing to the lack of minerals in the desalinated water.
• Planning ahead: The Government of Dubai and Department of Tourism and Commerce Marketing were very helpful in identifying some great Dubai experiences. For these and other ideas of what to do while in Dubai, visit their website, www.definitelydubai.com or contact them by phone on +27 11 702-9600.
Places worth a visit:
• Wild Wadi Water Park - www.wildwadi.com
• Ski Dubai at the Mall of the Emirates - www.theplaymania.com/skidubai
• iFly Dubai at Merdif city centre mall - www.theplaymania.com/ifly
• Royal Arabian Tours – www.royalarabian.com
• JUST GAS IT – www.justgasit.net
* Information accurate at time of publication. Costs subject to change without prior notice.
Dubai facts:
• Dubai is one of seven states that comprise the United Arab Emirates (UAE), a country formed in 1971 from individual sheikdoms.
• Foreigners make up most of Dubai's population! The local people, called Emiratis, are just 15% of the total!
• Emiratis are provided with free education, free medical and free housing. However, lately their subsidies have been cut back and they have been encouraged to get jobs (mainly government and tourist positions).
• Dubai is apparently the fastest growing city in the world! In 1991, Dubai had just one tall building and it was at the edge of the edge of the desert. Now there are more than 400 high-rises.
• The tallest building in the world, the Burj Khalifa, is in Dubai. It has 164 floors.
• The Dubai Mall is the largest shopping centre in the world, with more than 1,200 stores. 
• Dubai asked Disneyland to consider building a resort in Dubai, but Disneyland turned them down, saying Dubai was too small. So Dubai decided to construct its own theme park called Dubailand.
• The most luxurious hotel in the world is in Dubai and it's called the Burj Al Arab. It bills itself as a 7-star hotel and is built on a man-made island just off the coast. You can't enter the island without a reservation.
• Dubai is one of the safest places on earth, where racial tensions among different nationals are unheard of. The crime rate is virtually zero across the city. •
source: http://notesfromabigworld.com/ and www.travelingeast.com/
More information
*Sheesha is an oriental tobacco pipe with a long flexible tube connected to a container where the smoke is cooled by passing through water.