Words: Graham Bird & Tatum Prins (Team Merrell, proud winners of the 2011 Expedition Africa) | Photos: Jacques Marais
At first glance the race route appeared easy, but it turned out to be well worthy of an expedition adventure race. The quick pace made it challenging for the top and experienced teams, while the navigation, terrain and length of the legs made it difficult for the novice and slower teams. All 22 teams that started crossed the finish line, with some resorting to a shorter course, some missing a team member and some missing a few CPs. This was a wonderful achievement and congratulations must go to everyone who finished. Hopefully the seed for true expedition-style AR has been planted and we will continue to see the numbers attempting and finishing these long races grow.

Photo credit: Jacques Marais
I always learn something new about myself in these races. You hit rock bottom and see dark places within yourself. You feel so broken that you can't continue. Then you experience a huge sense of achievement on finishing and feel that you can do anything you set your mind to! I hope this race has allowed a new batch of adventure racers to discover this and the seasoned racers to rediscover their passion for the sport.
Team Unchartered wrote this in their race report, which highlighted their discovery: "Unchartered's Expedition Africa was a journey. The journey to halfway had us in a lot of pain and wondering how another 250km was possible. The journey home showed us what we were capable of, how much the team aspect counts and how to hang in there. On the second 250km we stopped asking who invented this ridiculous sport. I think we realised something crazy – we were enjoying the experience."
This was one of the best organised races I've been to and can't wait for Expedition Africa 2012!
On the Sport of AR
Words: Graham Bird
Since winning the 2011 Expedition Africa, it's been a time of rest, recovery, refuelling and most importantly reflection. As with all sports people, once the goal or event has been achieved or completed most go into a period of withdrawal and even post-event blues!
In AR this is no different, it's possibly even more pronounced. Not because adventure racers are sad or disappointed, but because they are happy and content in their achievement and need time to take in the enormity of their achievements. Generally when any adventure racer finishes an expedition race, they are sleep deprived and utterly exhausted, and it takes a few days to begin to function and think normally again. This is when they start to realise what they've accomplished and triumph sets in, regardless of position or how much of the course was completed. To all it's the satisfaction of having pushed one's self to the limit and beyond, while enjoying the great outdoors.
I believe each race is a spiritual journey for those that compete. You discover new things about yourself, you review and adjust your outlook on life in general and you definitely leave each race with a new philosophy on how to tackle what life throws at you.
I've also come to realise that AR is essentially an individual sport. Even though you race in a team of four or two for hours or days on end, it's ultimately about getting yourself through the course, no matter the length or how tough it is. To do this, you need to convince yourself that you can do it and when you realise just how powerful the mind and body are you can overcome anything.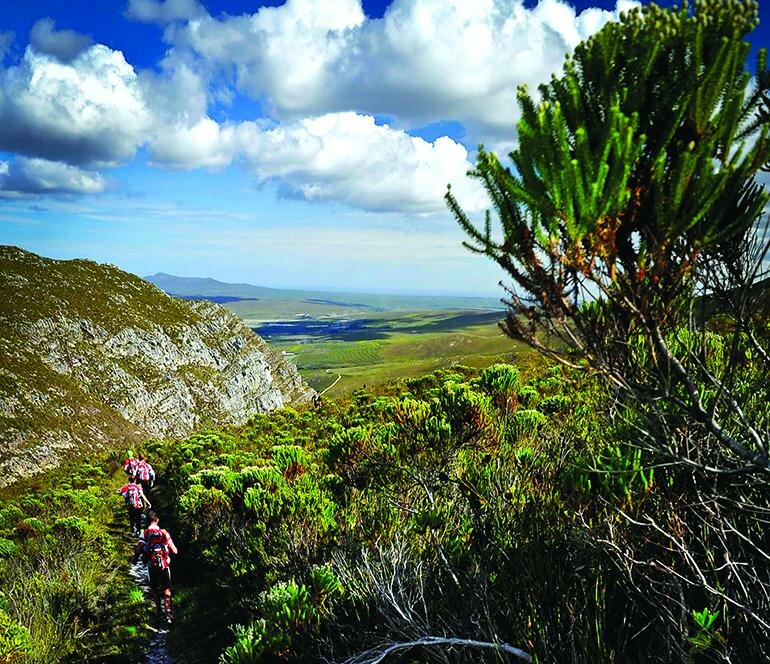 Photo credit: Jacques Marais
Why Adventure Racing?
Words: Tatum Prins
As an adventure racer I always get asked why we do it and what we get out of it.
Those are good questions considering that this is a sport that crosses kilometres of ridgelines no one has walked along, mountains no one has dreamt of climbing, kloofs no one has ever looked at but on a map and where you only get to sleep for 10 minutes at a time on a mountain side, next to a river or on your feet.
I do it because this sport is incredible. It has a way of humbling you and bringing you back down to earth. You end up having this love-hate relationship with it. One minute you're crying and ready to call it quits because it's freezing cold, the sleep monsters are making you see strange things and thick bush won't let you go faster than one kilometre an hour. Then just as quickly you're loving every second and there is nowhere else you'd rather be. And then it changes again. Quite simply, it's a beautiful kind of crazy!
It teaches you the importance of living each day to its fullest, to never give up and keep looking forward. It pushes your limits, emotionally, physically and spiritually. Each valuable lesson learnt makes you a richer person for it.
One of the most important things is the vital role your teammates play because without them you are nothing. They are your world for those days of racing. It's about the adventure you share from start to finish, and in that time life becomes simple again.
So when Graham passed me the microphone at the 2011 Expedition Africa prize-giving, I felt this overwhelming emotion and passion for a sport I love so much, a sport that makes me who I am and so proud to be a part of. And with that, a torrent of words came pouring out.
As wonderful as it was to win this race, for Graham and me it was really about all the inspirational novice racers who pushed themselves to the limits and beyond. It was about having a 500km race in our backyard that we are very proud of, and sharing this with you so that you understand why we do it.
To see Jacques Marais' amazing photos of this event, refer to pages 120-125 in the inFOCUS section.