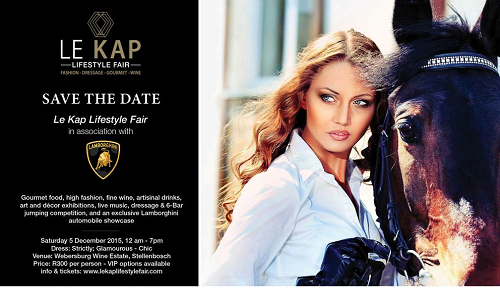 Anticipated as one of the most prestigious luxury lifestyle events in South Africa, the annual Le Kap Lifestyle Fair, in association with Lamborghini, the iconic Italian supercar manufacturer, takes place on the 5th of December 2015 at Webersburg Wine Estate in Stellenbosch. Two lucky readers can win two general admission entry tickets each to this event by answering this easy question:
Q: Who is the associate title sponsor to Le Kap Lifestyle Fair
Email your answer to . The competition closes at midnight on Thursday, 29 October 2015 and the winners will be drawn from all the correct entries received. Only one entry per person. DO IT NOW's competition rules apply.
More about Le Kap Lifestyle Fair
Le Kap Lifestyle Fair, now in its third year, offers a 'best-in-class' experience with a rich tapestry of design and couture, a selection of SA's finest wines, an assortment of scrumptious dining and picnic options, live music and entertainment, a VIP and celebrity lounge, a Lamborghini automobile showcase, musical dressage, a 6-bar horse jumping competition, a fashion show by leading designers and much more. Made for socialising, this event is synonymous with luxury, fashion and style, celebrity spectacle and a jubilee of multimedia recognition.
CUISINE
As in previous years, a number of celebrated South African chefs will each be afforded a 45-minute slot to showcase the preparation of one of their signature dishes.
Artisanal Gourmet Dining On-The-Go - a selection of delicious dining options will be available for purchase at the event.
WINE & BEVERAGE
An array of South Africa's foremost wine estates will again be offering wine tastings. Wine will also be available to purchase, by the bottle or per case, directly from participating wine producers, at cellar door prices. Cash bars will be made accessible to guests throughout the venue. Guests may also enjoy craft beer and biltong tastings, as well as a variety of speciality artisanal cocktail bar options.
In the VIP and celebrity lounge guests may enjoy the complimentary Champagne and Oyster Bar, amongst an array of other delights.
FASHION
Leading South African fashion designers will be showcasing their latest couture collections during a fashion show at this year's Le Kap Lifestyle Fair. Unique to Le Kap Lifestyle Fair, guests are able to purchase some of the designers' runway collections on the day of the event.
EQUESTRIAN
One of the key elements of Le Kap Lifestyle Fair is the exciting 6-Bar Jumping competition, where jumpers will be competing for the coveted 'Lamborghini Cup' and a 'winner-takes-all' cash prize. Also complimenting the event, will be a musical dressage. Dressage is defined by the International Equestrian Federation as 'the highest expression of horse training,' also often referred to as Horse Ballet.
AUTOMOBILES
We are thrilled to have 'Lamborghini' as an associate 'title sponsor' to Le Kap Lifestyle Fair. The iconic Italian supercar manufacturer will be showcasing their latest range of magnificent supercars at the 2015 Le Kap Lifestyle Fair.
ENTERTAINMENT
Music, art and entertainment will set the ambiance for the various elements of Le Kap Lifestyle Fair throughout the duration of the event, creating yet another highlight in the afternoon's festivities. For the first time at Le Kap Lifestyle Fair, a live band will be performing..
THE PEOPLE
Le Kap Lifestyle Fair comprises a medley of South Africa's most distinguished personalities, from leading chefs, fashion designers, television presenters, radio show hosts, politicians, sports stars, internationally acclaimed models, socialites, business executives and those who enjoy celebrating the bespoke Le Kap Lifestyle environment. All these event elements brought together with the Lamborghini automobile showcase will make this year's Le Kap Lifestyle Fair an event 'extraordinaire'.
DRESS CODE
The dress code for the day is sophisticated 'Royal Ascot-inspired chic'. A prize will be awarded to the best dressed couple, as well as to the runner up couple. This will be evaluated in accordance with full ensemble and the inclusion of unique and stunning headwear pieces.
TICKET OPTIONS (Subject to change)
GENERAL ADMISSION - R300.00 per person
Entrance to Le Kap Lifestyle Fair, equestrian events, live music, wine tasting, celebrity chef showcasings, fashion show and a Lamborghini automobile display.
CHILDREN UNDER THE AGE OF 12 – R50.00
- Event admission
VIP ACCESS – R2000.00 per person
- includes general admission package
- VIP parking
- Access into VIP & Celebrity lounge
- Gourmet Oyster and Champagne Pairing
- Canapés
- Complimentary cocktails
- Private VIP Champagne Bar
- Exclusivity and unsurpassed service
GALA DINNER - R 2000.00 per person
As a precursor to this opulent event an exclusive private 5-course gourmand dinner by a master chef will be available to 100 select VIPs on Friday, the 4th of December. The five course 'gourmand dinner' will be perfectly paired with select wines. Limited seating may become available to interested parties. Details will be announced on the event website and on the various social media platforms.
The culmination of flavour-fusion food, artisanal beverages, equestrian spectacle, haute couture, music, art, together with the showcase of the latest range of Lamborghini supercars, will make the 2015 Le Kap Lifestyle Fair a premium platform of exceptional standard.
To book, go to www.lekaplifestylefair.com. For more information contact 021 8297205 or email .
For more information please visit www.lekaplifestylefair.com, or go to the Facebook page, Le Kap Lifestyle Fair. Follow us on Twitter for more regular news and updates. Follow us on Twitter: @LeKapEvents and Instagram: lekap_lifestylefair For press information please contact PR Lab, Kirsten Hopwood on 0827488887 /