The best junior surfers from South Africa and abroad were treated to a classic J-Bay day as perfect surf peeled all day, Monday 13 July. The epic conditions forced contest organisers to reshuffle the heats, so that the premier divisions could make the most of the solid surf.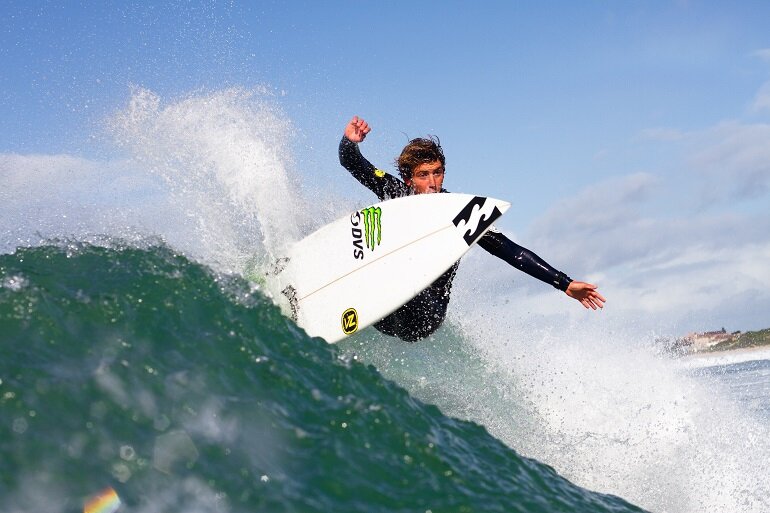 Photo credit: Ian Thurtell/Billabong
The day saw the U16 quarter-finals concluded, as well as the Pro Junior (U20) boys' Round Two. These were some of the highlights:
The venue
Magnatubes is something of a forgotten step-sister in JBay. She came out from behind the curtain on day one however in what will go down as one of the most epic days of junior contest surfing in SA. "I thought the kids were going to struggle to adjust to the tricky sections at Magna's," said beach commentator Josh 'Dutchie' Louw. "But I was wrong… Pleasantly surprised really. It was one of the best days of competition I've ever experienced in my life."
Griffin Colapinto
The stylish American natural footer showed why he is being touted as 'the next big thing,' by dropping a 10-point ride (out of a possible 10) in his under 20 round one heat. Colapinto gave the judges exactly what they were looking for, mixing speed, degree-of-difficulty with a variety of manoeuvres not usually seen at a junior event.
Matt McGillivray
Not to be outdone by the internationals, Jeffreys Bay local favourite, Matt McGillivray, needed a five-point ride to advance out of his Pro Junior round two heat. Matt launched a massive do-or-die full rotation air reverse that scored him a ten, to sneak into second place behind Eithan Ewing, but ahead of Adin Masencamp and Seth Moniz. "That was so stressful," said an elated McGillivray. "I hadn't really had a good wave until that last one. The wave didn't offer me much so I knew I just had to throw it out there. 10 point air in last second to advance
The dark horse
Tristan Lev caused perhaps the biggest upset of the day when he took out Luke Slijpen and Adin Masencamp to win his first U16 round one heat. Lev, who is three-time SA U18 longboarding champion has become something of a nemesis to Masencamp, taking the better known rider out in some big events. Lev, who's been spending time at Seal Point looked comfortable in the point break waves and found the biggest sets. Liev would later advance out of his quarterfinal heat into the semifinals.
Tuesday will see some of the girls' divisions get underway.