Another day of small surf at Jeffreys Bay has prompted event organizers to call a second consecutive lay day at the J-Bay Open, Stop No. 6 on the 2015 Samsung Galaxy World Surf League (WSL) Championship Tour (CT)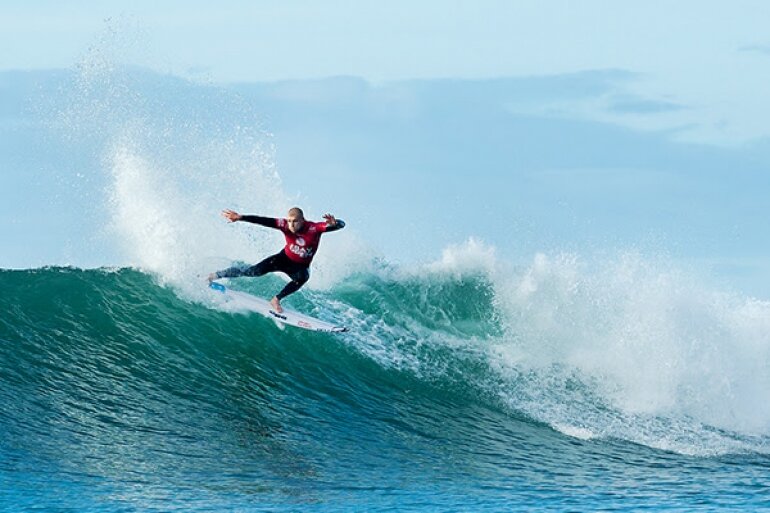 Photo credit: WSL / Cestari
| | |
| --- | --- |
| Location:    | Jeffreys Bay, South Africa |
| Holding period: | July 8 - 19, 2015 |
| Call: | Lay day, next call 7:30 a.m. tomorrow |
| Conditions: | 1' - 2' |
"There's not much action in the ocean this morning," Kieren Perrow, WSL Commissioner said. "We expected a little bit of a bump in swell today but unfortunately there's not enough out there so we'll have another lay day and come back tomorrow morning. It looks like we will have some great conditions over the weekend at the end of the waiting period".
When competition resumes reigning WSL Champion Gabriel Medina (BRA) will take on 11-time World Champion Kelly Slater (USA) and three-time World Champion Mick Fanning (AUS) in an all-star Round 4 match-up. Event organizers will reconvene tomorrow morning to assess conditions and make the next call. 
Surfline, official forecaster for the World Surf League, are calling for: A fun size, but lully and  new SW groundswell will build in through Thursday morning with favorable wind conditions, before fading Friday. Strong SW to SSW swell will build in through the weekend, likely peaking late Saturday through Sunday morning. Local wind will need to be closely monitored and we'll refine the forecast over the next couple days. At this point it looks like we could see the best local wind through the first half of Saturday, with onshore flow Saturday afternoon and a good chunk of Sunday. Offshore flow may return later Sunday afternoon and evening. 
The J-Bay Open will be webcast LIVE on WorldSurfLeague.com. The world's best surfing will also be broadcast LIVE on Fox Sports in Australia, MCS Extreme in France, EDGE Sports in China, South Korea, Malaysia and other territories and on Globo TV in Brazil. The J-Bay Open is the showcase event at the J-Bay Winterfest, a multi-sport and music festival in Jeffreys Bay from July 8 - 19. More details at www.jbaywinterfest.com.
J-Bay Open Round 4 Match-Ups:
Heat 1: Adrian Buchan (AUS), Kai Otton (AUS), Julian Wilson (AUS)
Heat 2: Nat Young (USA), Wiggolly Dantas (BRA), Adriano de Souza (BRA)
Heat 3: Mick Fanning (AUS), Gabriel Medina (BRA), Kelly Slater (USA)
Heat 4: Keanu Asing (HAW), Michel Bourez (PYF), Alejo Muniz (BRA)