Magnatubes is often overshadowed by the other breaks in J-Bay, the spot came to the fore over the past three days however in what will go down as some of the most epic few days of junior contest surfing in SA. The Billabong Junior Series is the longest running junior series in the world and the first event of the 2015 instalment has lived up to expectation.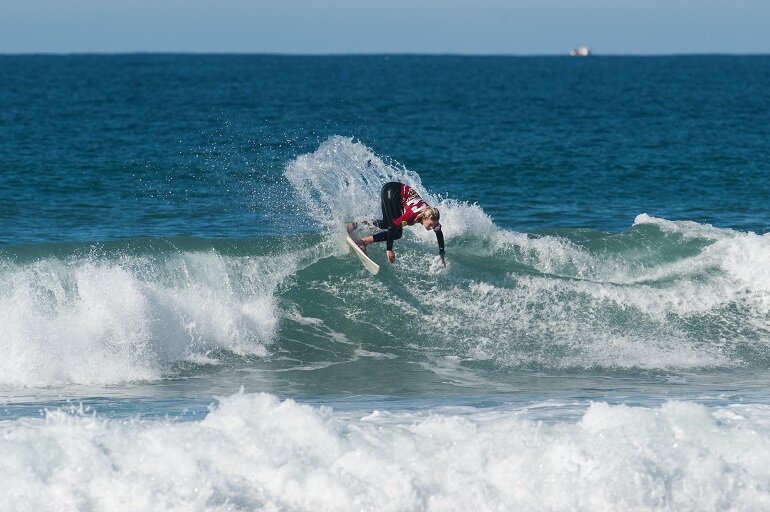 Photo credit: Kody McGregor
Eli Beukes
Kommetjie's regular-footer has been the revelation of the event. He took out the much-touted James Ribbink and Ryan Lightfoot in the U14 Boys quarter finals with a consummate performance that included clever wave selection and high performance surfing. Young Beukes has always showed potential, but the step-up in performance over the past six months have everyone on the beach (and in the industry) talking.
South African women's surfing is in good hands
Kai Woolf is surfing two divisions (U14 and U16) and the nuggety little goofyfooter has dominated every heat she's surfed. "Surfing two divisions definitely takes its strain so you have to make sure you eat the right food.But the waves are so fun so it's cool to get the opportunity to surf more heats with so few other girls out," she said.
Kai is originally from Jeffreys Bay but is currently living in New Zealand. "Coming home is a amazing and this has always been home to me, but surfing in New Zealand has been so beneficial to my surfing. The waves where I live are so fast, so it's speeded up my surfing."
Angelo Faulkner
Local hotshot carried on where he left off the day before, dominating his boys U14 heat with flair and variety; even taking to the air. He scored an 8 and 9.0, using his local knowledge to find the best waves. "Like yesterday all I wanted to do was just to impress the judges, so I'm happy with how it went." He commented that he was looking forward to the rest of the week but hoped that the swell would pick up.
Conditions
About those conditions Faulkner was alluding to: There were two-to-three foot surf all day long, kissed with light and variable winds which made for high performance conditions. A high number of excellent rides were scored.
The vibe
Beautiful weather made for a great vibe down at Magnatubes. Aside from the surf action, Billabong was also running a Design-A-Tee station where the junior surfers could get creative. For R50 they could get a blank tee to go wild on. Of that 50% of the proceeds will be donated to the J-Bay Recycling Project. The most creative tee each day wins a Billabong Retail Voucher to the value R500. www.jbayrecyclingproject.org
Tomorrow will see the finals in all divisions crowned.