Hank McGregor got his challenge for a record tenth Berg River Canoe Marathon title off to the perfect start on Wednesday when he raced to a sizeable victory in the four day race's altered first stage from Hermon to Bridgetown while Cape Town's Bianca Beavitt dominated the women's opening clash.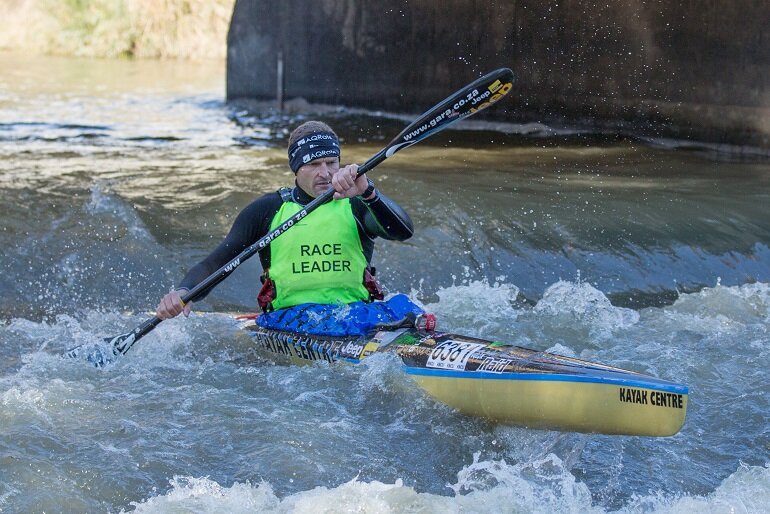 Photo credit: John Hishin/ Gameplan Media
For only the second time in the races 54 year history the race did not start in Paarl but at Hermon, 45km downriver, due to the low level of the river and the encroaching water hyacinth.
Freezing mid-morning temperatures and countless tree blocks on the very low Berg River meant McGregor's fellow title hopefuls weren't the only challenge the nine time race winner was forced to overcome.
"The water level definitely made it a lot harder, jumping in an out of our boats like a rabbit for the first forty minutes was really tough and there were a lot more obstacles in the river than normal," explained the Jeep Team/Kayak Centre paddler.
"It was also super cold – this morning was one of the coldest mornings I've ever started at the Berg – while the lack of water flow made it a long first day on the water," he added.
Despite the variety of challenges, it wasn't until the dying stages that the deadlock for the lead between McGregor and defending champ Andy Birkett was broken and the five-time Marathon World Champion notched up a significant three minute lead.
"After Solomon dropped off Andy and I had a great, clean race for the last two hours of the day," said McGregor.
"With three or so kilometers to go Andy and I came to an obstacle; I jumped out and ran around while he paddled and when I put in again I turned back and saw I had a gap of twenty meters.
"We smiled at each other and I thought I'd try make Andy hurt a little bit.
"When I turned back again I had about a hundred meters on him and that's when I looked to really capitalize and stretch him."
While Birkett would have hoped to have been closer to McGregor going into the second stage – a gap that will be extended by a further five seconds before a stroke has even been completed on Thursday after McGregor's victorious time trial efforts – the Euro Steel star still enjoyed his time on the water.
"I've never experienced a low Berg before and that was something I was a little worried about coming into the race but I really enjoyed going through those trees," said Birkett. "We must've portaged about fifteen times throughout the day and you were on toes the whole time."
"Hank caught me at a bad spot, just as I'd hit a brick wall and the energy levels were down. He put the hammer down and I just wasn't able to respond.
"It was a really great day though and I'm looking forward to paddling that same section again tomorrow!"
Birkett also shed some light on the absence of Bamboo Warehouse/Knysna Racing's Graeme Solomon from the day's podium after the 42 year-old came home in fourth place behind a powerful and determined Kiko Vega of Spain.
"Solly had a bit of bad luck today," said Birkett. "He took a swim and got stuck in a tree here and there before he then actually put his paddles down with about thirty kilometers to go and said 'Cheers guys, good luck!'"
"He'd spent so much energy trying to catch up so many times, which unfortunately you just can't do over five hours of racing."
For Vega, a regular star of the famous Sella Descent, it was a day that saw him get stronger and stronger as he led home fellow international competitors Jakub Adam (Czech Republic), Joep van Bakel (Netherlands), Brendon Rice (Australia) and Keith Moule (Great Britain) who followed Solomon home in fifth, sixth, seventh and eighth place respectively.
The last minute withdrawal of 2014 women's race winner Abby Solms due to illness opened the doorway for surfski convert Bianca Beavitt to challenge for her maiden Berg title.
While the likes of Robyn Henderson and Joritha Prins gave it their all, they could do little to counter the dominance of the Century City competitor who wasted little time in powering her way to a commanding stage victory that sees her with one hand on the trophy already.
"I raced today exactly how I had planned to approach today," said Beavitt.
"It got a little tricky once I caught some of A batch just as we were going through some of the tree blocks but some of the guys actually looked to me to take control, even though I was the lady driver!" she laughed.
Thursday sees paddlers tackle the race' regular second stage stretch from Zonquasdrift to Bridgetown. More information can be found at www.berg.org.za

SUMMARY OF RESULTS - 2015 BERG RIVER CANOE MARATHON
STAGE ONE (HERMON - BRIDGETOWN)
Men
1.Hank McGregor 4:55.53
2.Andy Birkett 4:58.46 
3.Kiko Vega (ESP) 4:59.21 
4.Graeme Solomon 5:02.59 
5.Jakub Adam (CZE) 5:03.37 
6.Joep van Bakel (NED) 5:04.11 
7.Brendan Rice (AUS) 5:05.50 
8.Keith Moule (GBR) 5:06.58 
9.Louw van Riet 5:11.34 
10.Heinrich Schloms 5:17.33
11.Edgar Boehm 5:18.59
12.Thulani Mbanjwa 5:19.00
13.Siseko Ntondini (U23) 5:22.01
14.Paul Marais 5:29.25
15.Banetse Nkhoesa (U23) 5:29.26
16.Greg van Heerden 5:33.16
17.Kyle Friedenstein (U23) 5:34.56
18.Tyron Maher (U23) 5:34.57
19.Khumbulani Nzimande (U23) 5:40.30
20.Luke Stowman (U23) 5:41.27
Women
1.Bianca Beavitt 5:43.11
2.Robyn Henderson 6:15.07
3.Joritha Prins 6:37.55
Under-23 Men
1.Siseko Ntondini 5:22.01
2.Banetse Nkhoesa 5:29.26
3.Kyle Friedenstein 5:34.56
Under-18 Men
1.Siyanda Gwamande 5:48.00
2.Mpilo Zondi 5:50.32
3.Msawenkosi Mtolo 5:54.42