A desperately low river, altered race course, a strong international field and some significant last minute changes have set a dramatic scene for the 2015 Berg River Canoe Marathon that starts on Wednesday morning.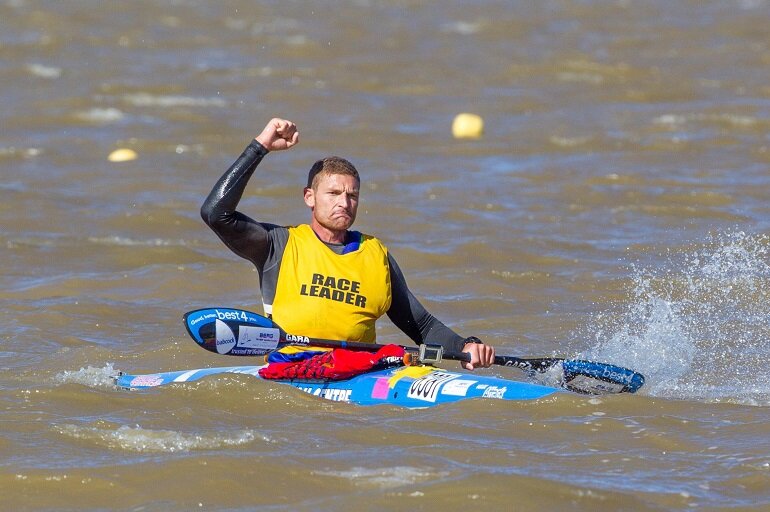 Photo credit: John Hishin/ Gameplan Media
The title race is being billed as a mouth-watering duel between nine times champion and current K1 and K2 world champion Hank McGregor (Jeep Team Kayak Centre) , and the defending champion and new SA K1 champion Andy Birkett (Euro Steel).
McGregor is taking his bid for a tenth title seriously and has spent the past week tripping the Berg River in preparation for the race, while Birkett flew into the Cape from his native KwaZulu-Natal on the morning of the pre-race time trial.
Add to that mix Berg stalwart Graeme Solomon (Bamboo Warehouse), local aces Heinrich Schloms and Louw van Riet, Dusi star Thulani Mbanjwa and the five visiting international stars Jakub Adam (Czech Republic) , Brendon Rice (Australia), Joep van Bakel (The Netherlands), Kiko Vega (Spain) and Keith Moule (Great Britain) and the race will be intriguing throughout the four days and 240km to the West Coast town of Velddrif.
The women's race has also been shaken by the decision of defending champion Abby Solms not to race. After spending many hours training and tripping the river, the Pietermaritzburg school teacher fell ill, and despite antibiotics has not been able to shake off her problems and was forced to withdraw at the eleventh hour.
That sets the stage for local racer Bianca Beavitt, who podiumed last year, to plot her course for a maiden Berg title
It's the condition of the river that is generating just as much chatter as the clash-of-the titans in the men's seeded batch. With the Cape in the grip of year two of the three year La Nina drought cycle, dams in the region are all desperately low, and despite some rain on the weekend, the Berg River is running very low, measured at a miserly five cubic metres per second in Paarl this week.
On that basis, aggravated by the news that the first 45 kilometers of the river out of Paarl is chocked with water hyacinth, the organisers have decided to move the first stage start to Hermon, racing 60km to the second overnight stop at Bridgetown on the headwaters of Misverstand dam, and then return upriver to race the conventional 45km second stage over the same section of river on Thursday.
While this leaves the overall distance of the race largely unaffected, this will alter the tactics, particularly as the numerous trees blocks and channels will define the first half of the race.
The conventional time trial route, raced the day before the start of the ultra-marathon and used to sort out front row seeding, has also had to be shifted downriver into Paarl as the upper reaches of the river are too low to paddle.