The JBay Open continued at Supertubes with excellent waves for the rest of round three today, and there were some inspired performances as well as some surprise exits.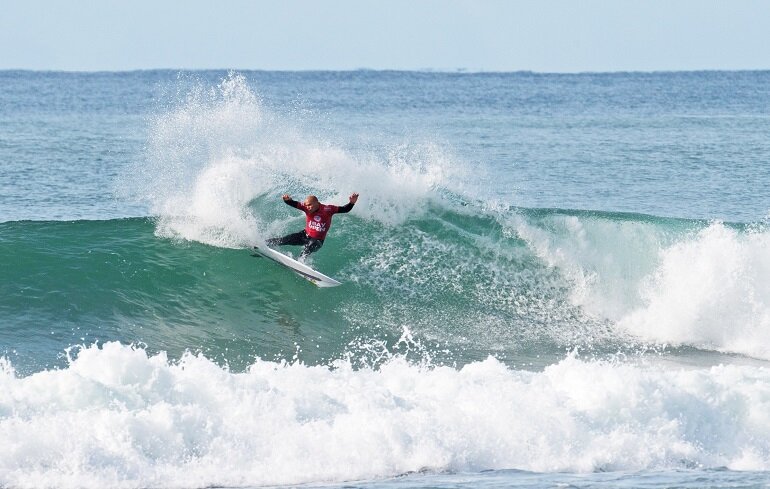 Photo credit: Retroyspective
In difficult early morning conditions, Joel Parkinson struggled against Wiggolly Dantes, with the Brazilian rookie coming out on top with some fast backhand surfing. The difficult conditions continued in the second heat, as wildcard Dane Reynolds came up against Jeep leaderboard tour leader Adriano De Souza, and went to town in the small conditions, banking a 6.17 and 7.0 in the early moments of the heat. Dane fought back towards the end of the heat, picking up some decent waves that were coming through wide, but it was too little too late and the Brazilian kept on pushing until the siren to take the win.
Gabby Medina kept the Brazilian flag flying high, literally, as he took to the skies in his heat against Matty Wilkinson from Australia. Matt was in the lead after posting an excellent wave score of 9.57 for a series of critical top turns, but then Medina executed two big backhand airs for a score of 9.47, followed by a massive single move backhand rotation for an amazing core of 9.60 and the highest heat total the competition thus far, a 19.07. "I got a lot of waves out there," said Medina. "Now I just want to keep going and keep the ball rolling."
Kelly Slater came up against current world no. 30 Kolohe Andino, and took the win with relative ease. Kelly has immeasurable experience at Supers, and utilized this to overcome Andino. Slater is looking for a good finish in JBay after a fairly dismal start to his season. Slater, who was self-admittedly critical of the decision to surf today, was all smiles after his victory. "This morning was tough, that first heat with Parko and Wiggolly," said Slater. "I would have been scared to be in that heat."
Michel Bourez, back in the game after a bad back injury, managed to beat Bede Durbidge in heat 11 with a tie break win. "I broke my hand and I broke a vertebrae in my back on a wipe out at Teahupo'o and I have been out the water for 2 months," said a stoked Michel. "I have been riding the 6'0 since I have been here, but today I took out the 5.11 and it felt a bit weird, but the it started to feel good and I scored that 9.5 ride."
In the final heat of the day an in-form Alejo Muniz, who nabbed a spot in the event as an injury replacement, came up against a rampant Filipe Toledo, but the wave of the day towards the end of the heat gave him the opportunity to shine. He managed to blast 4 big turns off the top and finished off with a big floater for a near-perfect 9.8 ride and the heat win.
Billabong Junior Series presented by BOS event 1
Over at the Billabong Junior Series presented by BOS event 1, taking place at Magnatubes, the junior surfers were charging the epic morning conditions, with surfers like Crystal Hulett and Olivia Brand the stand-outs in the Girls U20 pro division. Hulett from St Francis surfed a clever heat to edge out Teal Hogg. "It's dropped a lot since yesterday," she said, "but they're definitely easier to catch, and there is more of a ride on offer." Karl Steen and Angelo Faulkner blew up in the U14 Boys division, as well as Ryan Lightfoot and Eli Beukes. The conditions look favourable for surf tomorrow at Magnatubes, with the wind coming from the south west and the swell a bit down from today.
JBay Music Festival
Tonight at the Jolly Dolphin, watch Stone Cold Jane Austen - The Movie (screening) followed by iScream & the Chocolate Stix for absolutely Free! Stone Cole Jane Austen is positively hilarious and details an English band trying to break in to the profitable Afrikaans music market... without being able to speak the language! Get down there and have a laugh! More information here www.jbaywinterfest.com/music-festival/
The JBay Winterfest is proudly presented by Woodlands Dairy.




 Co-sponsors include Oakley, Kouga Municipality and RVCA

. Supported by Spar Jeffreys Bay, Arbor, First Choice and the Mandyville Hotel.




 The event hashtag is #jbaywinterfest