(Monday, 13 July, 2015) - Action will resume today at the J-Bay Open, Stop No. 6 on the 2015 Samsung Galaxy World Surf League (WSL) Championship Tour (CT). Competition has been called on starting with 35 minute heats for Round 2 in two-to-four foot clean conditions at Jeffreys Bay.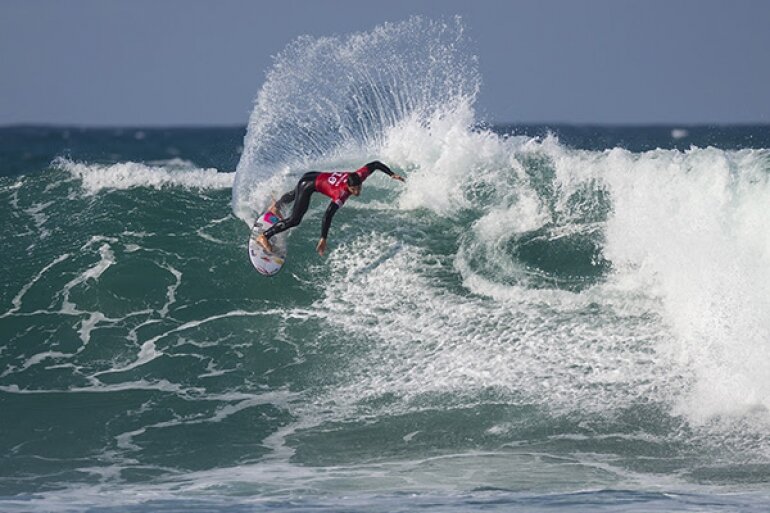 Photo credit: WSL / Kirstin
Location: Jeffreys Bay, South Africa
Holding period: July 8 - 19, 2015
Call: Round 2 called ON, 7:35 a.m. start
Conditions: 2' - 4', offshore winds
"There's some fun waves today," Kieren Perrow, WSL Commissioner said. "It probably hasn't picked up as much as we had hoped but it should continue throughout the day. We are on starting with Round 2 and we'll go into Round 3 most likely. We want to get as much done as we can today to make the most of this swell so we are on and there's some great J-Bay lines out there".
The world's best surfers will battle to avoid elimination in Round 2 and first to take to the water will be Jeep ratings leader Adriano de Souza (BRA) and wildcard Slade Prestwich (ZAF) in Heat 1.
Surfline, official forecaster for the World Surf League, are calling for: Broad angled WSW to SSW swell mix will fill in through Monday and provide a modest bump in swell. Contestable size surf continues into Tuesday. Breezy offshore flow prevails Monday, with a shift back to onshore flow by Tuesday afternoon. Another modest SW groundswell will build in through Thursday before fading Friday. Going further out, we continue to track a larger swell for the final couple days of the waiting period.
The J-Bay Open will be webcast LIVE on WorldSurfLeague.com. The world's best surfing will also be broadcast LIVE on Fox Sports in Australia, MCS Extreme in France, EDGE Sports in China, South Korea, Malaysia and other territories and on Globo TV in Brazil.
The J-Bay Open is the showcase event at the J-Bay Winterfest, a multi-sport and music festival in Jeffreys Bay from July 8 - 19. More details at www.jbaywinterfest.com.
J-Bay Open Round 2 Match-Ups:
Heat 1: Adriano de Souza (BRA) vs. Slade Prestwich (ZAF)
Heat 2: Filipe Toledo (BRA) vs. Michael February (ZAF)
Heat 3: Owen Wright (AUS) vs. Tomas Hermes (BRA)
Heat 4: Taj Burrow (AUS) vs. Alejo Muniz (BRA)
Heat 5: Nat Young (USA) vs. Brett Simpson (USA)
Heat 6: Italo Ferreira (BRA) vs. Dusty Payne (HAW)
Heat 7: Gabriel Medina (BRA) vs. Glenn Hall (IRL)
Heat 8: Joel Parkinson (AUS) vs. Ricardo Christie (NZL)
Heat 9: Jordy Smith (ZAF) vs. Adam Melling (AUS)
Heat 10: Jadson Andre (BRA) vs. Kai Otton (AUS)
Heat 11: Wiggolly Dantas (BRA) vs. Miguel Pupo (BRA)
Heat 12: Matt Wilkinson (AUS) vs. Sebastian Zietz (HAW)