Tuesday's shortened time trial from Paarl Canoe Club to Dal Josefat Weir has paved the way for a fascinating 54th edition of the Berg River Canoe Marathon that gets underway on Wednesday with nine time race winner Hank McGregor edging out defending champion Andy Birkett by a slender five seconds.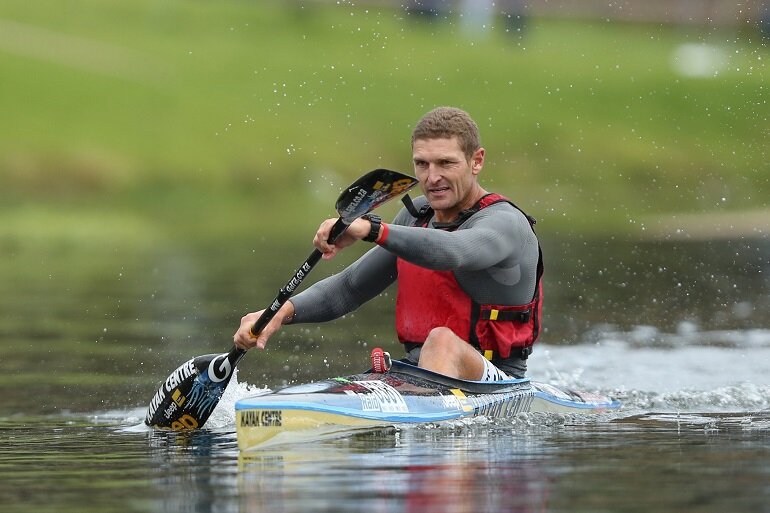 Photo credit: John Hishin/ Gameplan Media
A recent rule revision by the organisers will see the top 30 paddlers' time trial splits incorporated into Thursday's second stage elapsed time start for the first time, resulting in a renewed focus amongst those eager to stake a claim for this year's overall spoils during the 3.5km sprint.
"I felt good, I felt strong and I was happy with how things went for me," said Jeep Team/Kayak Centre's McGregor. "It's been a long build up to this race over the last couple of years and to come back and still have an unbeaten time trial record is great."
The lack of rainfall throughout South Africa and the subsequent low water level of the Berg River meant organisers were forced to shift the pre-race timed bout downstream of its usual layout, a trend that will continue into Wednesday's opening stage with the first stage's start having been relocated to Hermon.
"I was preparing more for an eight kilometer time trial and this was only three and a half (kilometers) so it was really short and the gaps are fairly minimal.
"I think tomorrow's going to be pretty tactical though so I'm pretty happy to be on the front on the start line.
"Usually there's a big bunch early on and then the flats take a lot of the out of the mix leading up to the trees.
"Now we're basically starting right in the trees though so it will be even more tactical as everyone looks to ensure they're in a good position right from the word go," explained McGregor.
Not knowing where he stood in relation to McGregor during the time trial Euro Steel's Birkett was pleased to have surrendered the small margin to the nine time champion that he did.
"I'm stoked to only be five seconds behind Hank, especially with him being the pedigree paddler that he is because anything more than that then he could be away at the start of day two," said Birkett.
"It's also a nice indication that I'm not too far off the pace and I might have a good Berg if I can stay in contention."
The heightened importance of the time trial not only meant spectators hardly had much of wait to endure before catching their first glimpse of the much anticipated McGregor versus Birkett showdown but it also saw the five international competitors clinch their first share of the limelight.
Kiko Vega of Spain and Netherlands' Joep van Bakel (Kanocentrum Arjan Bloem) charged home in third and fourth place, 37 and 39 seconds behind McGregor respectively, while Czech Republic's Jakub Adam claimed fifth spot 49 seconds off the pace.
Former race winner and Berg podium regular Graeme Solomon (Bamboo Warehouse/Knysna Racing) was the most notable to have suffered at the hands of the new system – his sixth place effort and near-minute deficit possibly set to haunt him come Thursday's second stage – while fellow Cape local Louw van Riet (AQ Rate) will be pleased with his seventh placed effort.
Tuesday's effort also saw Bianca Beavitt (Century City) – new women's title favourite after the eleventh hour withdrawal of unwell defending champion Abby Solms – get her first taste of the 2015 Berg as she goes in search of a maiden title.
Wednesday's first stage gets underway from Hermon and sees paddlers make their way down to the regular stage two finish venue at Bridgetown. Competitors then head back to the traditional first stage finish venue at Zonquadrift for the start of Thursday's second stage which again finishes at Bridgetown. More information can be found at www.berg.org.za
SUMMARY OF RESULTS - 2015 BERG RIVER CANOE MARATHON
TIME TRIAL (PAARL CANOE CLUB - DAL JOSEFAT WEIR)
1.Hank McGregor 13.48
2.Andy Birkett 13.53
3.Kiko Vega (ESP) 14.25
4.Joep van Bakel (NED) 14.27
5.Jakub Adam (CZE) 14.37
6.Graeme Solomon 14.45
7.Louw van Riet 14.45
8.Keith Moule (GBR) 14.54
9.Brendan Rice (AUS) 15.00
10.Siseko Ntondini 15.02