Words & Photos: Francois Steyn
The Hyundai Sonata 2.4 Gls Exec: The all new Hyundai Sonata is turning heads and can easily be mistaken for a more expensive car. Some even say that it looks like a Mercedes C-class from certain angles. I agree on the looks, but more importantly Hyundai has been around long enough to bring peace of mind in the reliability and dealer backup stakes as well.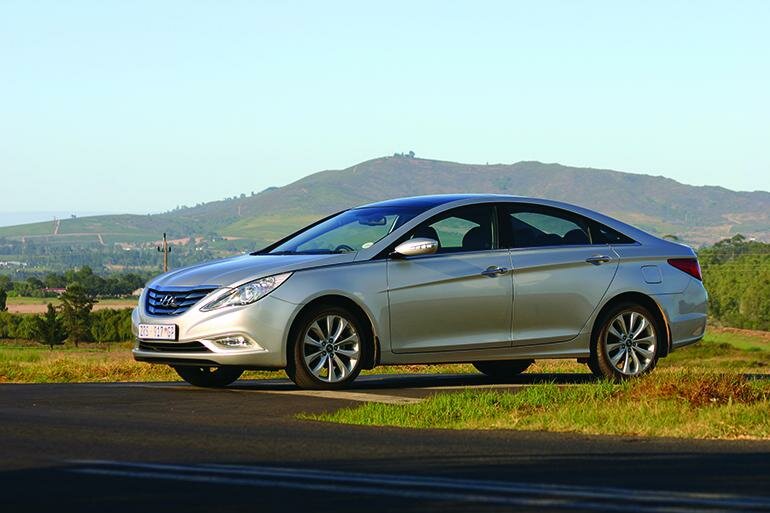 Both the standard GLS and GLS Exec feature a 2.4-litre petrol engine, matched to a six-speed automatic gearbox. Even though the 131 kW at 6 000 rpm and 228 Nm of torque might not sound mind blowing when compared to the modern European machines with smaller turbo engines (See VW 1.2TSi also tested as a perfect example), it doesn't feel lethargic. As you depress the accelerator, the smooth gearbox downshifts a ratio or two and the vehicle moves forward with purpose. It also emits an enjoyable engine note that invites you to stomp on the accelerator. Top speed is quoted at 208km/h. Under normal driving conditions, I averaged around 9km/l, which equates to a range of roughly 560km on the large 70-litre tank. The on-board display of 11-litres per 100km was spot on.
The interior is well sound proofed and everything is where you'd expect it to be. The comfortable front seats are electrically adjustable and the driver's side has lumbar support and two memory settings. The steering wheel can be adjusted up or down and telescopically to attain the perfect driving position. The buttons on the multifunction steering wheel are very easy to operate and the instrument display has a premium feel to it, especially at night.
The Exec model has USB connectivity for your iPod or cellphone, cruise control, a panoramic sunroof and paddle shifts behind the steering wheel for manual gear changes. The latter is the only niggle I had with an otherwise very well packaged car. The downshifting paddle on the left did not always engage and both paddle shifts felt as if they might not last forever. Luckily you have the option of manual shifting through the six-speed auto 'box with the gear lever.
Safety features include ABS, EBD, ESP (traction control) and Active Yaw Control. It also has six airbags, doors that lock automatically when travelling above 20km/h and auto levelling Xenon headlights come standard. The 18-inch tyres grip well and the suspension is supple yet taut enough to keep you planted in tight bends. You might want to take it easy on dirt roads due to the low-profile rubber, but it has a full-sized spare wheel under the cavernous luggage compartment.
There's ample leg room in the rear and you'll struggle to fill the enormous boot, even on a weekend getaway with the whole family. The climate control works well in the summer heat and has vents in the rear to keep the kids cool.
Not only does the Sonata look like a top-class luxury car, it drives like one too. With Hyundai's 5 year / 150 000km warranty and roadside assistance, plus a 5 year / 90 000km service plan, owning one makes even more sense. Competitors? At R279 900 for the standard GLS and R299 900 for the Exec: not many.
VW Touran 1.2TSi
It's been said that once a man reaches a certain age and settles down he might as well give up on life and buy an MPV. I am entering that stage of my life, so I decided to try VW's mid-sized Touran to find out if it's all that bad.
I tested the 1.2TSi, but you also get the 1.4TSi and 2.0 TDI Touran. This small engine delivers 77 kW of power and combined with the six-speed manual gearbox, it had no problem moving this car along. It amazed me at how steady (and slow) it felt cruising at 140km/h, especially considering the combi-like shape. The typical VW interior is so quiet and comfortable that you'll cover vast distances without realising it.
The Touran has so many safety features that I won't mention them all, but the ISOFix child seat anchors on the removable outer rear seats are a win for a family vehicle like this. The steering is direct and the car sticks in corners, yet the suspension is not harsh at all even on corrugated dirt. The standard seating layout has three individually removable seats in the rear, making for a very flexible loading area. With the rear seats removed and a rack fitted to the roof rails, you can easily take your mountain bike and a kayak or two on a weekend getaway.
Leg room in the rear is more than adequate and everyday you'll find another little storage compartment hidden somewhere, like under the rear foot wells, in the roof and under the loading area. The cubby hole is cooled by the air conditioner, and the rear view mirror has a switch to tint it when your followers forget that their main beams are on.
A very handy feature on the model I drove was the bend lights that turn onto the side you are turning if you're travelling slower than 35km/h, and turn on when indicating. There are also lights under the side-view mirrors that shine onto the ground next to the car, as you disembark or unlock the doors via the remote.
I am always impressed by good value for money tied to functional practicality and the Touran offers both, with elegant VW styling to boot. Just look at that Golf-like nose. With a base price of R260 300, it compares well to other much smaller vehicles. Just remember that if you add the Rear Park Distance Control, Bi-Xenon headlights and metallic paint this one had, it will add another R15 700 to the price tag. A 5 year / 90 000km service plan is included though. In conclusion, I was pleasantly surprised by the power of the 1.2-litre cruiser, and as a package this Touran makes a lot of sense.
Subaru Outback 2.0d Boxer Diesel
Subaru has produced diesel cars in the past, but they were powered by Toyota power plants. This new diesel however, has been completely designed and manufactured by Subaru in the traditional Subaru Boxer layout; a first. The Outback, like all other Subarus, also features symmetrical all-wheel drive. This is more for safety than for hard off-road driving and you can really feel it working in fast corners, with the traction control done out of a job by the huge amount of mechanical grip (grip from tyre friction, suspension layout and power distributed to all the wheels as needed).
When you get into a Subaru you know it. The interior is simplistic and functional, and everything has a purposeful feel to it. You know it was made for driving and to last while doing so. The multifunction steering wheel is perfectly weighted, offers superb feedback and the steering itself is spot on and direct. The suspension is a tad hard, but due to the 213mm ground clearance, dirt roads are no problem for the Outback. Although the Yokohama Geolander tyres will do fine on gravel, we had a flat and had to limp home on the emergency spare wheel. That said, I didn't even notice the flat until I stopped for a quick break. This was probably due to the self-levelling rear suspension and perfect balance of the chassis. A full-sized spare would give more peace of mind when venturing far from the beaten track.
The 2-litre turbo diesel delivers 110 kW and a massive 350 Nm torque. Matched to a short shifting six-speed manual 'box, it never feels out of breath. Thanks to the horizontally opposed boxer design, this diesel is super smooth and very quiet. On the tar the Outback feels firmly planted and solid at any speed, and the brakes are sharp and have a positive feel to them. It never ceases to amaze me how involved a drive in any Subaru is.
Xenon headlights, cruise control and electrically adjustable seats are standard. The height of the driver's seat can be adjusted from very low for a racy feel, to very high for a SUV posture. This, together with the reach adjustable steering wheel, will provide the perfect driving position for anyone. Another handy feature is the electronic park brake. Press the button and the brakes engage. Pull off and it automatically disengages (but only if the driver's seatbelt is fastened, clever). The hill hold assist button sits next to it and when activated, will automatically switch on the parking brake if you depress the brake pedal all the way, and releases it again when driving off.
The only small drawback, as far as I am concerned (and is not only applicable to Subaru), is the fact that you can only fill up with 50 ppm (parts per million) diesel, which is not yet available at all filling stations in South Africa. Subaru's website has a printable list of all the filling stations in the country that do have it. The 65-litre tank, combined with an average consumption figure of around 7-litres per 100km, will make sure you never get stranded without clean diesel.
The Outback comes standard with Subaru's 3 year / 60 000km maintenance plan and costs R399 000.