Words: Jag Communications
Jenny Morris – known to all her fans around the country as the Giggling Gourmet – is one of South Africa's most-loved food personalities.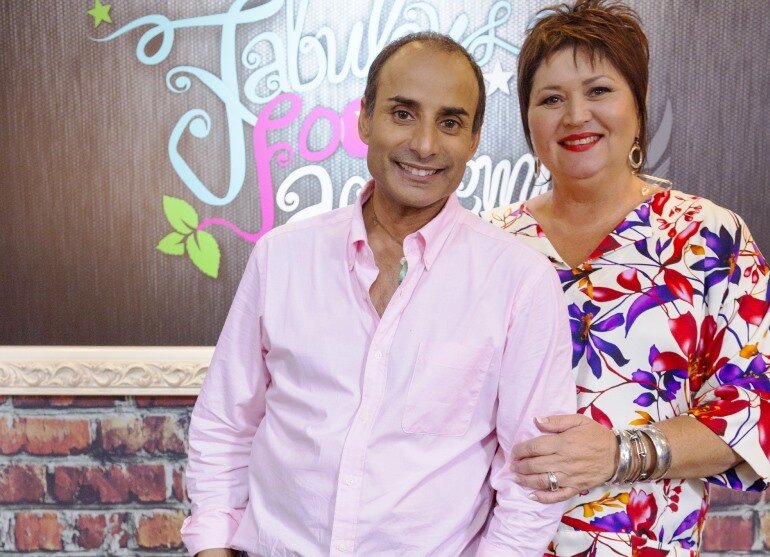 The popular celebrity chef – she has the distinction of being the first South African chef to host her own show on the international Food Network channel – will be appearing at the Good Food & Wine Show which takes place in Johannesburg from Thursday to Sunday.
Morris admits that she's going to be very busy at the show appearing at a number of the food extravaganza's different theatres and stands including the Celebrity Chefs Theatre and Romancing the Stove as well as appearing with two top Peruvian chefs as they explore Peruvian gastronomy. "I can't wait, I love interacting with an audience," she says.
Morris will be appearing with her very good friend Reza Mahammad in a not-to-be-missed once-off demonstration at the Celebrity Chefs Theatre on Saturday, July 25, at 15h10. Earlier this year it was announced that the pair will star in a new Food Network series Jenny & Reza's Fabulous Food Academy, to be aired on the channel (DStv Channel 175) later this year.
"We are the best of friends," she says of Reza "and we are going to give Good Food & Wine Show audiences a sneak preview of what to expect on our television series later this year. There are going to be a lot of laughs – and some great food!"
Morris appears in the theatre again (this time flying solo) on Sunday, July 26, in the same time slot. Booking for these shows can be made through Computicket.
A new feature for the Johannesburg show is Romancing the Stove, in which couples are invited to come and join Morris for live interactive cooking lessons where they are shown how to create food that lifts moods, celebrates special occasions and adds a bit of spice to their love lives. "Food is a love affair in the true sense of the word, one that employs all the senses", says Jenny who admits that for her touch is vital.
"Feeling your food is important," she says. "Caress it, stroke it and know it intimately. How you eat your food will reveal what kind of lover you are. You don't want someone who eats a sosatie with a knife and fork," she says with a laugh.
Morris will be also be discovering modern Peruvian gastronomy with Peruvian chefs Emilio Macías and Andre Patsias at Stand F30 in the show's main arena. The two have honed their skills at some of the world's most acclaimed restaurants including Astrid y Gaston in Lima, ranked at No 14 on San Pellegrino's 50 Best Restaurants in the World. (The list includes three Peruvian restaurants). The pair has also worked at Noma in Denmark and Spain's Quique Dacosta.
Jenny's formula for success is to "entertain informatively and inform entertainingly", something she does with flair. Although she has cooked for dozens of celebrities and royals, (including Prince Charles, Thabo Mbeki, Kenneth Kaunda, Charlize Theron and Al Gore), Jenny remains down to earth, and when she's not wowing the public she can be found in her kitchen stirring a pot of something fragrant and delicious. "Layer those flavours," she advises, "and feel that dish come alive in your hands!"
Q&A with Jenny
What can we expect from your new show with Reza?
Reza and I have worked internationally together over the past few years as a duo on live shows and we are like peas in a pod so when Food Network asked us to do a series together it was a dream come true.
You do everything from TV and radio to cookery tours, demonstrations and writing books. Do you have a favourite?
They are all my favourites, how can you ask me that! Let's say I love to travel to new places, this gives me the inspiration to write my books and share my stories and experiences with the wonderful people who attend my food demonstrations.
What else do you still want to achieve?
I want to watch my children grow and prosper; I want to inspire and nurture the young chefs going forward; I want to write more cook books, travel and taste the world and make more food TV shows; I want to live to an old age with my husband. I want a grey Tom cat too!
What utensils can you not live without?
A really sharp knife, my pestle and mortar and my microplane.
Tell us a little bit about what's hot in SA at the moment when it comes to food trends?
I think Asian food is here to stay, Tapas is going to be in for a long time, and watch out for Korean Food, I just love it, and I think people are also looking for a meal that is well priced and plentiful; value for money is what I hear on the streets.
How, as a chef, do you stay on top of what's popular or do you determine what's popular?
I have my own style and I create my own dishes and flavours but I listen to people and I like to give them what they want as well.
Show details
The Good Food & Wine Show Johannesburg
Dates: Thursday, July 23, to Sunday, July 26.
Venue: Ticketpro Dome (formerly the Coca-Cola Dome), Corner Olievenhout and Northumberland Roads, Northriding
Hours: Thursday, July 23, to Saturday, July 25, 10:00-20:00; Sunday, July 26, 10:00-18:00
Cost: R130 for adults, R110 for pensioners, R110 for children 13-18 years old, R50 for children 7-12 years old, free for children under the age of six.
Tickets: Available through Computicket (www.computicket.com) or at the door.
Go to:
• www.goodfoodandwineshow.co.za
• Twitter: @goodfoodSA
• Facebook: Good Food and Wine Show SA