A collaborative choral performance of Verdi's Requiem by the Symphony Choir of Cape Town, Stadskoor Tygerberg and Vox Humana accompanied by the UCT Symphony Orchestra has raised much need funds to alleviate the plight of Cape Town's street children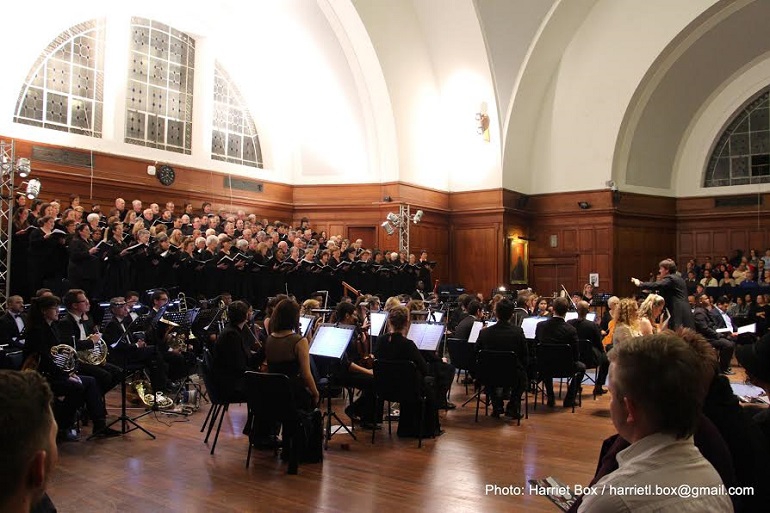 Photo credit: Harriet Box
StreetSmart South Africa, a non-profit organisation that works in partnership with restaurants to support the greater process of normalisation of street children, was the sole beneficiary of the sold out concert held in the university's Jameson Hall in celebration of Verdi's 202nd birthday.
"We are thrilled to make a difference, simply by doing what gives us great pleasure....making music," said Margaret Barrie, chairperson of the Symphony Choir of Cape Town.
Melanie Burke, chairman of StreetSmart SA welcomes the support: "Fundraisers like this mean that we can keep our promise that every cent collected by StreetSmart restaurants will go to our beneficiaries. This year we are on track to extend our contribution to a few more beneficiary programmes, thanks to the generosity of diners and in this case - music lovers."
StreetSmart plays a vital role by providing an additional income stream for existing and well-run beneficiary organisations to support and enable skills training, job creation, provisions for social workers and auxiliary social workers and other programmes, that directly and positively impact the lives of children.
In partnership with participating restaurants that add a voluntary R5 donation to every table's bill, StreetSmart makes it possible for diners to make a difference, simply by where they choose to dine.
"R5 may seem very little to give, yet the initiatives and programmes funded by StreetSmart prove that a little goes a long way. What makes it more powerful is that the funds collected in the local areas are ploughed back into beneficiary organisations in the vicinity of the participating restaurants," adds Burke.
All operational costs are covered through sponsor partnerships, fundraisers and private donations. StreetSmart South Africa is registered as a Non-Profit Company, a Public Benefit Organisation and a Non-Profit Organisation.
To quote Emeritus Archbishop Desmond Tutu, founding patron of StreetSmart "Do your little bit of good where you are. It's those bits of good put together that overwhelm the world."
For enquiries contact StreetSmart SA on +27 (21) 418 0621 or email . Alternatively, visit www.streetsmartsa.org.za for more information.