Words: Francois Flamengo | Photos: Darryl Curtis
Every sport has its legends … individuals who have given their all to take a sport to the next level and make it more popular, more spectacular and more aspirational. It is these individuals who have set new standards that drive their competitors and themselves to become the best they can be. International icons such as Michael Schumacher for F1 racing, Gary Player for golf, Lance Armstrong for road cycling, Travis Pastrana for FMX and Laird Hamilton for Big Wave Surfing are all great examples of these legends. When it comes to motorbike enduro, it is names like David Knight, Taddy Blazusiak and Chris Birch that have taken this sport to new heights.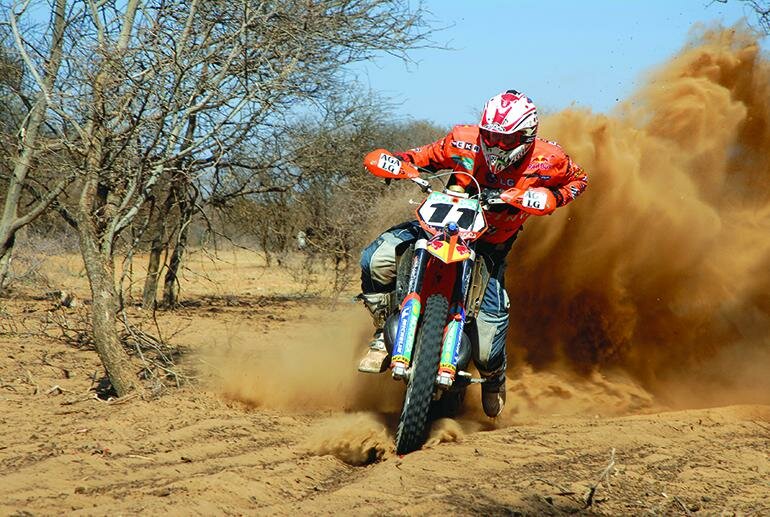 Photo credit: Darryl Curtis
On the local scene, those that have helped build and promote enduro over the last decade include the likes of Alfie Cox and Darryl Curtis. Any true enduro enthusiast that's seen them in action, either in one of the many DVDs they've featured in or at an event they have competed in, will have witnessed the significant role they've played in raising the sport's profile.
Alfie Cox must be one of greatest racing talents SA has ever produced and has been racing motorbikes since 1988. He has also successfully competed in the world's biggest enduro event, The Dakar Rally. Since 1999, he has taken part in seven Dakars on a motorbike and claimed three podium finishes against the world's finest, with a personal best of second during the 2002 event.
Darryl Curtis has just announced his intention to enter the Dakar and add this prestigious event to his long list of races and accolades. So it is with great excitement that DO IT NOW will be featuring exclusive articles on Darryl's preparation for the 2012 Dakar and eventually feedback from his race.
So what are his chances? Well, Darryl has been racing motorcycles for the last 23 years and competed in most of the hardest enduro events around the world including the Redbull Romaniacs, Erzberg and Roof of Africa. His career highlights include winning the SA Off-road Championship five times, becoming the SA Enduro Champion twice and claiming the Roof of Africa title on two occasions. With this impressive track record, we are confident that Darryl will make his presence felt at the Dakar.
DO IT NOW met with Darryl to find out more about this champion and his plans for the Dakar.
Q: Can you still remember that first day when you threw a leg over a motorbike?
A: Yeah it was at a friend's house when I was about ten. I hit my first jump and it was the wildest save I ever made.
Q: What was your first bike?
A: It was a really tired Suzuki ... a 1980 RM 80cc.
Q: When you started competing, what defining moment on two wheels will forever be a part of your life?
A: Watching legends like Alfie Cox, Jeremy Davies and Willy Ireland were my main inspiration, but winning my first Roof in 1996 jump started my career.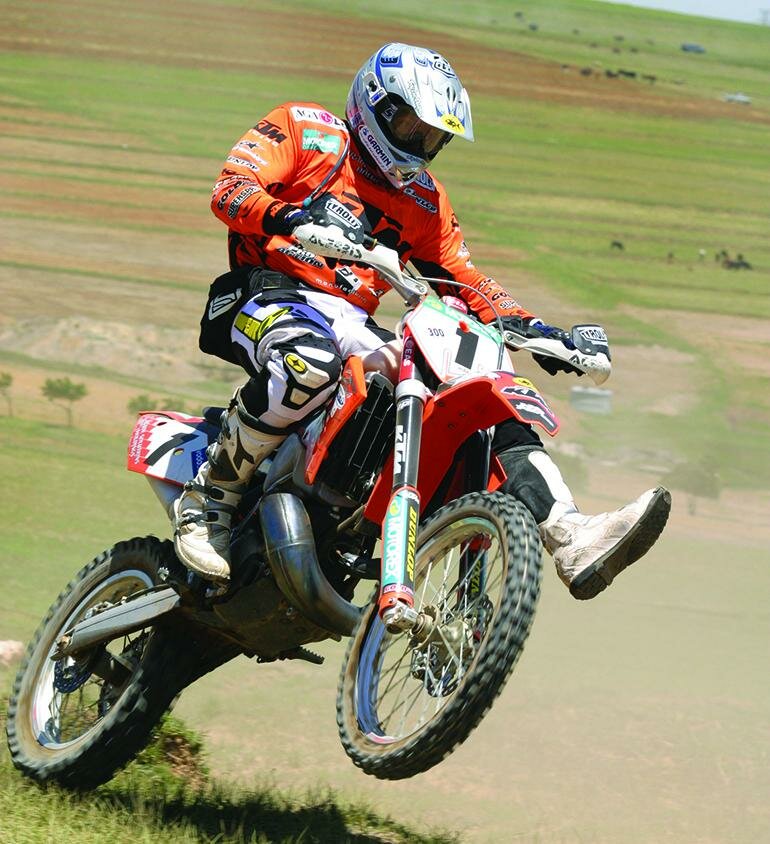 Photo credit: Darryl Curtis
Q: Having ridden for so many years, has technology played a role in the sport of hard enduro?
A: Yeah for sure. Today's bikes are so much better than they were way back when. You just can't compare modern suspension to twin shockers of the past. The new engines are super smooth and torquey giving you maximum traction. Together with the super-soft Pirellis it's a huge advantage.
Q: Of all the international hard enduro events, what do you reckon is the hardest to compete in and why?
A: The hardest one day race has to be Erzberg, with 1700 starters and just 20 finishers it is technically almost impossible and riders push themselves way over the top just to make the finish. The hardest stage race has to be Romaniacs. Last year it rained for five days and turned the track into a sloshy mud pit, it nearly finished me.
Q: Having competed with so many international athletes in hard enduro, who do you think is the ultimate enduro rider currently and of all time?
A: There are so many legends in our sport, but the most talented riders in extreme enduro have to be Taddy Blazusiak and Graham Jarvis. Taddy is the Erzberg King and Graham is the silent assassin who has been plagued with bad luck. But when he gets his act together it will be hard to stop him.
Q: What sparked your interest to compete in the Dakar?
A: I've always been intrigued by the Dakar, but when Alfie Cox started competing, I knew that I had to do it one day.
Q: What bike will you use for this race?
A: The new 2012 KTM 450 RALLY.
Q: Who are your sponsors for the Dakar?
A: Broadlink, a broadband internet solution company, will be my title sponsor and there's KTM and SA Event Decor, but I'm still way short so any help would be welcome.
Q: What are you looking forward to most during the Dakar?
A: To live my dream and experience this epic race, meet all the legends and be a part of the world's biggest road show. The adventure is what it's all about.
Don't miss the next issue of DO IT NOW when Darryl will take us through his training preparations for the big event and tell us more about the physical and mental toughness a rider needs to have, to take part in this ultimate of enduro races; the Dakar Rally.
dinFO
If you would like to make a contribution to help Darryl along, the banking details are as follows:
ABSA Acc No: 9091147828
Acc Name: Flatout Marketing
Branch Code: 515005