Words: Danica Bartho | Photos: Anthony Grote
Danica Bartho recently became the first women to paddle the 162 km from Richards Bay to Durban. Why did she do it? To raise awareness of cancer and raise funds for a special friend, Nikki (Lettie) Haynes, who is fighting liver, lung, and bone cancer. This is Danica's story about her campaign, the challenges she had to overcome during her four-day ocean crossing, and her message to all cancer fighters.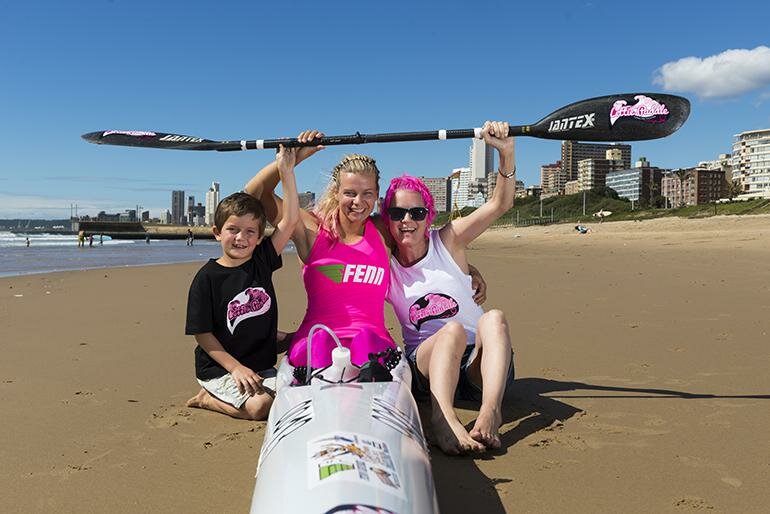 Photo credit: Anthony Grote
Lettie, a mother of three, was diagnosed with breast cancer in 2012. On hearing this diagnosis, she fought like a true champion and her efforts were rewarded when she beat the cancer. However, at the beginning of this year, Lettie started to experience a lot of pain and discomfort. Her doctor confirmed that the cancer had returned, but this time it was in her liver, lungs, and bones.
What inspired me was that in the midst of this titanic battle with a disease, Lettie is still one of the most positive people I know. She believes 100% that she can do this, saying: "If you believe it, you can achieve it!" If you spend two minutes in her company, you will walk away feeling like you can take over the world! She has this ability to touch your soul and make you believe in yourself again.
And so the seed was planted and the idea of becoming the first woman to paddle from Richards Bay to Durban became a reality. I decided to dedicate my paddle to Lettie and try raise funds to help with her medical bills. I believe that everything happens for a reason and it just so happened that Lettie's medical aid ran out. She was in the middle of her chemo treatments for bone cancer, so my timing could not have been more perfect! With the help of Gameplan Media, the Lettie Paddle campaign was launched and it became bigger and better than I could have hoped for.
I set off from Richards Bay on 30 October 2013, and this is an account of my four-day epic adventure to create awareness and make a difference.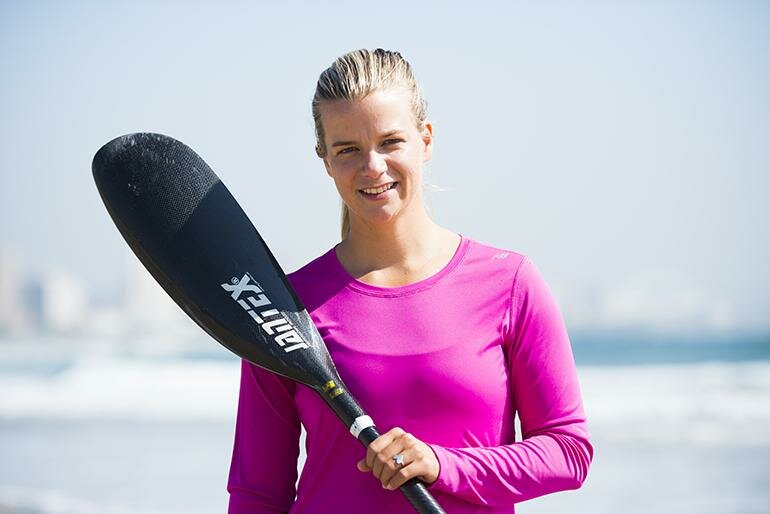 Photo credit: Anthony Grote
The paddle
Day 1: Richards Bay to Mtunzini - 40 km. The ocean was chocolate brown from all the rain and these are shark-infested waters, so to complete this section in one piece was a relief.
Day 2: Zinkwazi to Mtunzini - 48 km. This was a very long day with big surf. I was lucky enough to see two huge turtles, a welcome distraction from my exhaustion.
Day 3: Salt Rock to Zinkwazi - 32 km. This was a reasonably short day, but possibly the hardest. It was very hot and there was a light headwind, which made it a lot harder! My hands were full of blisters by this stage and my bum was very sore.
Day 4: Durban to Salt Rock - 42 km. There was a south-west wind blowing at 40 knots and the swells were 4 metres high. I was honestly terrified out there! I fell out of my ski just off Ballito when a huge swell broke over me out at sea. Luckily, I managed to get back in quickly. From there to the finish, all I could hear was the loud roaring sound of huge waves breaking behind me. I was very grateful when my feet touched the sand.
Mission accomplished
No one said it was going to be easy, but I did it! That is the message I want to send out to all cancer fighters: It's not going to be easy, but if you put your mind to it and never give up, you can beat it! You just need to believe in yourself and trust me, the strength to fight will come thereafter.
This has been the most incredible journey. I have been blown away every single day by how kind and generous people are, it makes me want to be a better person! The love and support people have shown me has been overwhelming! From the bottom of my heart, I would like to thank everyone who has made a difference in the Lettie Paddle campaign and helped me raise R120,000 to date.
There is no cut off for this campaign, so if you would like to make a donation, visit www.lettiepaddle.co.za and make a pledge.