Every now and then you are knocked right off your chair with an unexpected act of kindness. The Sunflower Fund and their supporters did just that, when The Federated Employers' Mutual Assurance Company (F.E.M.) generously donated R100 000 towards The Sunflower Fund 100 000 Stairs of Hope.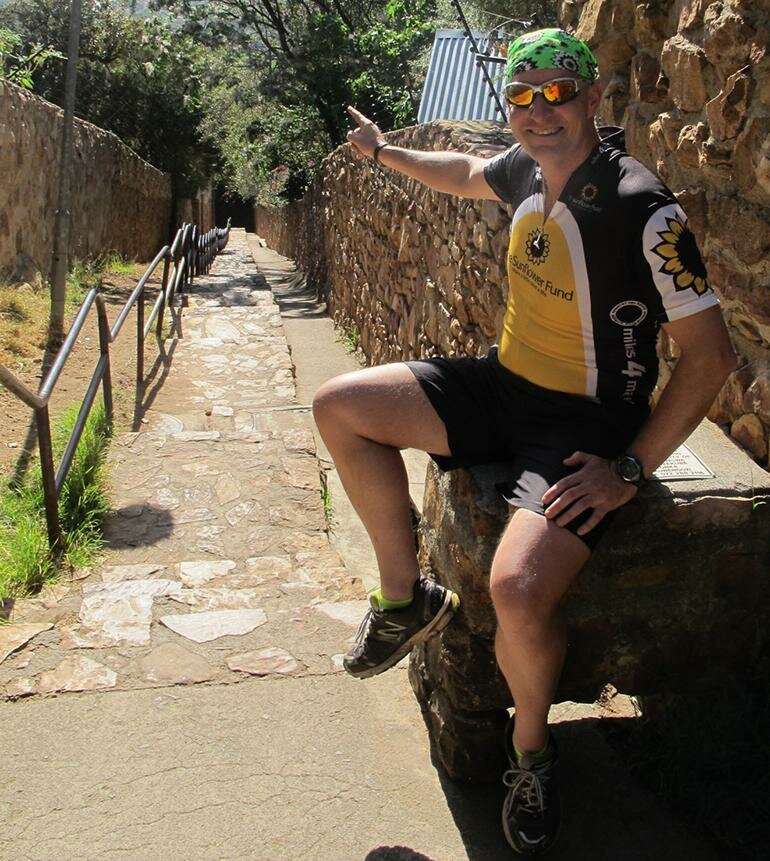 "Thank you so much for putting your heart into our 100 000 Stairs of Hope Everest Challenge" says Ray Funnell (leukaemia survivor). "It means so much to me that others, like you, have joined in the fight to bring hope to patients suffering from Leukaemia".
Ashwin Daya, Chief Financial Officer for F.E.M. added "Not only will these funds help Leukaemia patients but we are hoping this donation will certainly bring a "spark" to the fundraising drive and incentivize other companies to join the initiative by sponsoring a set of stairs".
In 2007, Ray Funnell received a lifesaving bone marrow stem cell transplant from his brother, after being diagnosed with an aggressive form of leukaemia. He realised that he was lucky to have found his matching donor and these days Ray wants to help others find a perfect donor match by supporting The Sunflower Fund.
100 000 Stairs of Hope – Westcliff Stairs, Johannesburg
Ray and his Team of 20 athletes will be climbing 100 000 stairs in Johannesburg on the 14th & 15th December 2013. They will cover a total distance of about 100 km as they attempt 200 reps of the famous Westcliff Stairs. This is the equivalent height of Mt Everest 8,840 m (from sea level) which will involve a daunting 36 hours of stair climbing.
Funds raised through this event will assist The Sunflower Fund to recruit and pay for the test costs for potential bone marrow stem cell donors to join the South African Bone Marrow Registry.
The Team boasts some incredible athletes and personalities, one of which is Sibusiso Vilane, the famous SA mountaineer, who has conquered Everest twice. Pamela Buckle, a travel and experience blogger; adventurer and radio presenter dubbed Little Miss Mission Impossible together with Shaun Taylor an extra-ordinary ultra-marathon challenger, also enthusiastically joined the team. To read more about all the athletes visit: https://www.facebook.com/EverestChallenge.
How you can help:
The team is asking for the support of Corporate SA the South African public through donations of R10 per stair. The target will be to have 100 000 stairs sponsored. This equates to 500 new donors joining The SA Bone Marrow Registry. All donations can be paid directly to:
The Sunflower Fund; ABSA Bank; Account Number: 4051 834 719; Branch Code: 632005. Ref: Everest / Depositor's Name.
For more information on 100 000 Stairs of Hope email or how to become a bone marrow stem cell donor, call the toll free line on 0800 12 10 82 or visit www.sunflowerfund.org.za. Share a Little, Save a Life.