Casual Day has appointed a new group of ambassadors for 2015 to join the team to Spring into Action for persons with disabilities. The group has come on board just in time for Mandela Day and they will be celebrating Madiba's legacy by inspiring their communities to participate in Casual Day 2015, which takes place on Friday 4 September.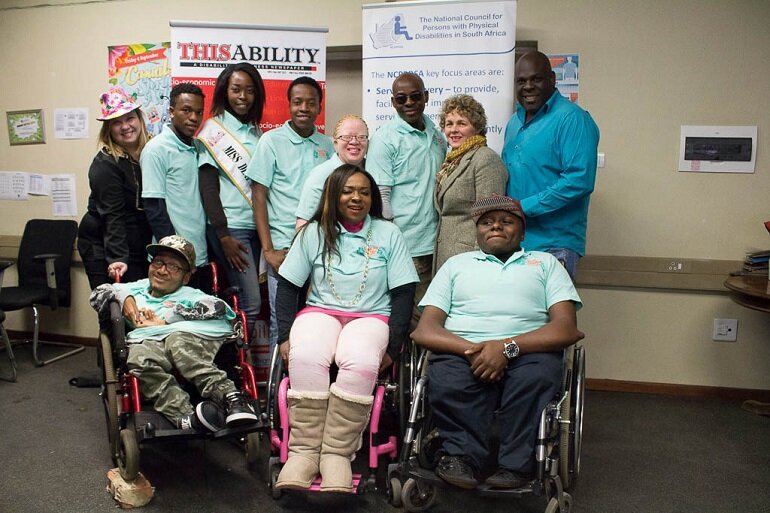 Casual Day project leader Vanessa du Plessis says "We are privileged to be working with some very passionate young people who have not let their disability get in the way of them making a contribution to society. Casual Day plays a significant part in realising the dream of equality and justice for all and our ambassadors are excellent examples of how we can all emulate Madiba to be changemakers in our world.
"Their role is one of self-advocacy and inspiration in spreading the Casual Day message to a wider audience. They will be leading by example and demonstrating how giving a little of to make a difference to the life of someone else, you can start changing the world around you."
Casual Day is South Africa's most successful fundraising project for persons with disabilities – and the amount raised for last year has climbed to R28 million. Sponsored by The Edcon Group, Casual Day is the flagship project of the National Council for Persons with Physical Disabilities in South Africa (NCPPDSA), which this year celebrates 75 years of service to the community of persons with disabilities.
Casual Day changes lives one R10 sticker at a time. The ambassadors are there to give society a deeper understanding of the world of disability and how to make the world a more respectful and nurturing place for everybody.
Some of the new ambassadors that will be celebrating Mandela Day on 18 July this year include:
Junior Mavuso, who lost his left leg below the knee in a car accident when he was three years of age. He received a prosthesis from Jumping Kids in 2010 and has since gone one to set a new SA record of 4.74 m in the F44 long jump for gold at the 2014 Nedbank National Championships. In fact, he represented Gauteng (and medalled) at every Nedbank National Athletics Championships since 2010. Mavuso – who lives in Vosloorus and attends Muriel Brand School in Brakpan – went on to secure his second silver in the F44 Men's under-20 Javelin item.
Paralympic swimmer Adri Visser was born in 1988 without hands and missing a lower leg, as a result of German measles during her mother's pregnancy. Two of her career highlights include cometing in the Paralympic Games in Beijing in 2008 and the 6th IPC World Swimming Championships in Canada 2013. She has a firm plan to compete in Rio 2016 and reach the finals and potentially win a medal. She competes in the 200m Freestyle, 50m Butterfly and 50m Freestyle and is in 8th, 9th and 10th position in the world respectively, in these events. She has a Diploma in Sport Science and is completing a BA in Human Movement & Psychology at North-West University in Potchefstroom.
Lefa Manamela, Miss Deaf SA 2013, was born in Dikebu in the North West and now lives in Pretoria. She represented South Africa at the Miss Deaf World Pageant in July 2014 and was nominated First Princess at the Miss Deaf Africa 2015 pageant.
Nenio Mbazima Roodekop in Ekurhuleni, won a Gifted Stars Literature Award from the Department of Women, Children and People with Disability (DWCPD) for his autobiography, Strong Winds, in which he tells of his struggle for access to education and employment as a deaf person. He was born in 1976 and became deaf after a bout of meningitis. In 1986 he joined a karate class and trained his way to a black belt, becaming the first deaf person to hold a black belt in karate in Southern Africa. A former fashion model, entrepreneur and Nenio is also an accomplished film producer.
Kutloano Olga Mokoena has albinism and has made it her life's work to fight for the rights of persons with disabilities in the Vaal area. Since 2002 she has volunteered her assistance to persons with albinism, counselling them on how create a successful life. She works in a human resources position at Rand Water and has assisted colleagues with assistive devices to help them perform at their best.
The new ambassadors join long-time ambassadors, rapper with muscular dystrophy, 2J Harmonix, Thuli Matlala and the Think Beyond team, Khumo Moyane and Patrick Mashegwana, in promoting inclusion and accessibility for persons with disabilities.
Concludes Vanessa du Plessis: "These ambassadors, who were chosen because they demonstrate an active commitment to the promotion of disability awareness, exemplify good citizenship and are capable of acting as influential advocates for disability, have been welcomed in time to take part in our Mandela Day activations."
The over-arching objective of Mandela Day is to inspire individuals to take action to help change the world for the better – this is what Casual Day beneficiary organisations will be doing on Friday 4 September 2015. But now is the time to start planning for this day: get your school or your company on board, get your local stores to raise donations for stickers, get your local celebs to provide support, and whatever you do, Spring into Action.
To find out about your local beneficiary organisations, email or for a list.
The beneficiaries of Casual Day are:
National Council for Persons with Physical Disabilities in SA
South African National Council for the Blind
South African Federation for Mental Health
Deaf Federation of South Africa
Autism South Africa
Down Syndrome South Africa
National Association for Persons with Cerebral Palsy
South African National Deaf Association
National Institute for the Deaf
Alzheimer's South Africa
South African Disability Alliance
QuadPara Association of South Africa.
Stickers are available from:
Edgars, Jet, JetMart, Boardmans, CNA, Red Square and Legit;
Absa outlets;
Game and DionWired stores;
Shoprite and Checkers stores; and
Casual Day national office on 011 609 7006.
Follow
www.casualday.co.za
FB: www.facebook.com/casualdaySA
Twitter: @CasualDay_SA
#SpringintoAction
#CasualDaySA