Words: Lisa de Speville | Photos: Owen Govender / SANParks
From trail markers and event sponsorship, to record-breaking award incentives and the donation of hiking boots to National Park rangers, Hi-Tec South Africa's recent initiatives are as inspired as their products.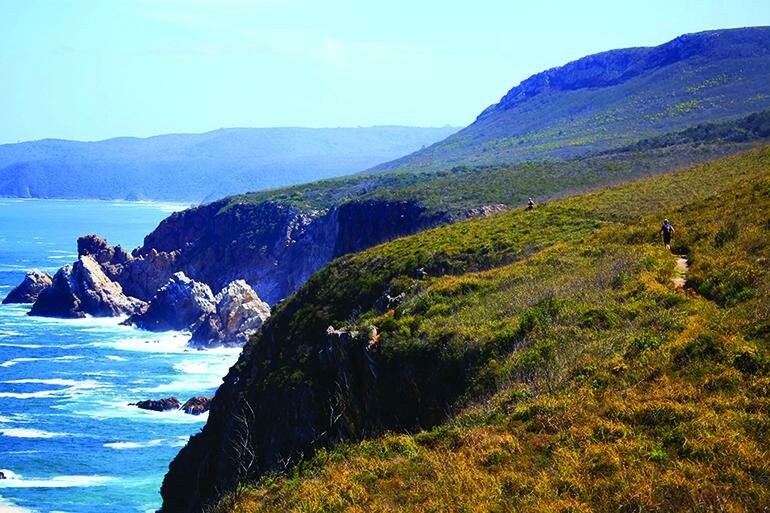 Photo credit: Owen Govender / SANParks
In May, Hi-Tec handed over pairs of their Hi-Tec Altitude IV and Glide hiking boots to the 38 rangers in the Tsitsikamma National Park (TNP). It's the third most frequently visited National Park in South Africa and its rangers patrol the trails and camps on foot to protect the fauna and flora, cultural heritage sites, visitors, rivers and deep gorges, evergreen forests and fynbos, as well as inter-tidal and marine life of the region.
The rangers walk, on average, six to eight kilometres daily; their patrols may cover double this distance too. Added to this, the scenic trails throughout the park are rocky, with many stream crossings and rainfall is year-round, so it's tough going for our green warriors.
"The rangers were extremely pleased to receive these Hi-Tec shoes," says Owen Govender, TNP's Senior Section Ranger. "They're light and comfortable and the soles offer good grip on rocks and in wet and muddy conditions."
Before Hi-Tec got involved with TNP, the rangers wore safety-style shoes that were heavy and unsuited to the terrain. It was not uncommon for rangers to suffer from blisters. "Appropriate and comfortable footwear makes all the difference to the rangers," says Ian Little, Hi-Tec's Marketing Manager. "A ranger with unsuitable shoes and sore feet just cannot do their job properly."
TNP is well known for its five-day Otter Hiking Trail and, more recently, the trail running race that sees runners completing the entire 42-kilometre distance in one day. The African Otter Run is now in its third year and Hi-Tec is proud to be a title sponsor. To increase the competitive stakes on the day, Hi-Tec is offering R5,000 to any man finishing in under 04:30 and any woman finishing in under 05:00.
Last year, Andre Gie, defending champion and record holder, beat Iain Don-Wauchope by 12 seconds to set the current men's record of 04:48:53. Race Director, Mark Collins believes that the person able to win Hi-Tec's award would need to be a 02:20 to 02:25 marathon runner. "And, they will need a talent for technical running, as well as run a perfect race to do a sub 04:30," he adds.
This year's Otter is shaping up to have one of the most competitive fields ever assembled in South Africa. "Andre is running again this year and so is Bruce Arnett, who came fourth in 2009. There's also Dion Middlekoop, Rohan Kennedy, Cas van Arden, Greg Goodall, John Collins and Victor Gugusha to name but a few," says Collins.
In the women's race, record-holder Jeannie Bomford, who beat Michelle Lombardi by only five minutes last year, will be competing again. A duel can be expected between Bomford and Lombardi, with the 2010 third-placed Jacqueline Haasbroek also in contention. Will any of them be able to break five hours? Race day will tell.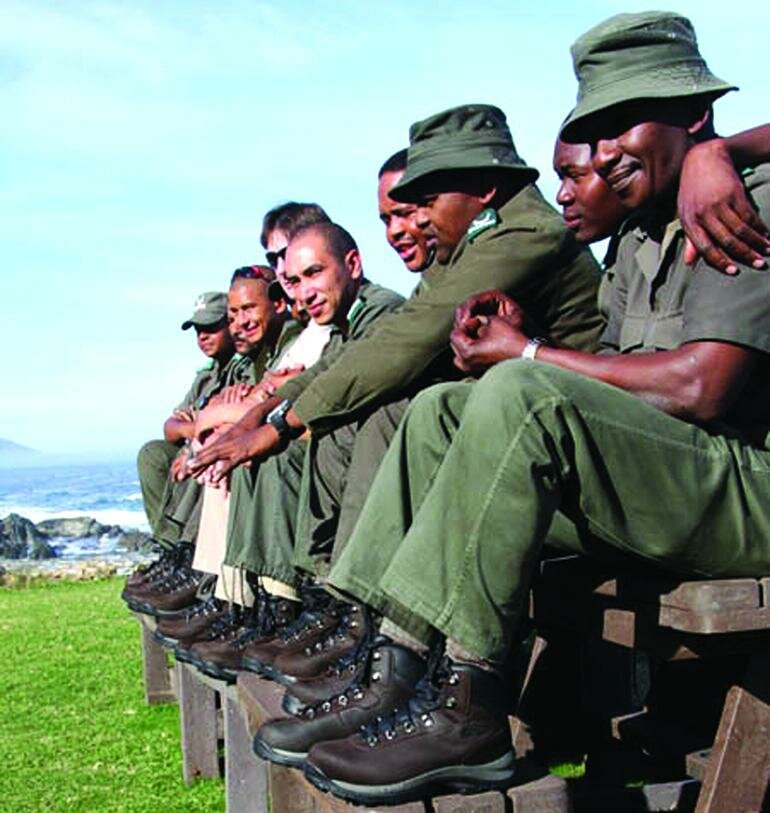 Photo credit: Owen Govender / SANParks
The trio of Hi-Tec ambassadors, Arnett, Middlekop and Bomford, will line up at the start with the three winners from Hi-Tec's nationwide Infinity Challenge, which was held in April. Will Robinson and Melany Porter, who won the men's and women's entries, and Barend Morkel, winner of the lucky-draw entry, claim a podium finish? There's no doubt that the 2011 Otter will be a battle royal from start to finish, and not one to be taken lightly.
Another of Hi-Tec's initiatives, also with TNP, is the replacement of trail markers in the reserve. They recently met with SANParks to redesign the markers and confirm placements and fixture methods. "We will also place information boards at three locations along the route; the start, Bloukrans and finish," says Little. "The board at the Bloukrans crossing is specifically about littering, which is a problem at this point." Little explains that many hikers use plastic bags around their feet to keep their shoes dry when crossing the river; they then toss the bags in the nearby bushes.
"Our association with both the African Otter Run and SANParks is an important part of our commitment to contributing to the outdoor lifestyle," says Little. "The African Otter Run attracts recreational and committed trail runners, while the five-day Otter Trail attracts hikers. Our footwear and apparel is perfect for all of these people. And, behind all of this are Tsitsikamma National Park and its rangers, who protect this fragile environment for us all to enjoy. We're proud to support all of these projects."
dinFO
About the African Otter Run & Ramble
This year sees a change in the structure of the African Otter Run, to be held from 29 to 30 September 2011. Previously the race had an 11-hour cut-off, which has now been reduced to eight hours and a far more challenging race. The African Otter Ramble is set to take place from 1 to 2 October 2011 and retains the more generous 11-hour cut-off. For more details on either of these races, visit www.magneticsouth.net