Arguably the best skater in the world and current X-Games Gold Medalist, Curren Caples will be joining his fellow RVCA teammates and professional skateboarders, Greyson Fletcher, Julian Davidson, Kevin "Spanky" Long and Josh Harmony on a skateboarding tour throughout Joburg, Durban and Cape Town this August, 20 - 31. This promises to be a tour of fun, action and some serious skating and slams as this international team is one of the most progressive and radical skate teams in the world. Their personalities are huge, and they will be joined by the local RVCA team, Yann Horowitz, Khulu Dlamini and Adrian Day.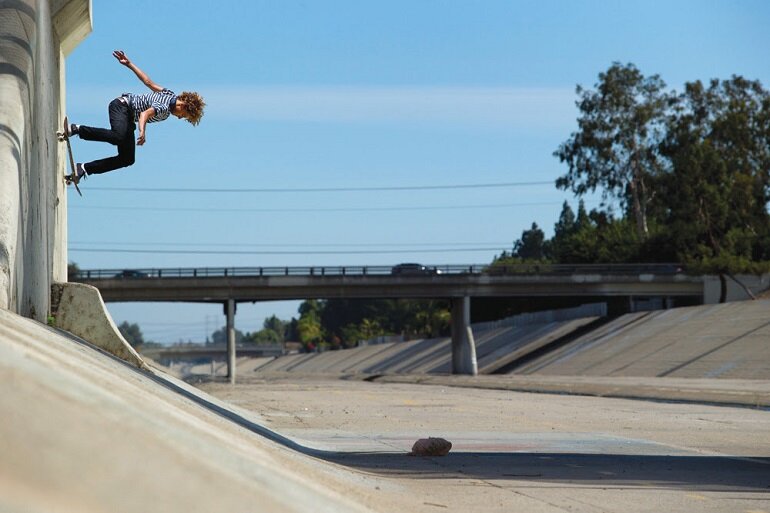 Joburg:
On Saturday 22 August at 1pm they will be having a skate jam with the local kids in the community indoor skatepark in Maboneng on 11 Staib Street. The Maboneng skatepark has been running many local events, bringing together kids from the surrounding communities and giving them a place where they can skate safetly. This promises to be an exciting day where the local kids can meet their heroes, hang out and learn from the best in the world. There will be free pizza and loads of product giveaways, as well as signings by the pro skateboarders, and this jam will be packed. Did you see what we did there?
Fujifilm will also be having an Instawalk in the Maboneng area, starting with a graffiti tour and talk by Cale Waddacor, author of Graffiti South Africa, which will finish off at the RVCA Pro Skate Jam. They will be giving away some sick prizes to the best Instagrammers on the day. Details to follow.
Durban:
In Durban the team will be spending a day with the kids at the Valley of 1000 Hills Skatepark, recently featured on Carte Blanche. This community skatepark in the Hills has been an upliftment project in the area with skateboarders being taught life skills over and above what they learn in skateboarding.
While in Durban, the team will also be spending some time at the Durban Beachfront public skatepark, and skaters like Greyson Fletcher, son of legendary Christian Fletcher and nephew to big wave aficionado Nathan Fletcher, will be hitting the New Pier if there are some good waves around.
Cape Town:
On Saturday 29 August from midday, the Pro RVCA team will be having a free skate jam with local kids at the Mill Street public Skatepark. They will be joined by skateboarders from the local community as well as the boys from the Salesians Institute. Here there will be free pizza and some more of those sick product giveaways.
Afterwards the Pro Team will be doing a free signing at the Baseline Skate Shop, 8 Kloof Street, where locals can come and meet their heroes and hang out with the pros as this groundbreaking tour draws to a close.
More information
For news and updates you can follow RVCA South Africa on:
Instagram @RVCASouthAfrica or on
Facebook.com/RVCASouthAfrica
The tour hashtag is #RVCASouthAfricaTour