Posted: September 28, 2015
Jason Webb qualified 1st for the Supa Drift Mahikeng event. He continued to his complete dominance winning all his battle rounds including the final to take the event event will and now put him miles out in front on points for the over all series win.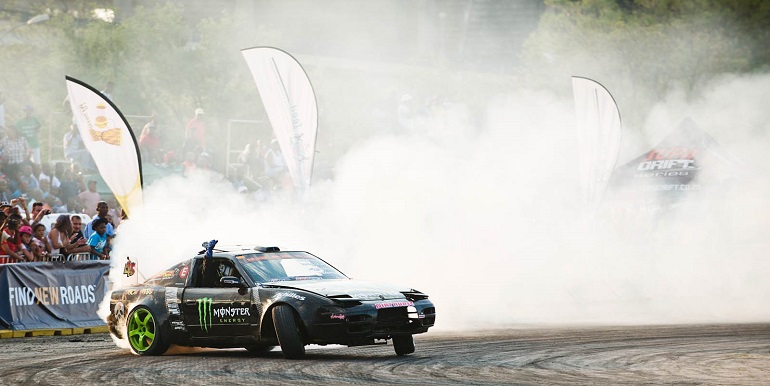 Photo credit: Eric Palmer
The best of South Africa's drift drivers hit Mafikeng this weekend for Round 6 of the Supa Drift Series.
On Friday the drivers were warming up and laying some rubber down on the paved course, getting it more and more grippy. There were a few small bumps in the first section, which had drivers having to change the normal line and switching earlier into the second corner. Speed and accuracy were improving as the day progressed, things were looking good for race day.
Saturday had a short practice session to start the day and then it was time for business. The crowds gathered quickly to the sounds of screeching rubber and revving engines. It was a scorcher, but the racing was too good to miss and the crowds kept cheering their heroes on.
Monster Energy's Jason Webb was a big favourite and managed to keep it the smoothest in qualifying and earned himself the top spot. He didn't stop there and continued to race close and accurately all day. The final was between him and Wade van Zummeren, unfortunately Wade's run ended early with mechanical issues, but gave the crowd another run after Jason's victory lap. Jason now heads into the last round coming up in PE with a big points lead on the series and will be a tough man to beat.